09-11-2008, 08:08 AM
Beartooth Regular

Join Date: Feb 2004

Location: Peck, Idaho

Posts: 12,620
Sure that's a good idea and I believe that Taurus makes a scope base for that revolver. You can order direct from them. I used scopes and red dots for years on various handguns.
I like the red dot best. I've found it far easier to use than a handgun scope. I've found that the magnification in a scope causes a couple of problems. First is if your eye isn't aligned exactly all you see is a black area instead of the target your looking at. Second is scopes even with only a couple of power magnification tend to make any shaking you do worse. Go up in power and it gets worse yet.
The red dot with no magnification and no eye reliefe problems and the ability to see the red dot from a multitude of angles is far better for me.
Here's my Ruger SRH set up with an Aimpoint 5000. I don't feel a bit undergunned shooting out to a hundred yards with this setup. Aimpoint now has a very compact model with fantastic battery life.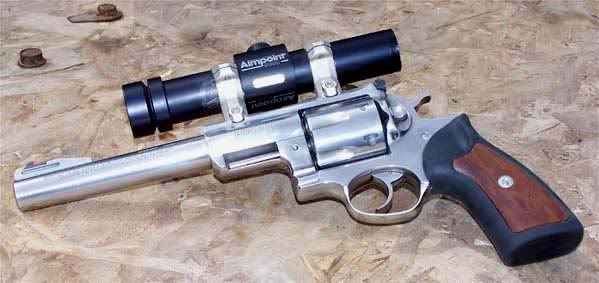 __________________
Bob from Idaho