Quote:
Originally Posted by
will52100
I have a mosin nagant bolt action m38 in ecellent condition. I am debating on whether to load for it with cast or jacketed ammo. Jacketed ammo I can load hotter, the round is similar to 30-06. But then I like casting my own and not being dependant on the mail for bullets. I also hate copper fouling, would rather deal with a little lead anyday.

How fast can straight WW be pushed with a gas check? This rifle is dead accurate with 146 grain milsurpluss ammo. I've got a box of 200 grain ammo to try out and see how it likes the heavyier rounds. Max range around here would be under 200 yards, with the vast majority of shots in the 100 yard range.

Primary use will be coyotee and deer.

Is casting for this viable or should I stick with copper jacketed?

Thanks
In my opinion, military surplus rifles BEG to be loaded with cast. Regardless of the barrels groove diameter, a cast bullet can be tailored to the barrel. I find the current factory loads way too expensive, and the military surplus ammo a crap shoot when it comes to accuracy. I'm with you; I hate the thought of depending on anyone for bullets.
I load straight wheelweights (WW) in all my milsurps. A properly sized bullet in a reasonably smooth bore will not lead. Examples:
I have an FR-8 I've converted to a Scout rifle. Of the 20 or so centerfire rifles I own, it's my "go to" deer rifle. This year alone I've killed two deer, a doe and a buck, with cast bullets. I use a Lyman 311291 in hollowpoint form (172 gr.) and cast the bullets from air-cooled WW's. I run them at 1853 fps with no leading at all. With this load, my daughter killed 4 consecutive deer with 4 consecutive shots. Personally, I limit my shots to around 100 yds. when deer hunting.
I also have an 03A3 Springfield in which I've been shooting a Lyman 31141 which weights about 180 grs. when cast from air-cooled wheelweights. My best load so far runs this bullet a shade over 2000 fps. I've fired 10 shots strings with not a trace of leading.
In my opinion the Lyman mould number 314299 is THE mould for Mosins and Enfields. My mould, a recent production one, drops the bullets at .314" I also have a Lee 312185, but it drops bullets at only .312", so it's uses are a bit more limited.
You ask about max velocity..I honestly don't know, but if you water-quench your bullets as you drop them from the mould, they harden very well and I'm sure 2200+ fps wouldn't be a stretch. But why? Especially when you're target shooting, all you're trying to do is poke a hole in a piece of paper.
Here are a few examples of what my Mosins have done with cast bullets. All groups were fired at 100 yds. except the one noted which was 50.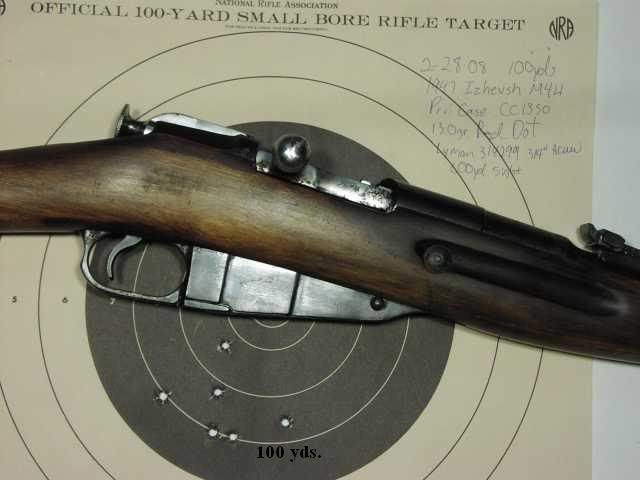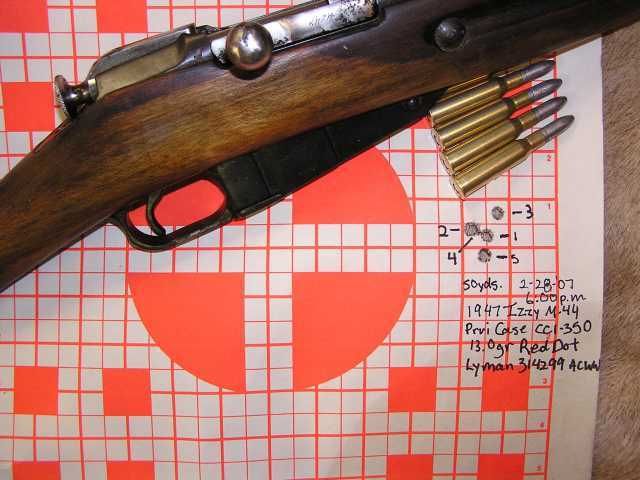 Cast bullets can be used very effectively for target shooting easily to 200 yds. and with the right loads, out to 600 yds. Here's an excellent article on cast bullets in MilSurp rifles:
Cast Bullet Loads for Military Rifles
It's the best article on the subject that I've ever read.
Good luck!
35WN