Here's my one and only moose hunting story. In Idaho, we used to be able to get only one moose per lifetime. F&G has since changed this so that any leftover tags are free game to apply for, even if you've already gotten a moose in Idaho.
It was October 26 2003 and I was stomping around a favorite elk area in south Idaho where we had also seen moose many times in the past. I was walking up a gentle drainage with willows in the bottom and looked up, and only 35 or so yards away, there was a bull moose laying down, eyeing me. I looked him over for about 2 seconds. He was facing me, and up went the Browning A-bolt 338 WM with 225 NP, and a shot to the neck ended the brief stare-down.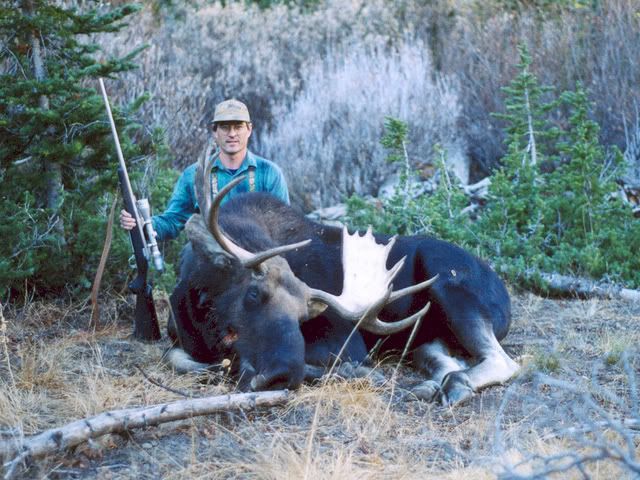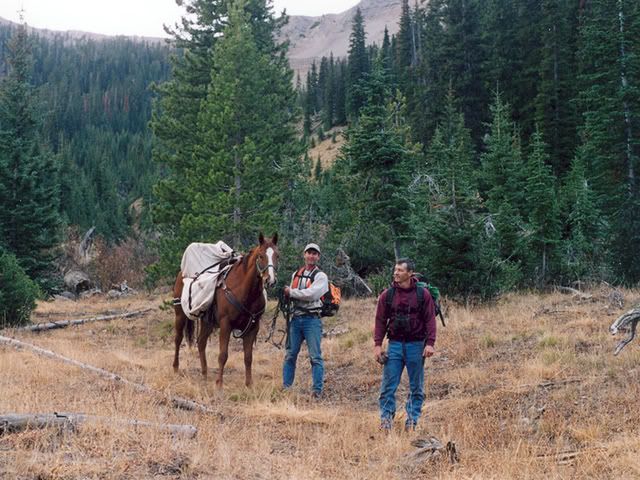 After flopping around a bit, some dread set in on me. I was alone and trying to wrestle this thing around to gut was a chore. Luckily his bed was a pretty nice spot, and I tied off his legs to trees to get the job done.
I then hiked out and got a neighbor and his wife to come and help me get some of it out. I also got a friend and brother from Boise to load up a horse and come up, but they would show up after dark. It was only a little over a mile from the end of the road, with a closed old mining/logging road right to the bottom of the drainage. The neighbor had one of those two-wheeled game carts. I packed the caped head/horns and a hind quarter in the cart, and he carried a hind quarter in a pack frame. Getting back to the trailhead was a great relief, and very dark.
I set the 14x16 wall tent up, and shortly after, my friend and brother showed up. We had quite a toasting session in the tent that night, and at daylight, headed back up with the horse to get the rest.
Some of the best eating I've ever had, and it lasted almost two years, even doling it out to the helpers.
Decent bull for Idaho at 39" out-to-out, and it's hanging on the wall dominating the entrance. I'm hoping to snag a leftover tag - cow probably - one of these years for some more high quality freezer filler!