Here's a few of my past bucks that at present are in the basement. For one reason or another, a few that were worthy of mounting didn't get there, but if I get a spare cape or two from some "meat" bucks, I might give them the respect they deserve.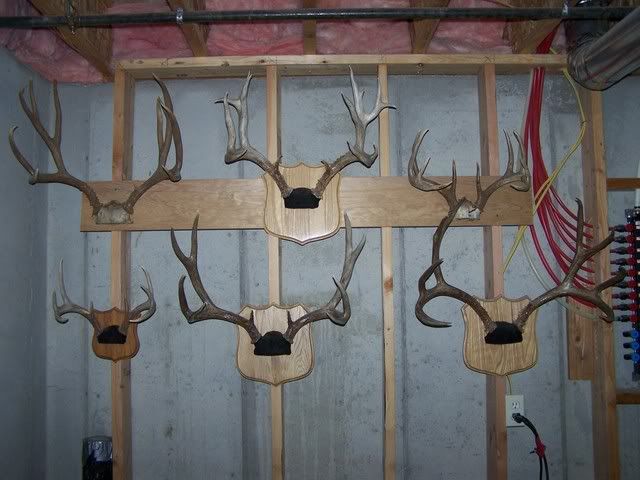 The oldest (not most mature, the first of the bunch I got) I think is the little 4-point whitetail, lower left. The rut was on and he was on-the-move and not holding still for nothing. A post-'64 Mod 70 XTR in 25-06 dumped him; can't recall the bullet.
The next in line was the non-typical muley, upper middle. The same mod 70 25-06, with Speer hot-cor. This one needed a couple as the bullets didn't perform very well, fragmenting at the relatively high velocity of the 25, and close range (< 100 yards).
Next was the 4x4 muley, lower right. A nice 27-incher (out-to-out), and the 338 WM A-bolt w/Sierra 250 actually punched through a 4" diameter stunted spruce (before hitting the buck in the neck) that "got in the way" in the bucks travel when I pulled the trigger.
The lower middle 4x4 muley was taken at about 50 yards in his bed with a pre-'64 mod 70 featherweight in 30-06; can't remember the bullet, but likely a 165 partition.
The upper left 5x5 muley got the 25-06 treatment, with a 120 partition. This was a controlled hunt desert buck tag. I was in the last three days of the season, and weather was on it's way. For those that are unfamiliar with S Idaho desert, the roads become greased snot with any moisture (can't turn, can't really do anything but go the direction of your last vector), and I decided to take the buck. In hindsight, I wish I would have let him grow up - great genetics.
The upper right 5-point whitetail fell to the 338 WM A-bolt w/Sierra 250, or 225 NP, I can't remember. He took a step as a pulled the trigger and it was a liver shot, but gave me another opportunity 2 seconds later and another one through the shoulders ended that. Hardly any meat damage at around 250 yards.