OK, as promised here's the rest of the story. . . .
Day one, 10/23. I hiked in to my honey hole before first light and got situated to wait for it to start to get light. The chickadees welcomed me in hopes I would share my peanut butter and jelly sandwich and they were rewarded for their antics. I didn't have long to wait for the first elk to start appearing in the oak brush, faintly tinted pink by the glow of first light. Alas, the elk were to far out and I was content to watch them as they went in and out of the oak brush about 1/4 mile away. I gave up my post to the chickadees, promising to return the next day with another PBand J.
Day two, 10/24 Daylight would again find me at my post sharing my PBand J with the chickadees and watching more elk coming down the trail, within 30 yards of my perch.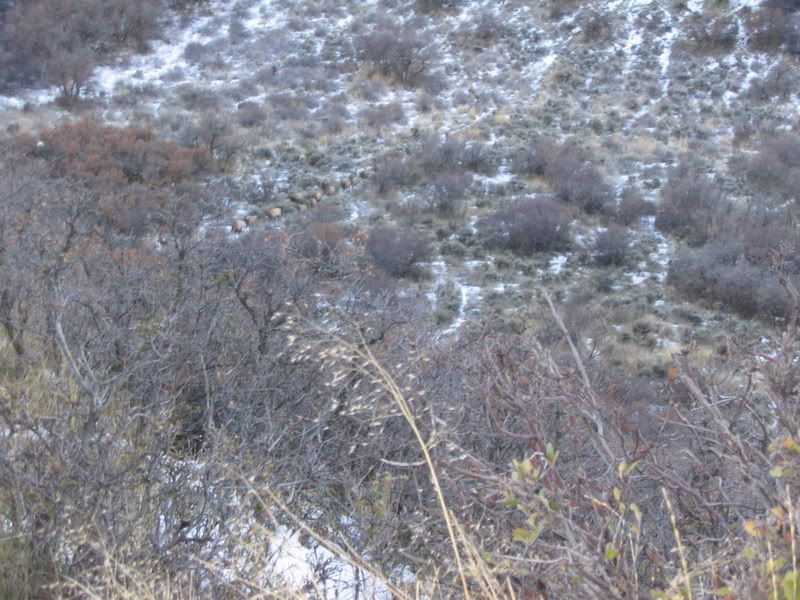 There was one little 3X5 in the bunch but I let him go so he'd get bigger.
Day three 10/25 Well you all know what happened. After the eviscerating, it was time to go get the horses. I spent until almost 4 pm getting back into where he was, getting him quartered up and drug down to where the horses were waiting. I boned out the front shoulders and brought them out, getting back to the truck about 6pm. Here's what scrub oak looks like if you happen to shoot an elk in the middle of it.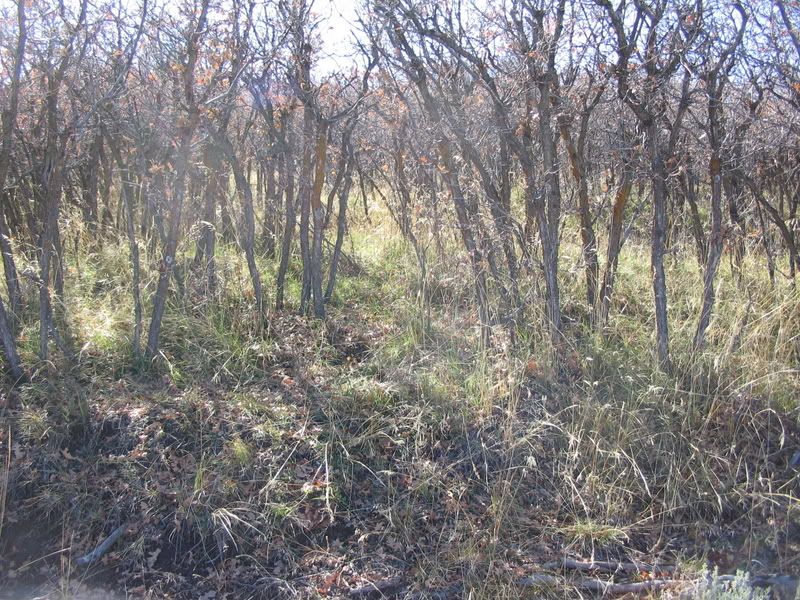 It's about 8 feet tall and some is so close together you have to crawl on all 4's to get through it. I don't see how an elk can move through it without so much as snapping a twig.
Day four 10/26 Here's the honey hole on our way back in to get the hind quarters and the head.
While I was preparing the head for travel I could hear some movement in the brush above me. I happened to look up in time to see what seemed like a thousand head of elk as they spooked at my scent. All I could see were elk legs and bodies as they thunderd through the oak brush. So much for being quiet huh. The horse and mule didn't even bat an eyelash it seemed while my heart was in my throat beating 1000 miles an hour! Finally got the rest of the bull loaded and we were on our way back to the truck about 1:30 pm. Everybody was some relieved to be done with the job. Here we are glad to see the trailer again.
Yeah, it was a good bit of hard work, but well worth it. I had a great time getting to use the horses, (well one of them is a mule, if you couldn't tell) I haven't packed one out that way for quite awhile, it turned out to be good practice for us all. And I didn't even have to use Vick's!!
RJ