| | |
| --- | --- |
| 410 shotshells in 45/70??? | |
02-18-2004, 04:20 PM
Registered User

Join Date: Jan 2004

Posts: 9
410 shotshells in 45/70???
---
howdy, I finally got a marlin 95' guide gun. love it, i just started reloading with a lee loader, 300 grain bullets, and Reloader 7. cant beat the lee loader for 11.98 brand spanking new. my questions though, i heard somewhere that you could shoot 410 shotshells in a 45/70, is this true? safe? i guess it would make sense because they are 45 caliber, and i think they are like 2 1/2 inches long which is a hair shorter than 45/70. just wondering.
thanks
02-18-2004, 04:24 PM
The Troll Whisperer (Moderator)

Join Date: Jan 2003

Location: Mesa, Arizona

Posts: 21,838
This topic has been here before - Yes, you CAN shoot them, but the hulls dont eject too well.

If you desire to shoot shot loads out of your 45-70, you'd be better off to prepare a load using your standard 45-70 brass and using a crimped over-shot wad or wax seal.

I'll reserve my 45-70 to shooting standard bullets down the bore.
__________________
NRA Benefactor Member
NRA Certified Police Firearms Instructor
NRA Certified Range Safety Officer


"Firearms only have two enemies - rust and politicans" author unknown
02-18-2004, 05:49 PM
Beartooth Regular

Join Date: Jan 2001

Location: Southern Indiana

Posts: 1,949
You've heard the expression the right tool for the job? Well, IMO this is one of those things. Sure, you can do it, but you can do a LOT of things you shouldn't. If you must have a .410 lever action shotgun, both Marlin and Winchester make one. If you must have shot loads for use in the .45-70, well, you can load them yourself with shot and gas checks, but they likely won't feed, (the .410 shot shells probably won't feed either, but why would one want a magazine full of shot shells in a .45-70, get a shotgun if you want to go hunting with a shotgun) but they will eject just fine and you won't run the risk of mucking up your action.
__________________
Join the N.R.A.
On the 8th day, God created HKs.
Beware speaking with a sharp tongue as you are apt to cut your own throat.
Join the N.R.A.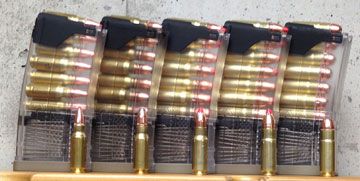 02-18-2004, 07:29 PM
The Hog Whisperer (Administrator)

Join Date: Jan 2001

Posts: 32,763
Most likely the patterns will be beyond terrible, due to the spin imparted by the rifling.
__________________
MikeG
Quote:
Originally Posted by faucettb
Welcome to the forum. Rules are simple, be nice and join in.
02-18-2004, 08:48 PM
Registered User

Join Date: Jan 2004

Posts: 9
just wondering
---
ill probably never actually do it, just wondered.
-aj
02-19-2004, 06:24 AM
Beartooth Regular

Join Date: Dec 2003

Location: Dallas, Texas

Posts: 214
---
ACTUALLY,
I've seen a custom Marlin advertised, that can shoot a .457 magnum wildcat cartridge, 45-70 AND .410, but keep in mind it was customized to do so. I thought it was Wild West Guns, but I just looked at their website and they don't make a .410 one. I think it's made by a guy in Arlington, Texas. I've got his pamphlet somewhere. I'll look and see if i can find it and post a link.
Walter30-06
02-19-2004, 08:06 AM
Moderator

Join Date: Dec 2002

Location: Jefferson Parish (via N.O.)

Posts: 9,035
Not to encourage anyone from jamming odd rounds in chambers that may accept them, but have been guilty of shooting .410's in a .45/70....long ago, past the statute of limitations I'd guess.

Rifling tends to spin shot into a do-nut...with the hollow part of the do-nut right where the sights point.

Last thing I'd want to do is to lead someone into temptation and possible destruction....one bright shooter decided that as he could close the action of a .444 on a 3" .410 it must be OK to shoot it. Unfortunatly, .410's need a bit more room fired (for the folded over crimp to open) than they do unfired. In his case, there just wasn't enough room for the crimp to unfold. He must have worked at it to get that 3" .410 into that chamber. Didn't damage his gun, or his person, just scared him when the case split and dumped some gas into the action...but it could have worked out worse.
02-19-2004, 08:09 AM
Beartooth Regular

Join Date: May 2001

Posts: 572
The pattern with .410 shotshells get pretty wild at ranges you would be using them on a warry grouse or squirrel.

You can load multiple round balls of .457 diameter and get pretty good pattern or load shot over a wad, then cap with a roundball. The roundball will sort of fill the doughnut hole in the shot pattern created by the rifleing in the barrel. These are close range loads but certainly fun to play with and could be usefull for foraging. The roundball needs a slight crimp to hold it in place and that is tricky to do with the Lee Loader without putting a kink in the case mouth.

I always figgured that a fella could put a smooth bore barrel extension on the GG to give the shot time to stabilize again. Might give the Feds something to fret over though ;*)

Scotty
__________________
Porcupines are peacefull creatures, but God saw fit to give em quills
04-01-2010, 01:49 PM
Beartooth Regular

Join Date: Dec 2003

Location: Indiana

Posts: 42
TC Contender
---
I filmed my efforts with this and my 45/70 TC Contender. Video is here:
http://www.youtube.com/watch?v=F8JnOgTThRo
04-01-2010, 09:11 PM
Beartooth Regular

Join Date: Apr 2009

Location: Oregon

Posts: 1,443
What about .410 slugs? would be nice for a trapline in the winter, or light shooting.
04-02-2010, 02:49 PM
Beartooth Regular

Join Date: Feb 2010

Posts: 27
I have done kind of the reverse of this. I have a 410/45 colt. It is more of a shotgun than a rifle. It has a screw in choke for shooting as a 410 and then it shots like most 410 shotguns. If you take the choke out you can shoot 45 colts in it. I have taken a couple of deer with it this way. If you shoot it as a 410 with out the choke it does just what has already been posted here and gives a big hole in the center of the pattern. I can still kill a grouse fairly well at up to 15 yards with out the choke. For myself this gun is just a fun gun to take in the bush for deer hunting and still be able to bring home a few grouse when the deer have not been around. I think that would be the only time anyone would want to use there 45/70 as a shotgun, just to have the option to take a grouse or two while you were deer hunting.
04-18-2010, 10:55 AM
Beartooth Regular

Join Date: Oct 2002

Location: North Alabama

Posts: 820
I would think 410 slugs would be very inaccurate. A better choice would the the 150 gr. "Collar Button" bullets.
They are available at
http://westernbullet.com/ly4gr6.html
Andy
04-24-2010, 07:03 AM
Beartooth Regular

Join Date: Feb 2009

Location: Mississippi

Posts: 293
I have seen folks drive nails with a large crescent wrench. Something I would only do out of necessity.......
__________________
Paul
04-24-2010, 09:14 AM
Beartooth Regular

Join Date: Feb 2006

Posts: 300
The 410 or 67 caliber is roughly 0.035" smaller at the base and the rim is roughly 0.125" smaller than the 45-70 case...which means it's not a good thing to do, not withstanding all the accuracy issues already mentioned.

Why use a slug that would wobble down the bore like a loosey-goosey wheel bearing when you could just use a regular 45-70 cartridge???? The logic escapes me, but then I do all kinds of things that logic doesn't have anything at all to do with.

You CAN make shotshells out of 45-70 cases very easy and at one time shotshells WERE available to purchase, but again the problem of accuracy rears it's ugly head.

There are very nice 410 shotshell/45 cal shooters available, but other than experimentation for information...shooting a 410 in a 45-70 is basically a waste of money...of course if the bears were chewing at the back door and that's all I had to make some sort of stand...I wouldn't hesitate one second. LOL

Luck
04-24-2010, 10:27 AM
Beartooth Regular

Join Date: May 2008

Posts: 1,654
Quote:
i guess it would make sense because they are 45 caliber
I'm a bit surprised that no one has commented on this idea as stated (unless I missed it.) Not true.
.410 shotshells are .410" diameter. They are the only common shotshell that is delineated by caliber and not gauge.
.410 caliber
There is a continuing and possible dangerous misconception about the relationship between .410s and .45s.
They are NOT universally interchangeable. You can fire a .410 cartridge in a gun chambered for .45 Colt,l if the chamber is long enough. The reverse is not true - that is where people go wrong. The .410 will fit down a .451 bore. The .451 is way too oversized to fit down a .410 bore.
Because of the size and shape of the .410 shotshell and the .45-70, it is not surprising that someone might think that the .410s will work. This is mentioned in the .410 description in "Cartridges of the World". Maybe but not very well.
Pete
__________________
"Only auto racing, bullfighting, and mountain climbing are sports. The rest are just games." Hemingway.
Posting Rules

You may not post new threads

You may not post replies

You may not post attachments

You may not edit your posts

---

HTML code is Off

---
All times are GMT -8. The time now is
06:01 AM
.