I was in a store the other day and I saw a CVA .50 caliber Optima with the stainless barrel, and fluted, fiber optic sights, brand new for $209.00. And darn if that rifle did not follow me home. I threw a cheap $19.99 Simmons ProSport 4x32mm scope on it, and some weaver bases. It shot OK for its first time out, but nothing to write home about. The scope and mounts have to go. So I am going to order the one piece DuraSight base/ring combination and I ordered two of the Cabela's 3-9x40mm Muzzleloader scopes that are on sale. One will go in here. So it should make a nice rifle.
If any of you have the rifle and have a good load worked up. I would sure like to hear about it. I have most any powder and bullet you might mention, somewhere in my collection.
Thanks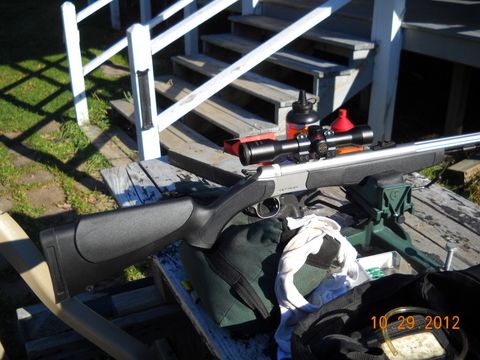 This is the rifle with the Simmons Scope. Notice because of the weaver bases there is no room to adjust the scope forward and back to make it set to the eye. One reason it has to go.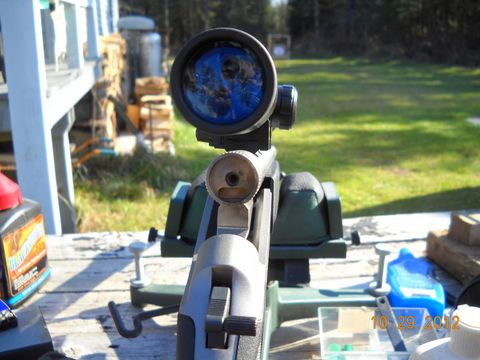 This was after shooting 13 shots. Notice.. no blow back from the Quick Release breech plug. I was shooting Pyrodex RS and BlackHorn 209 to see how it would do.
These are spent primers. Notice the pristine condition of them. Again, no blow back through the breech plug. Very impressed with this. Just open the rifle, tip the muzzle up in the air, and these things fall right back out.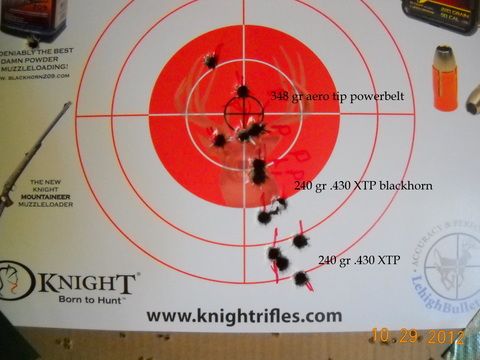 I at first started shooting with open sights. And then noticed that the green fiber optics were gone. Also noticed the back sight had fallen off. I guess I should have checked it. So I went in and threw the scope on. And shot a little more.
It started to group with 80 grains of Pyrodex RS and some 348 grain Aero Tip Powerbelts.
So with the scope somewhat set, I moved the target out to 50 yards and shot at the picture of the BlackHorn 209 powder container. The top hit was with 80 grains of Pyrodex RS. The bottom was with BlackHorn 209.
This was not an accuracy test as much as it was a chance for me to evaluate the workings of the rifle. I think with a good mount and scope, and the right load, this should make a fine shooting rifle.