Have to say I used a 44 mag for years to hunt with. First a 6.5 inch 29 then both a 7.5 inch Super Redhawk and a 5.5 inch Redhawk. I've tried several scopes and finally ended up with an Aimpoint one minute dot red dot sight. This seemed to work the best for a handgun. A scope makes any wobble or shake worse where the red dot gives you a solid aiming point. The red dot has unlimited eye relief and as long as you can see the dot and your target your on where you have to have the scope in just the right position to see the cross hairs. The Aimpoint's take 30 mm rings and their are mounting systems for the N frame Smiths.
The Aimpoints are not inexpensive, but there really great red dot sights. The one that was on the 44 Ruger now sits on a Mossberg 835 Ulti-mag 3.5 inch shotgun and has had several hundred rounds thru it with no problems. It went thru several thousand rounds on the Redhawk.
For years I used a 255 grain Kieth style gas checked hard cast bullet at 1250 fps out of the 5.5 inch gun and 1350 fps out of the 6.5 and 7.5 inch guns. They killed 19 black bear from 50 to 200 yards and I stopped counting the number of deer they killed. I never had great luck with jacketed bullets compared to cast for hunting big game. I haven't used any of the newer jacketed bullets there supposed to be much better than was offered in the 60's and 70's.
Here's the way my SRH was set up. This kind or a rig and even my Smith really needs a shoulder holster or front chest pouch holster to be carried comfortably. Some folks have a swivel installed on the barrel and the bottom of the grip and just use a sling to carry them.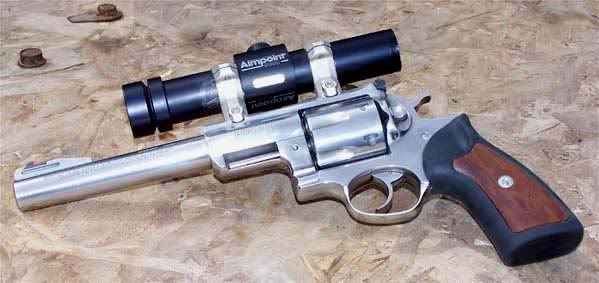 This is on Millet windage adjustable rings. They are made for the Ruger's and I like the fact you can set the scope up on zero with them. You can't with Ruger rings.
This is the 5.5 inch Redhawk and it just kept open sights so it was much easier to carry, though to heavy for a belt gun and went in a shoulder holster.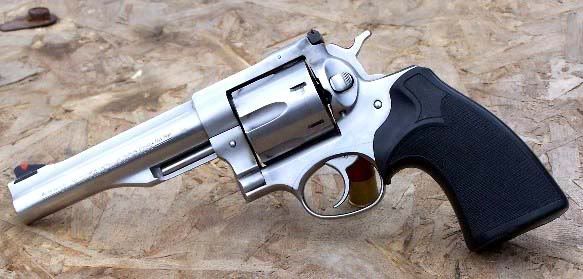 I'm to crippled up now to climb the mountains to handgun hunt so now just carry one of Taurus's light 41 mag stainless trackers as a woods gun. I wouldn't hesitate to take a deer or bear with this gun out as far as I can shoot it well, say 50 to 75 yards with my 210 grain hardcast Kieth style bullets at 1250 fps even with my old eyes.
My 2 cents.