One of the reasons a 25 yard sight in is not to good except to get the rifle on paper is because of the hyperfocal distance the scope is set at. Most big game scopes have the hyperfocal distance set at 100 yards. What this means is head or eye movement at shorter ranges will make the cross hairs move on the target.
If you put your rifle on a holder such as the lead sled and not touching the rifle look thru the scope at a 25 yard target and move your head around you will see the cross hairs move on the target. that's because the scope is focused at 100 yards. Black powder, shotgun and Rimfire scopes usually have a 50 yard hyperfocal distance set.
Some Scope makers such as Leupold will set the hyperfocal distance where you want it for a small fee.
The only way around this problem is use a scope with a focusing objective. There are two kinds on the market and you usually see them on higher power scopes and target scopes.
There is the objective lens focussing system where you turn the barrel end of the scope and line up marks in yards from infinity to 25 yards or less with a mark on the scope and many of the newer scopes have an adjustment dial on the side of the scope near the windage and elevation knobs. These are nice as you don't have to remove your head from the rifle to adjust the focus on these scopes. This is different from the ocular focusing feature on the viewing end of the lens that lets you focus the scope for your particular eyes.
For most shooting/hunting needs non adjustable focusing scopes are fine, but become necessary as powers go much past 12 power and targets become smaller such as ground squirrels, PD's and target shooting where you need maximum clarity.
Well that was certainly a mouthful, hope you guys can figure all that out. Mainly it means that scopes that do not have an adjustable focusing objective lens have the focus set at the factory at a fixed distance. Eye movement at closer ranges than this fixed distance will change the point of aim a small amount. It's also one reason that a scope sighted in by me may shoot to a slightly different point of aim for you shooting the same gun and scope.
Here's an example of an adjustable objective scope. Notice the white markings on the front that you can turn to focus the scope at any distance (on this scope) from 15 yards to infinity (that's forever).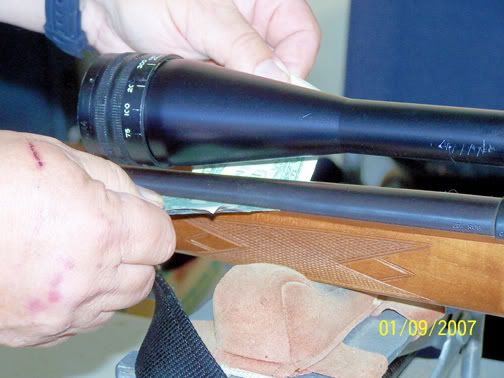 Here's an example of non-adjustable focus fixed power and variable power scopes. This is the majority of hunting scopes sold.