| | |
| --- | --- |
| Springfield model 840 30-30 | |
03-12-2004, 03:04 PM
Beartooth Regular

Join Date: Jan 2004

Location: Texas

Posts: 107
Springfield model 840 30-30
---
Years ago, my Dad bought a Springfield model 840 bolt action 30-30 for his brother's birthday. My uncle is getting on up in age, and is talking about me coming and getting it because his eyesight is so that he can't shoot anymore. I used this rifle lots as a youngster but that's been over 15 years ago. I can't remember much about it except that it was short, and shot very well. I tried looking up info on these but no luck, so I'll turn it over to you good folks hands.
Any information will be appreciated. Also, if anyone has information as to approximate value of the rifle I would be grateful. It's still in very good shape.
03-12-2004, 03:38 PM
Beartooth Regular

Join Date: May 2001

Posts: 185
It was made by Savage, and is the same as the Savage 340. My first deer fell to the Savage 340, and my father willed that rifle to my wife. She took a nice buck with it this last year. We reload 125, and 150g pointed bullets that shoot accurately out to 250 yards.
__________________
Manitoba Hunter   Hawk
03-12-2004, 03:46 PM
Moderator

Join Date: Dec 2002

Location: Jefferson Parish (via N.O.)

Posts: 9,035
Believe it's a variation of the Savage 340...quick check with parts suppliers show the same diagram.

Good little bolt actions, nothing fancy but they tended to work well and for a long long time. Don't belive the Springfield stamping is going to change the basic value, should be the same as the Savage 340 in like condition. Had "carbine" variations with 18 1/2" barrels, but most were standard 22" barrels....can't say that that cahnges the value too much.

Not uncommon arround here... not too hard to find for less than $250, with the "odder" chamberings being mor difficult to find.

(Between the Stevens, Savage 340's, Springfield, and some marked with "House Brands" for Montgonery Ward, Western Auto, and perhaps Sears...can find .22Hornet, .222Rem., .223, .30-30, and perhaps a 340V in .225WCF...may be wrong, but believe that would constitute a full set...just in case you wanted to start collecting, but wnated a definitive end in sight).
---
Last edited by ribbonstone; 03-12-2004 at

03:53 PM

.
03-12-2004, 04:22 PM
Beartooth Regular

Join Date: Jan 2004

Location: Texas

Posts: 107
Thanks for the info. It's definately a carbine version. As for collecting, hmmm, never thought about that! One in 222 remington would be nice..... Anyways it's a great little shooter but I remember even though it was short it seemed heavy but it may have been because I was young. Found one on gunbroker.com with a bid up to 235. Seems reasonable if it shoots good. Time for another Lee loader!
03-14-2004, 10:02 AM
Beartooth Regular

Join Date: Jan 2004

Location: Soldotna Alaska

Posts: 127
Spring field 840
---
My wife hunts Moose with the same rifle with a fixed 4 power on top of it. It is a 30:30 loaded with a 170gr. Nosler Partition R.N over 31.0 gr IMR 3031. Of course She dose not take shots over 100 yards and always has me backing her up. She wont take a shot also at a animal that is wound up or knows we are there. While I would not recomond it as a all around rifle for Alaska, as A 95lb dripping wet out doors women it is about all the rifle she can handle. I hope you really enjoy yours.
God Bless: Leon
05-31-2008, 03:35 PM
Beartooth Regular

Join Date: Jan 2004

Location: Texas

Posts: 107
Today at a local pawn shop I actually found a Springfield 840 in .222 Rem. that appeared to be in great shape. Has the weaver scope mount and a decent looking scope, although I didn't notice a brand name. Asking price was 249 and they dropped an extra 10% off that, basically taking care of the tax and a little extra. I think it's a great find. I just put it on lay-a-way so I'm unable to say much about it yet except I'm excited about it. Already researching info on reloading the .222. Hopefully I can get at least 1" to 1˝" groups from her at 100. That makes number two of that collection...!
05-31-2008, 04:31 PM
Moderator

Join Date: Dec 2002

Location: Jefferson Parish (via N.O.)

Posts: 9,035
Most of these guns will shoot that well...some a lot better. Have worked with all but one caliber (never shot the .223) they came in, and none of them were a disappointment.

They do have an odd bedding system, but there are a few of us old-pharts areound that have worked with it in the past and know a few tricks. Basically, the gun runs on ONE action screw, and that threads directly into an extra thick recoil lug (that acts as a spacer between action and barrel). At the far end of the fore end there is a barrel band and a screw in the fore end. In .222, recoil isn't a problem (the action screw can handle it fine) so it is worth fiddiling with that barrel band screw's tension...a little soft bedding just behind that band (about like the rubber feet used on some apliances) and some screw tension experiments, and you just might have a real shooter.
05-31-2008, 04:53 PM
The Troll Whisperer (Moderator)

Join Date: Jan 2003

Location: Mesa, Arizona

Posts: 21,859
What ribbonstone said.

Used to have a 340 in 30-30 and found that little rifle could lay them in there with no problem using spitzer bullets. Congrats on your find - I don't think you'll be disappointed.
__________________
NRA Benefactor Member
NRA Certified Police Firearms Instructor
NRA Certified Range Safety Officer


"Firearms only have two enemies - rust and politicans" author unknown
06-01-2008, 03:48 AM
Beartooth Regular

Join Date: Apr 2008

Location: Central Kentucky

Posts: 3,452
My first .22 Hornet Rifle was a Savage Model 340. It was an accurate rifle & a great value for it's price! Shot lots of Groundhogs, Crows, and Squirrels with it.
06-01-2008, 01:16 PM
Beartooth Regular

Join Date: Dec 2003

Location: Lancaster County, Pennsylvania

Posts: 1,097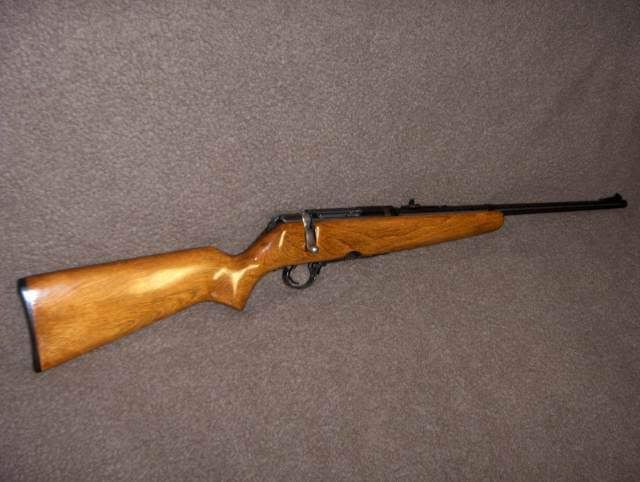 This is the older version by Stevens. Note the elegant bolt handle and trigger guard which are different than Savage. These differences are strictly eyeball candy. These are a well built rifles and will last a lifetime or so with minimal care.
Savage quit building these rifles in mid-1980's due to slow sales.
TR
06-15-2008, 05:36 PM
Beartooth Regular

Join Date: Jan 2004

Location: Texas

Posts: 107
Finally brought this rifle home last week. It's been obviously well cared for with the blueing still in great shape and the stock not even scratched a bit. The bore looks very solid and it cleaned up well. The scope is a Redfield 3-12x44. It's clear enough and seems to fit the rifle and me well. Been plinkin around the woods with some factory stuff but at $17 bucks I can tell you it's my last factory box.

Got out to the range today with some handloads and I can say this rifle is definately a shooter. All groups were around 1˝" shrinking to an honest 1" with the last charge. Only had 20 rounds, 5 factory, 5 with starting charge, 5 with one grain more, and 5 that were a half grain shy of max using H335 and Hornady 55 grain SP. No high pressure signs at all. I may try a different powder (H322) and perhaps a different bullet weight one day, but for now this will be what I shoot till it's time for more components. I can't believe there is that much difference in recoil from the .223 as the rifle doesn't even jump enough to move the scope from target.

I would recommend this rifle to anyone looking for a great rifle to carry hunting. This one will see limited time at a bench!
06-19-2008, 07:26 PM
Registered User

Join Date: Jun 2008

Location: Tampa, FL

Posts: 11
30-30 is a great middle class round. I have 2 M336's and am looking for a boltaction. I good friend of mine is from Fairbanks Ak and all he ever used for hunting was a winchester 30-30. moose, bear, whatever. Just know your limitations. Get as close as you can and wait for your shot.
__________________
You Can Run But You You'll Only Die Tired.
Posting Rules

You may not post new threads

You may not post replies

You may not post attachments

You may not edit your posts

---

HTML code is Off

---
All times are GMT -8. The time now is
04:14 AM
.