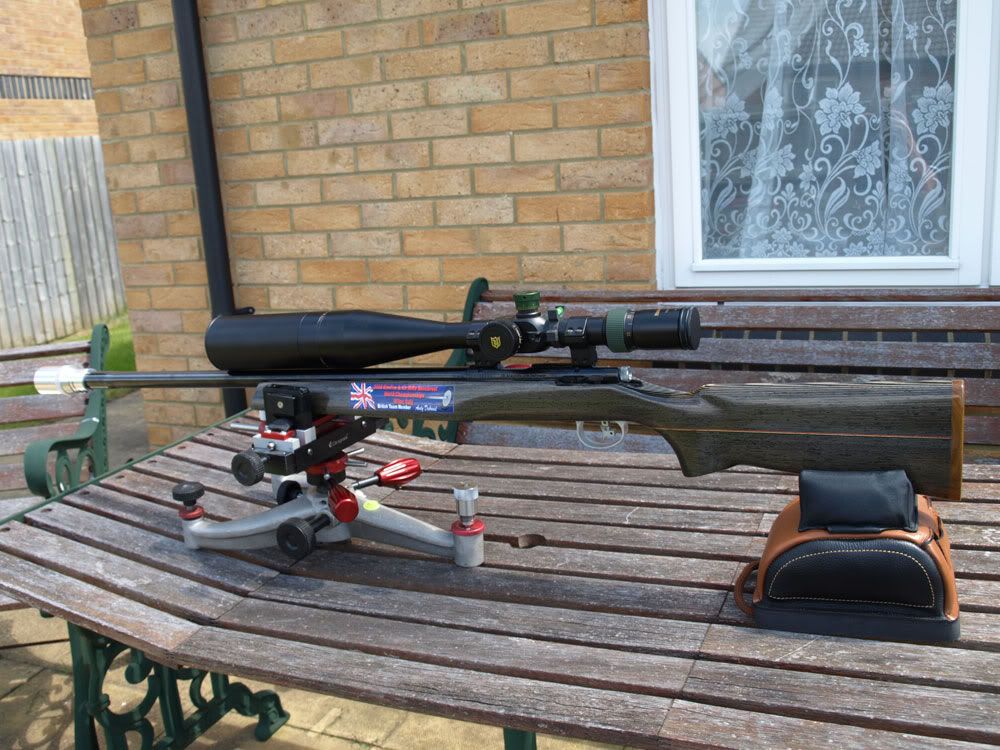 Well I have just been to the club this morning to play with my new Harrel Tuner and James Pappas Noodle and what fun I had!
The conditions were sunny with light breeze of around 5-7 mph just about right for tuning in a new tuner. As posted on this sight I use the Hopewell Method which is simple to use. The first thing I would say is that both are great bits of kit in the way they are made, I have had a few tuners in my time but this is by far the best I have had, and a big thank you to my mate Brian for boring it out for me so that it fitted the barrel.
As you can see I have an Anschutzís 1913 with Cicognani Stock and a Cicognani ADJ rest and I recently got myself a SEB rear bag from Fox Firearms which at £35 plus shipping is well worth it in my view to others that are around.
So what with having to get use to a new tuner I had to get use to a new rear bag, which is still settling in but a great piece of kit.
I tuned in the Harrel and then screwed on the J J Pappas and set in on the larger wholes, then the medium and small, best group was on the medium. I have not had time to play as much as I wanted to as I had to shoot a match card but I was well happy with the 5 shot group I ended up with which was 9x5mm. It makes me wonder what the grouping would be like under enclosed conditions, anyway I tried a couple of targets and it was hitting the spot.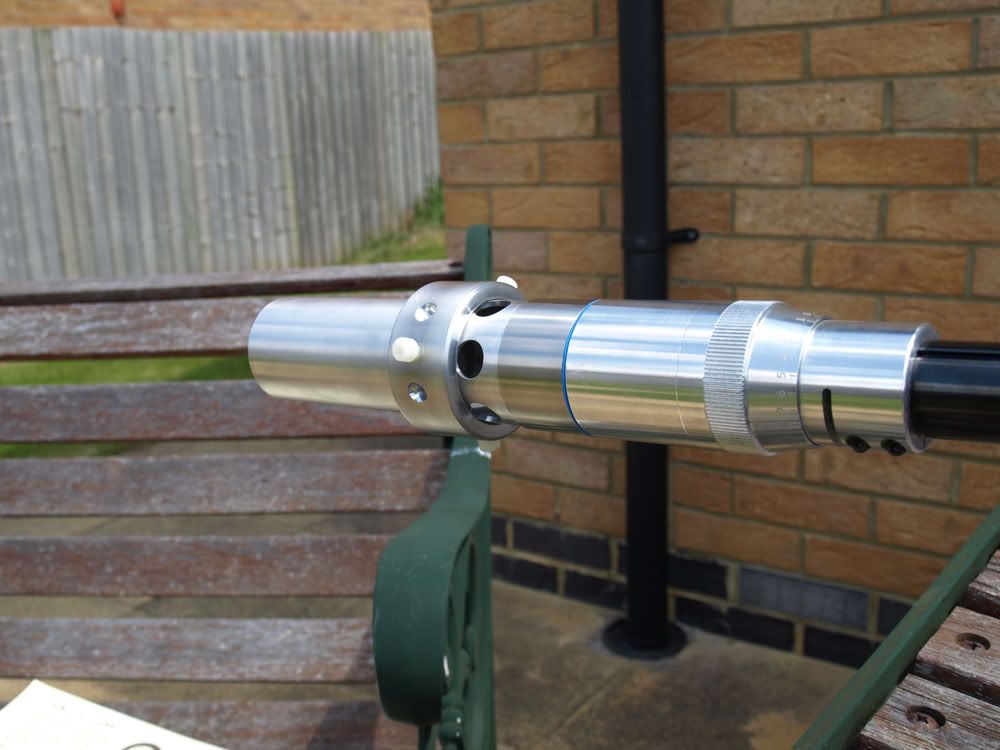 As it has been said on other forums the noodle does work the why is to do with the gases, over the coming weeks I will play with closing the wholes to see the variation but you need to do this in similar conditions otherwise it would be a waste of time.
I had a good play with the SEB bag as well and found that once I had slide the stock backwards and forwards I needed to give the rear of the stock a couple of taps and she was ready to go. The SEB bag is much higher than my original Cicognani bag but it does run a lot smother in the SEB due to the material it has for the ears, the rubber plate is very solid and with the use of the rubber component it doesnít slide around as much on a plywood table top.
So I had a break and went into a match card, it been a busy month and unlike me I have left it to the last minute which I donít like doing. The wind had started to rise a bit but I was feeling confident enough to get on with the job. Well I shot a 249 with 3-4, the one shot might just score in with a gauge but I will have to wait to find out on that one.
As I have said I only had the morning to do it all but first impression I am real happy, the score are up there with our top guys and with more time I am sure that I can start to get those to 250ís that I keep missing out on.
The Harrel Tuner is a great piece of kit and so well made, the noodle again is so well crafted and seems to make that extra bit of difference.
Getting the gear is one thing, but getting to know how it works and feels in another thing which takes time to adjust to, practice and setup is just as important and then hopefully it all comes together with you as the shooter to high performance.
Sorry about the dogy table but that is what winter weather does to garden furniture.
Dont forget the new issue of Target Shooter Magazine is available and FREE!!
If you have questions, then please ask.