08-14-2010, 08:11 AM
Beartooth Regular

Join Date: Jan 2001

Location: Southern Indiana

Posts: 1,949
This one is easy.
For a scope, Leupold VxIII 1.5-5 x or the VxII 1-4. The VXIII 1.75-6x may give you fitting problems in standard rings. Use Warne Ruger QD rings.
Do NOT cheap out on the scope. You not only want but need 3.5 inches of eye relief. Shorter than this and you will be getting your eye stitched up.

For a peep, NECG makes a dandy that fits on the rear scope base. Obviously you cannot use both at once but it is a real dandy sight.

I had to brake my .416 Rigby No.1 after a shoulder problem developed and KDF did an excellent job putting one on. It reduced recoil greatly and they also include a nice TP for when you don't want the brake on there.
Mag-Na-Porting will reduce muzzle jump a lot, my M77 .458 Winny is ported, but it does very little to reduce recoil. It also does not have the muzzle blast that the brakes give.

Get a Pachmayr Decelerator recoil pad or Limbsaver. The Ruger pad is really playing loosely with words by calling it recoil pad. IMO it is worthless as boobs on a boar hog.

Don't add weight to the stock. It is already a heavy rifle and either load 400 gr. bullets, which reduce recoil greatly, brake, port, or learn to live with the recoil. IMO if you cannot shoot the rifle without braking, then you really should reconsider the caliber. Once my shoulder healed the brake came off my Rigby. Porting, like I said, really reduces muzzle jump a tremendous amount and will keep your rifle in the rest and on target, but recoil reduction? Not that I can tell.

My recommendations are not based on magazine articles. This is what I run on my rifles. The No. 1 rifles wear Leupold scopes and I know the 1.75-6 x will give you fits. I had to go to extended rings and could not use the Warne QD rings because of the limited ring spacing you will have. Get the 1.5-5x or the 1-4x and you will be much happier.
I have the NECG peep on my .458 M77 and it works great. Very easy to put on and very sturdy. Midway sells them.
__________________
Join the N.R.A.
On the 8th day, God created HKs.
Beware speaking with a sharp tongue as you are apt to cut your own throat.
Join the N.R.A.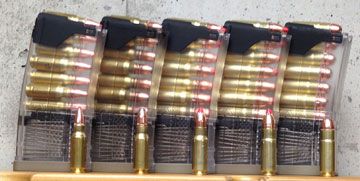 ---
Last edited by Big Bore; 08-16-2010 at

01:50 PM

.