Discussion Starter
•
#1
•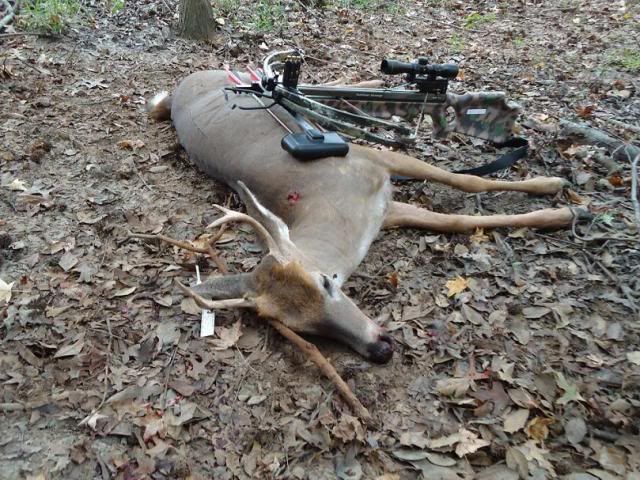 Greetings from Pennsylvania!
September 16th was my first deer hunt of the long season. I hunted with fellow Veterans at Aberdeen Proving Grounds. This is a heavily managed hunting area within an active duty US Army Base. Aberdeen hunting is labeled as a Managed Hunt Area and is therefore outside the domain of Maryland. The deer kills at Aberdeen do not count toward my Maryland 12 deer tags. The Wardens at Aberdeen & Edgewood are Federal Fish & Wildlife Agents. One of the Wardens is very friendly toward me. We're both Gulf War Vets.
Four of us were assigned an exclusive area to hunt. Although all of us had opportunities, I killed the only deer that day. My comrades were not presented clear shots due to branches or other forest cover which blocked arrow flight. But in one case, a mature doe crouched for a leap just as the string was released and the arrow flew high. They call this "jumping the string". This man was hunting with an older PSE (vertical) compound bow.
My forky buck approached quickly from a thick area near a small swamp and when he was almost directly below my treestand, I fired my crossbow bolt into the back and through the sternum. The animal collapsed at the shot but regained his footing only to wobble approx 25 feet; then he toppled over. I doubt this deer knew what happened. I'm thankful to our Lord for providing this dandy meat buck. Field dressed weight is 89 lbs. which is normal for a young Maryland buck. We anticipate many "trophy meals" from this young buck.
I will continue to hunt at Aberdeen and other Maryland spots until FEB 1, 2011. The season is long and deer tags are abundant. When I bought my non-resident Maryland license it came with 12 deer tags. 10 doe and 2 buck. No kidding!
I'm sold on crossbow hunting. Accurate, fast, and deadly. Best of all, my unhealed elbow injury from the '90s does not handicap my ability to hunt during archery season. Fun, too! Last year, I mounted a 2nd hand Simmons multi-recticle crossbow scope that is perfect in every way.
Good hunting to you!
TR