Discussion Starter
·
#1
·
I took the Marlin 336SC out the other day to a cove in a little mountain in the flats nearby. I set up a target at an even 75yards and fired from the hood of my truck, on top of 3 or 4 sandbags. I couldn;t see the red bullseyes on the targets, I was just approximateing the center of each target.
#1 - The first five rounds grouped at about 4" with a flyer (me?) way high. I adjusted the front sight up one ramp level. 35.0gr IMR4064, Wolf LR, 2.515".
#2 - The second five rounds grouped a tad better, About 2-1/4" with a flyer way over to the right (me again). 36.0gr IMR4064, Wolf LR, 2.515".
#3 - This 5 rounds grouped at
under 1-1/4"
, about 1.5" low and 3" left. 35.0gr IMR4064, Fed210, 2.515".
The last 5 rounds I spent cracking rocks near the target.
I am very impressed with this rifle and these Hornady FTX bullets!! I
couldn't even see the bullseye dots
, I was just trying to keep the sights centered in the middle of the target paper, approximating where i sighted each previous round !!
Here are some pictures:
The first 5 rounds:
The next 10 rounds. First 5 on the left-hand target (#2) and the second 5 on the right (#3):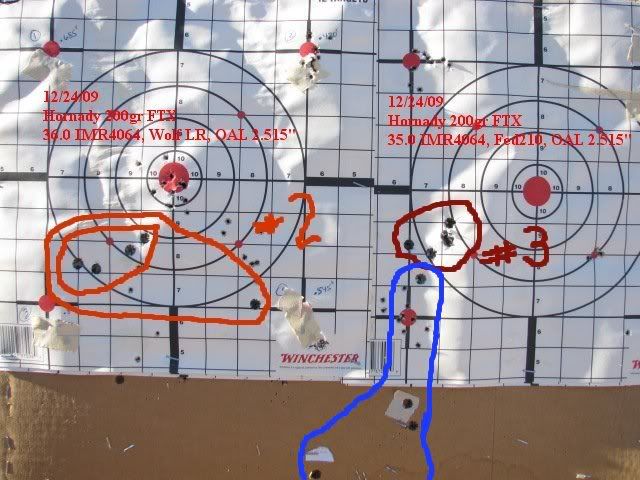 A rock carcked into pieces: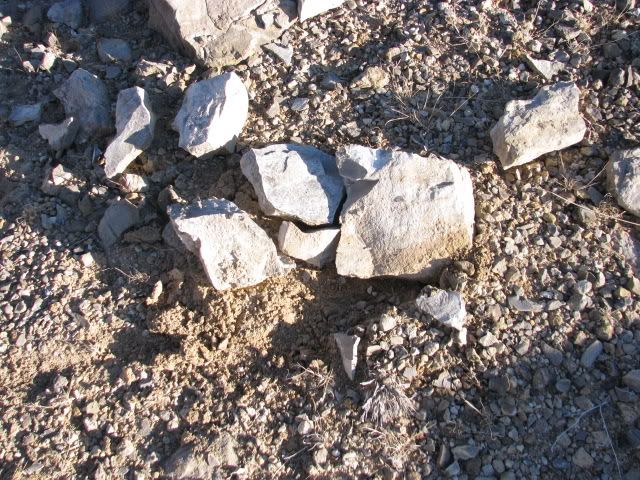 Overall, quite a nice experience for this yearling reloader......