Here's my little morning story: I went out this morning to a place in the mountains...recommended to me by a friend. It's a Lincoln Natl Park road that turns off the highway and goes for a couple of miles through some private land. I no sooner turned off the highway, about 200 to 300 yards in, when I see this boar, rooting under some small junipers. He wasn;t but about 35 yards from the truck.
I unzipped my rifle and got it positioned. I had just taken the scope lens covers off and shouldered it when a lady in a pickup comes driving up right at me. Well, private land or no, I can't go shooting with a lady sitting in her truck in front of me, so I slipped back into the case and she drove past, waving. The boar had sauntered off to the north by now and I let off the brake to coast east. Looking in my rearview, I saw that the lady had stopped back there, so I backed up. She was out of her truck and walking up to mine. She said "He's going to cross the road, shoot him!". I asked if I was on private land or public, and she said "It don;t matter. Shoot all them pigs you can. We don;t want them around here." So I pulled over and got out. By this time, the pig had circled around and was fixing to cross the road. I couldn;t get a shot at him. He crossed and I started after him uphill. He was going UP to the place that I would eventually have ended up hunting in. About 50 yards uphill from the road, he gives me a nice broad-side shot. Boom! and he's off like a rocket. I swear I missed him! But....I've got to check. Heading uphill in the direction he took off, I saw some sign in the dew grass and followed it. After about 5 minutes of traipsing around, I found him. The round went in right behind his right shoulder and came out clean through his left side, just behind the shoulder. It was 0800 hours.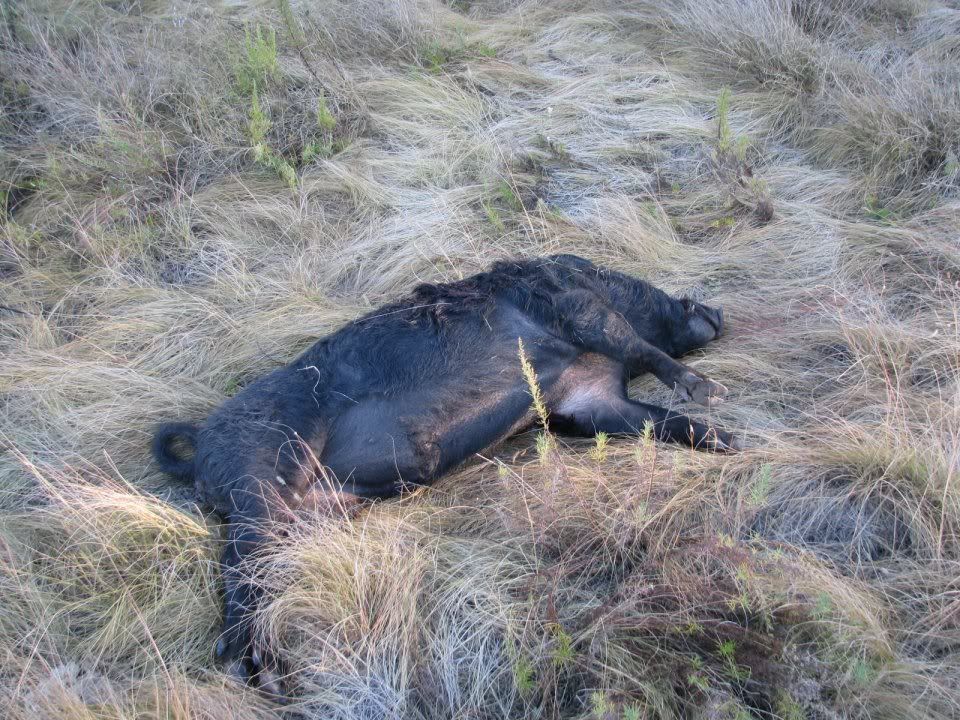 I dragged him downhill for a few yards, then realized I was going to need a rope...and to drop off my rifle. So I hoofed it back to the truck, got a rope and camera, left the rifle, and went back. I dragged him downhill for about 130 yards to the truck and spent more than an hour trying to get him in the back.
Finally, since nobody was coming along the road that I could humbly beg for help, I untied him and dragged him off ontto the west side of the road. There I skinned his right legs and cut them off. About that time, two elk hunters drove up and helped me lift him into the truck. Then, the lady's husband came driving out. He said she had called him and told him about me. The elk hunters guessed him to be over 200 pounds, but the rancher said he thought about 185 with 200 pounds at the outside. Anyway, he said he wouldn;t eat him - he only eats the younger, smaller ones, but I drove off with him anyhow.
In the end, I decided to leave him on a back forest road, keeping only the shoulder and hip that I skinned and cut off earlier.
That's the first animal bigger than a jackrabbit that the .35 has claimed!