Discussion Starter
•
#1
•
Yesterday, I know it was hot. Just how hot surprised me once I got out on the range.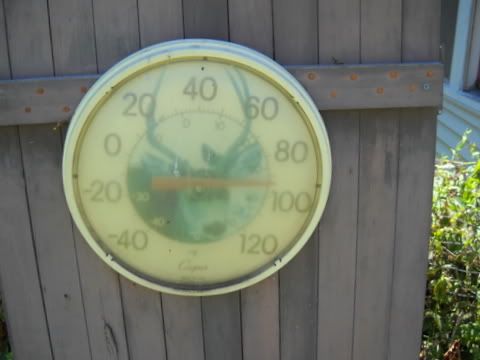 One said 92 and the other was at 91ºs. Either way you pick, it was hot. The thermometer was even in the shade and I was not. I was in direct hot sunshine.
The rifle I decided to shoot today was a .54 caliber T/C New Englander. It is one I picked up a while back and really have not shot it much. I could find no mention of it in my rifle journal or photo book. So I treated it like a new one. I decided to see what it could do.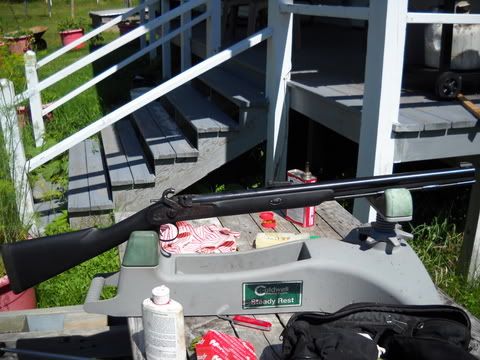 Rifle: T/C .54 caliber 1-48 twist percussion cap lock rifle with composite stock and iron sights.
Powder: Goex 2f
Charge: 70, 80, & 90 grains
Projectile: Hornady .530 roundball pillow tick patch, moose milk lube
Distance: 50 yards
I started with 70 grains of powder. Shots 1, 2, & 3, while not bad were kind of spread out. Stringing as they were. Usually adding powder will stop that.
With 80 grains of Goex 2f I shot 4, 5, & 6 and was very pleased with that group. So much so in fact I started shooting. I lost count of the number of roundball but was swabbing the bore with Rusty Duck Black Off solvent every three shots.
The group was a little to the left, but that's just a matter of sight adjustment. I think I shot a total of eight shots with the 80 grains of powder, but I am not really sure. All I know it as long as I put the white bulls eye and balanced it on top of the front sight and squeezed the trigger, it just kept stacking them in there.
I then upped the charge to 90 grains and decided to pick out one of the smaller bulls eyes to shoot at as the main was was kind of damaged you might say.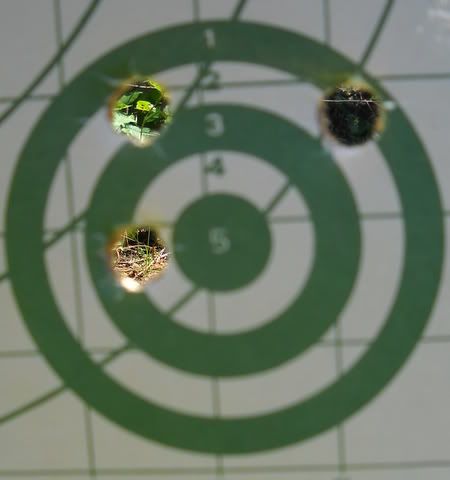 The group appears to be opening up a little. This might have been due to shooter fatigue, heat exhaustion, the fact the barrel was so hot you could not touch it to swab, or it just wanted a little less powder. I would have moved down to 85 grains of powder but decided to save it for another day.
This New Englander will really shoot. 80 grains of powder is a very good deer hunting load with that big roundball.