Finally got to do a little reloading and shooting yesterday, temperature was a perfect 80 with little to no wind. The first hunting season this year is Antelope so I decided that I'd see if the 120 Nosler ballistic tip would group well in my Sauer 100. Initial testing with Hybrid 100 and Winchester 780 showed that neither were capable of sending the 120's over 3000fps from the rifle, only Superformance was capable of that. I was looking for 3250 with the 120 grain bullets was so far that didn't happen, 3150 was it with normal pressures. Every gun/cartridge combination is a little different in how they show when the pressure is getting to high and this one did it with a slight ejector mark on the case head and zero fps gain in velocity, the bolt didn't get sticky to lift and there wasn't much difference in web expansion.
BTW now is as good as time as any to add my disclaimer, the load shown here is not in any reloading manual, it may not be safe in your gun, if you choose to work up a load for your rifle I would suggest starting 5 grains under my load and going up carefully, use your brain, a chronograph and a micrometer in that order.
At the range reloading, new Hornady brass from Midway, Lee dies and a new Lyman electronic scale which came with a really cleverly designed pan/funnel all in one.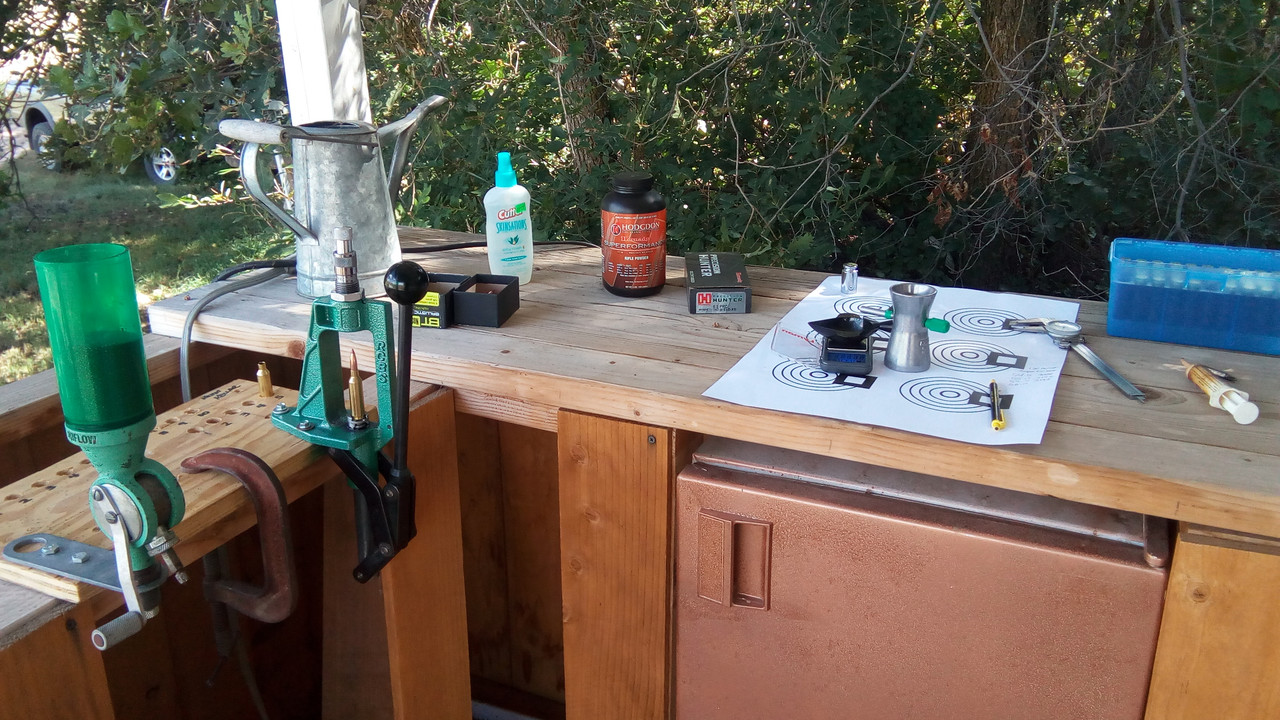 The gun, a Sauer 100 with a camo pattern/cerakote exclusive to Sportsmans Warehouse, I used a Weaver rail base which doesn't look the greatest but allows one to mount a short tube scope on a long action and move it back far enough for a upright head position, speaking of scopes it's a Leupold 4x12 VX-1 with a LRD reticle, not an expensive scope but perfectly useable for 99% of most hunters including myself.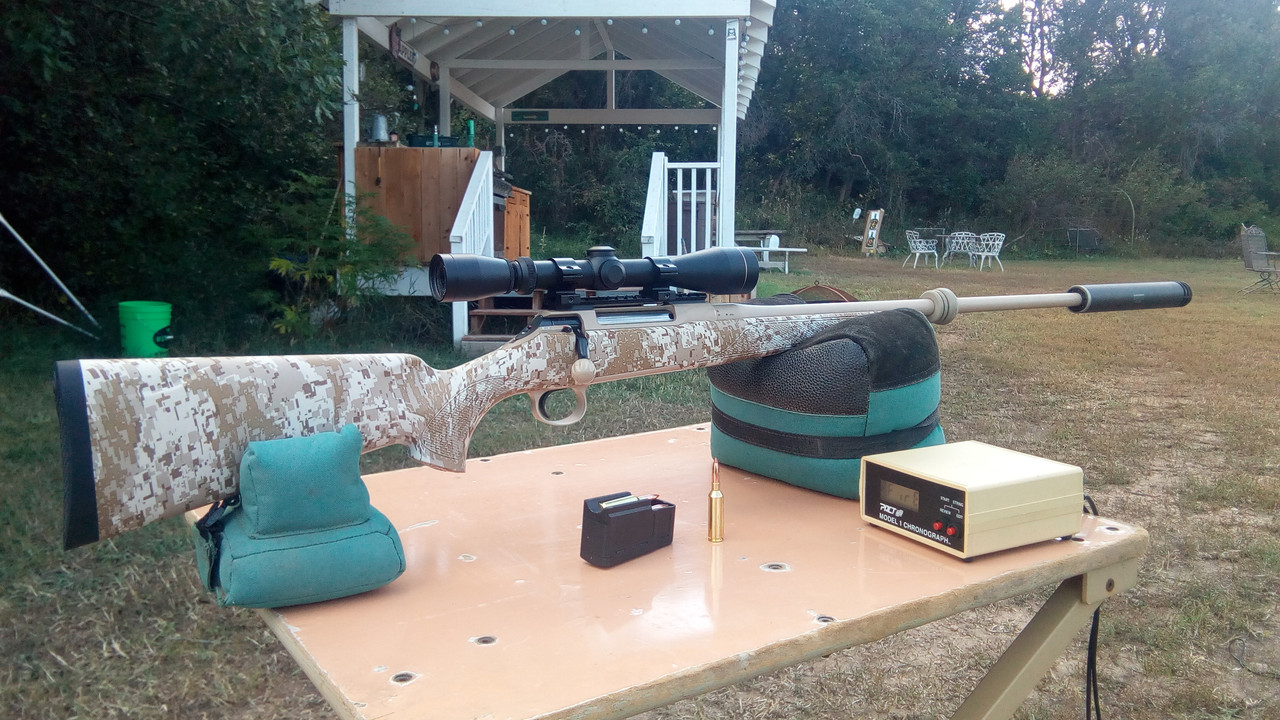 Because of the proximity of my reloading set-up I set my bench and chronograph up at 60 yards instead of the normal 100m.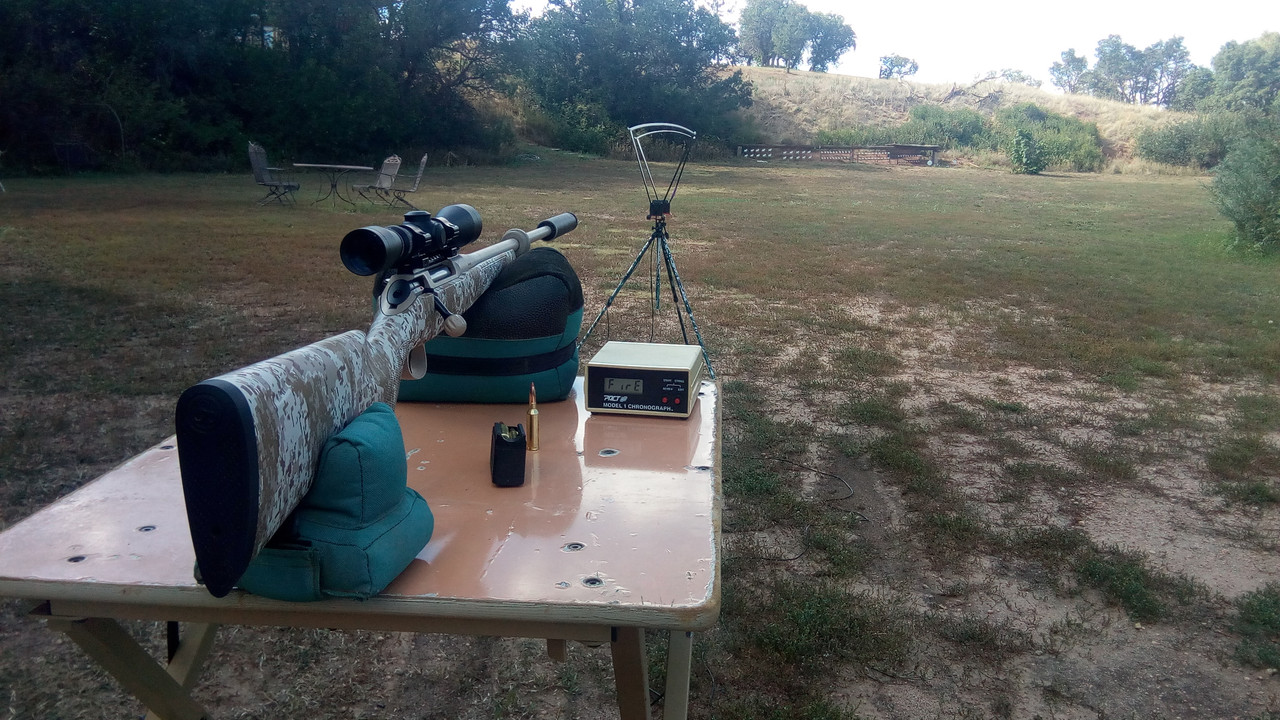 I loaded 5 rounds of the most promising load based on the chronograph results, shot one and made a sight correction and shot the remaining 4, if any of you had seen the targets I shot with the factory ammunition you'll remember how poorly the gun grouped with that overpriced ammunition. No doubt that the gun is capable of fine accuracy after seeing several groups under 1/4 at 60 yards. Please read my disclaimer in the opening paragraph, this powder/bullet combination isn't in any reloading manual and may blow your gun up and seriously injure you. Just because it worked in my gun doesn't mean it will in yours.