Discussion Starter
•
#1
•
Gotta love a day at the range… especially when it's a private range on your buddy's property, and you can do as you wish without worrying about the yay-hoo in the next lane waving his gun around pointing the muzzle at you. It's even better when you get to play with a variety of firearms because you're shooting with a friend.
We started by hanging Hank's new 3/8″ thick 12″ x 20″ AR500 steel target on a T-post. I've come to love steel targets for informal shooting on a small private range. You get instant audible feedback when you make a hit, and with a quick coat of spray paint it can indicate your accuracy as well.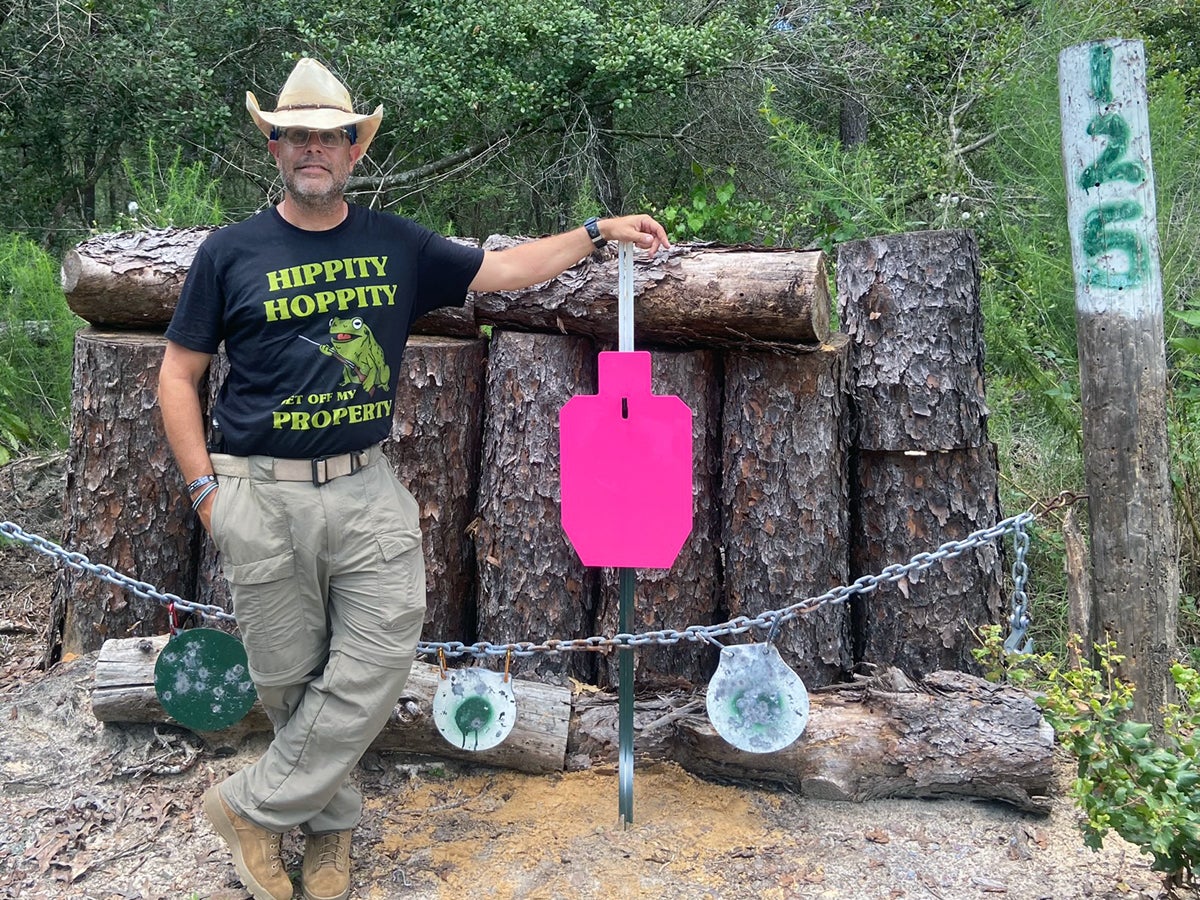 Hank and his new steel target.
(Photo © Russ Chastain)
The first rounds to strike the new target were 9mm reloads fired through the
Springfield Armory Hellcat I recently reviewed here on AllOutdoor
. It quickly became my favorite concealed carry pistol — so much so that I purchased the pistol instead of sending it back after the review. Hank liked it too.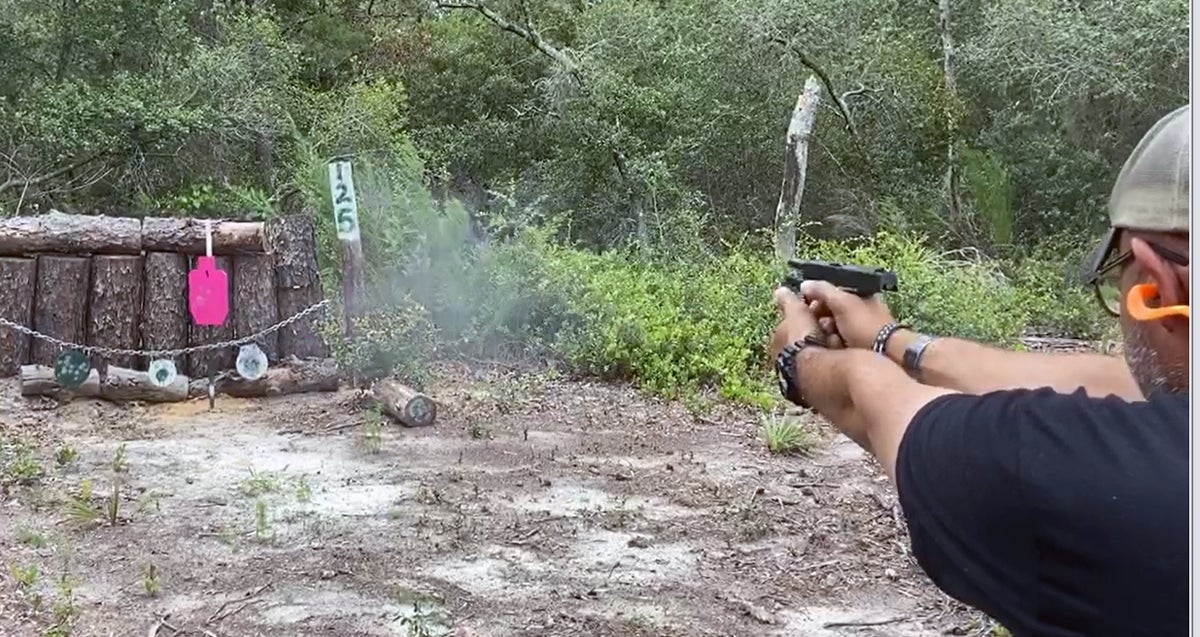 Hellcat vs. 'pinko' target.
(Photo © Russ Chastain)
We also fired the
Springfield Armory XD-S Mod.2 3.3 9mm
I'd had a similar experience with last year, as well as the Kel-Tec PF-9 that served as my first 9mm concealed-carry pistol. While we were trying small 9s, Hank brought out his little Mossberg MC1sc pistol. It did the job well, and the see-through polymer magazines are kinda nifty — plus they're lighter than steel.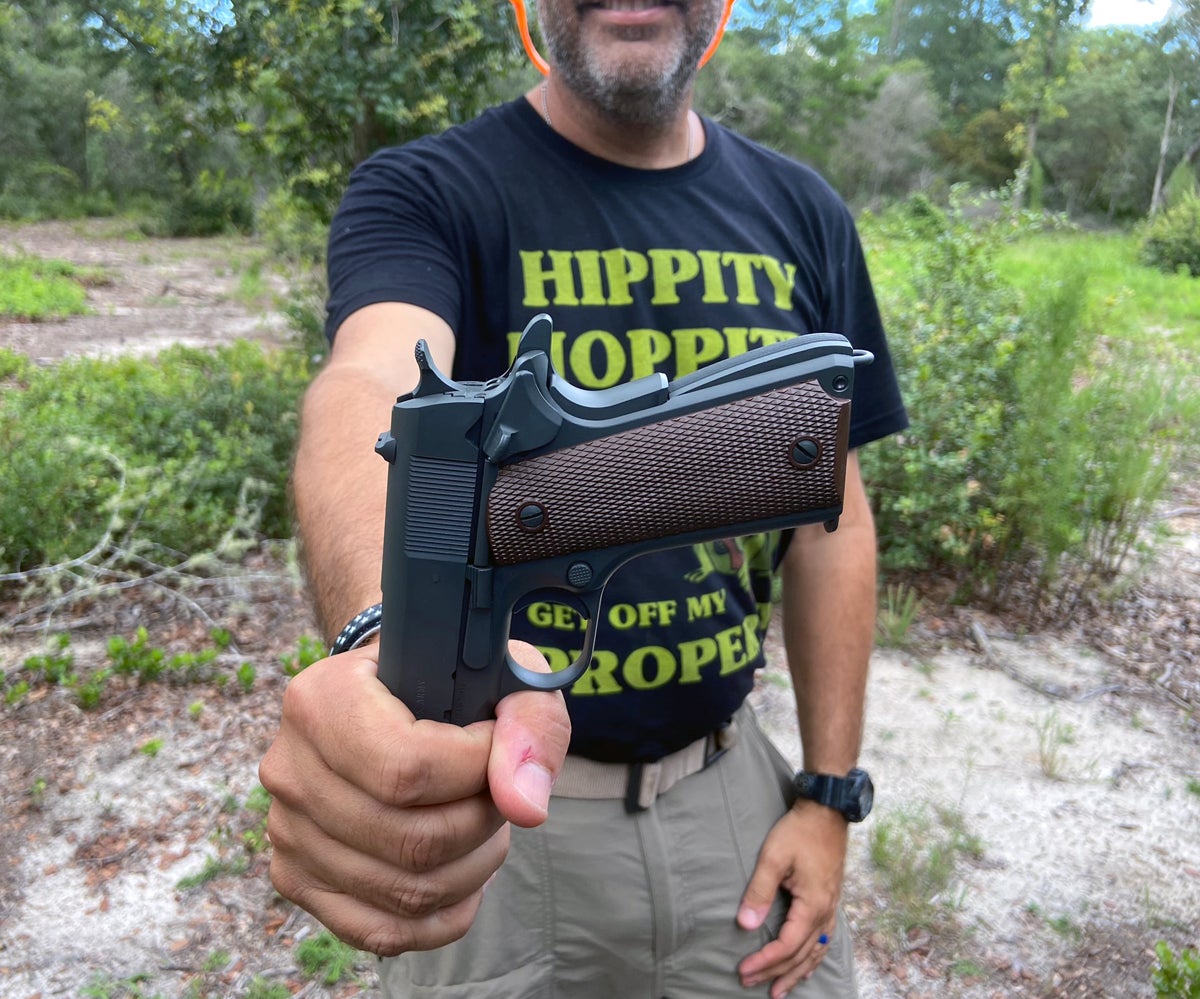 SDS Imports 1911A1 "US Army" model pistol in 45 ACP.
(Photo © Russ Chastain)
We also shot Hank's new
SDS Imports 1911A1 "US Army" model
pistol in 45 ACP. He picked it up for around $339, and for that money it seems like a winner. Made in Turkey and intended to strongly resemble the actual 1911A1 government models from the World War 2 era, it went bang every time we asked it to… and the sights aren't bad either.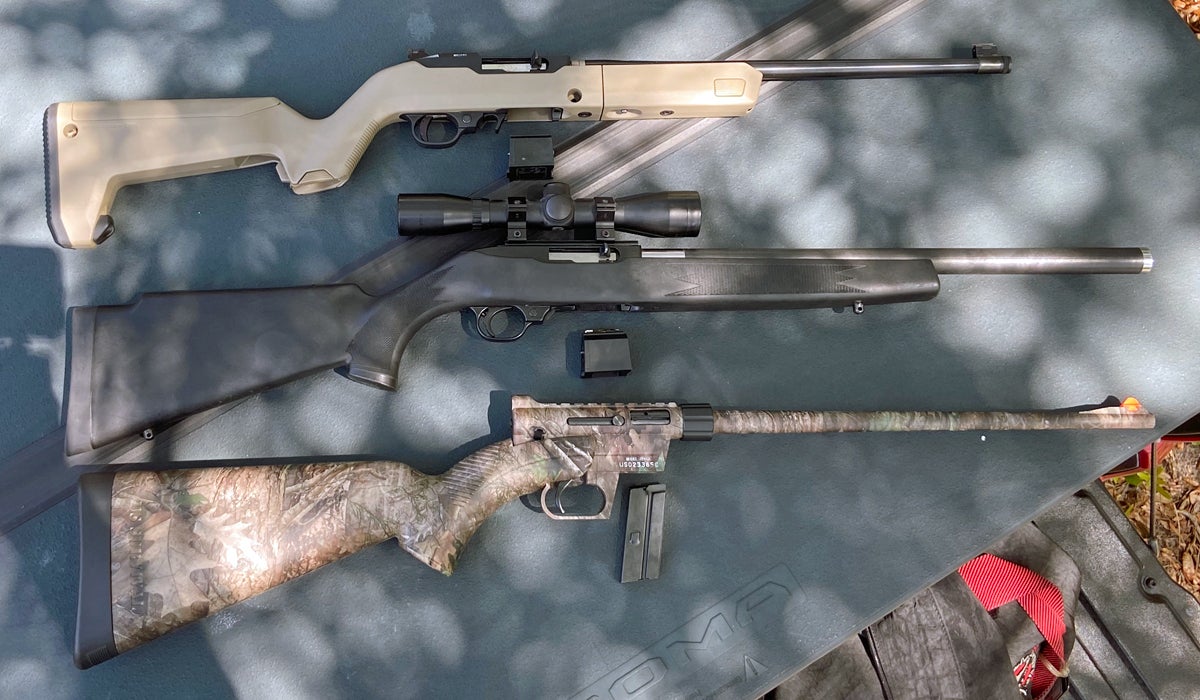 A trio of 22s. Top to Bottom: Ruger 10/22 Backpacker Takedown, Ruger 10/22 with Butler Creek stock & barrel, Henry US Survival AR-7.
(Photo © Russ Chastain)
We backed off to a bit longer range and started giving some rimfire rifles a workout. We first exercised a couple of Ruger 10/22 rifles, including the handy-dandy
Davidson's Backpacker Takedown 10/22
I reviewed earlier this year and have since purchased & outfitted with a Williams peep sight and Timney trigger.
Hank's 10/22 was shipped from the factory in the early 2000s and has since been modified by adding a Butler Creek stock & carbon fiber barrel. He also picked up a couple of Butler Creek's 25-round "Hot Lips" magazines, which can make anybody feel sorta-kinda like an 80s action TV show star. Can you say, "A Team?"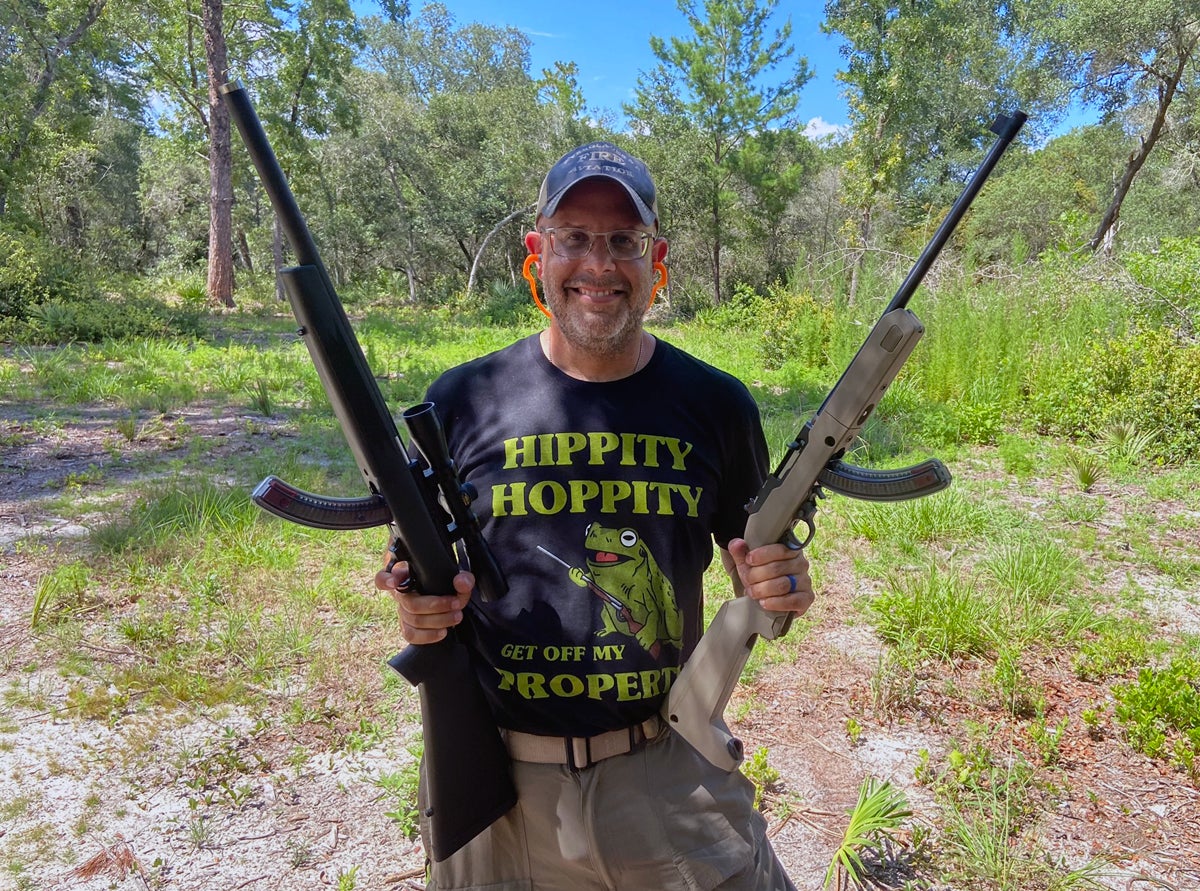 Hank sports a brace of Ruger 10/22s with "Hot Lips" magazines.
(Photo © Russ Chastain)
Aside from looking cool, these nifty magazines work well too. By the way, if you love Hank's "Hippity Hoppity get off my property" T-shirt as much as I do,
you can order one by clicking here
.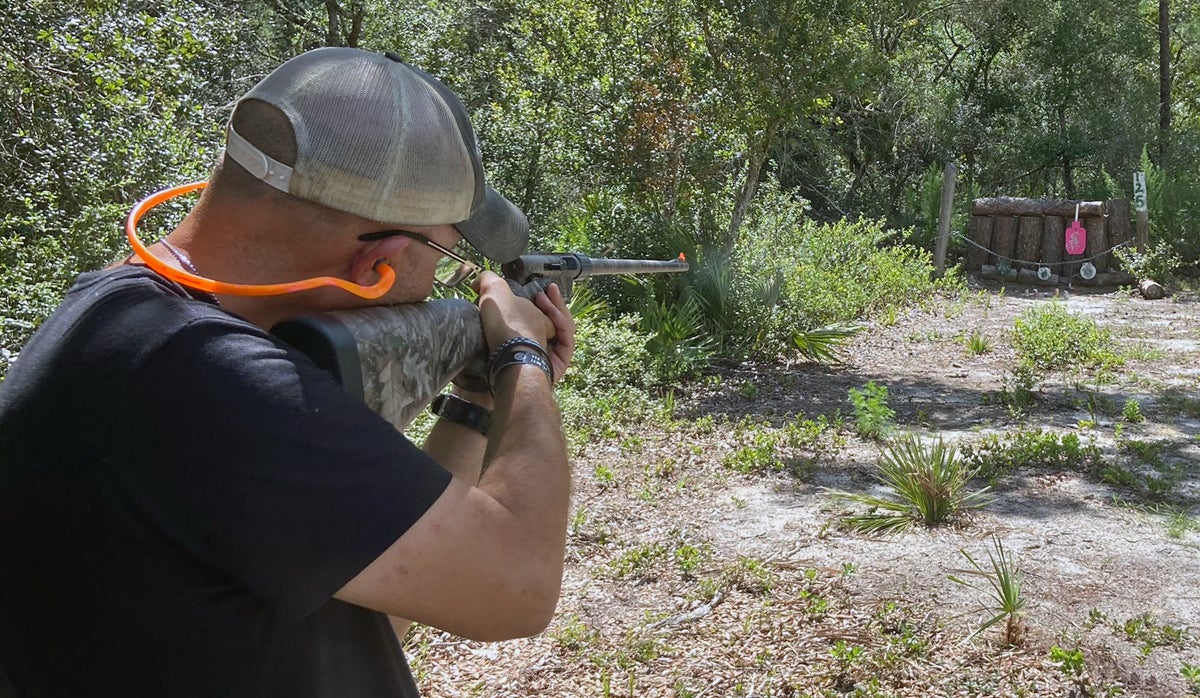 Hank shoots Henry: The Henry U.S. Survival AR-7 semi-auto 22 takedown model.
(Photo © Russ Chastain)
The more I shoot the little
Henry U.S. Survival AR-7
that recently came into my life, the more impressed I am. I just wish the magazines held more than 8 rounds, because they seem to run dry really quickly.
The gun is accurate and easy to shoot, although the oversized stock is kinda funky and can make shooting awkward for smaller folks with short arms.
Speaking of accuracy, I put a magazine's worth of 22LR into a group on the "head" of the steel target. I was standing and shooting offhand without a rest, not taking a whole lot of time but not rushing either. At roughly 35 yards, this is a pretty good group.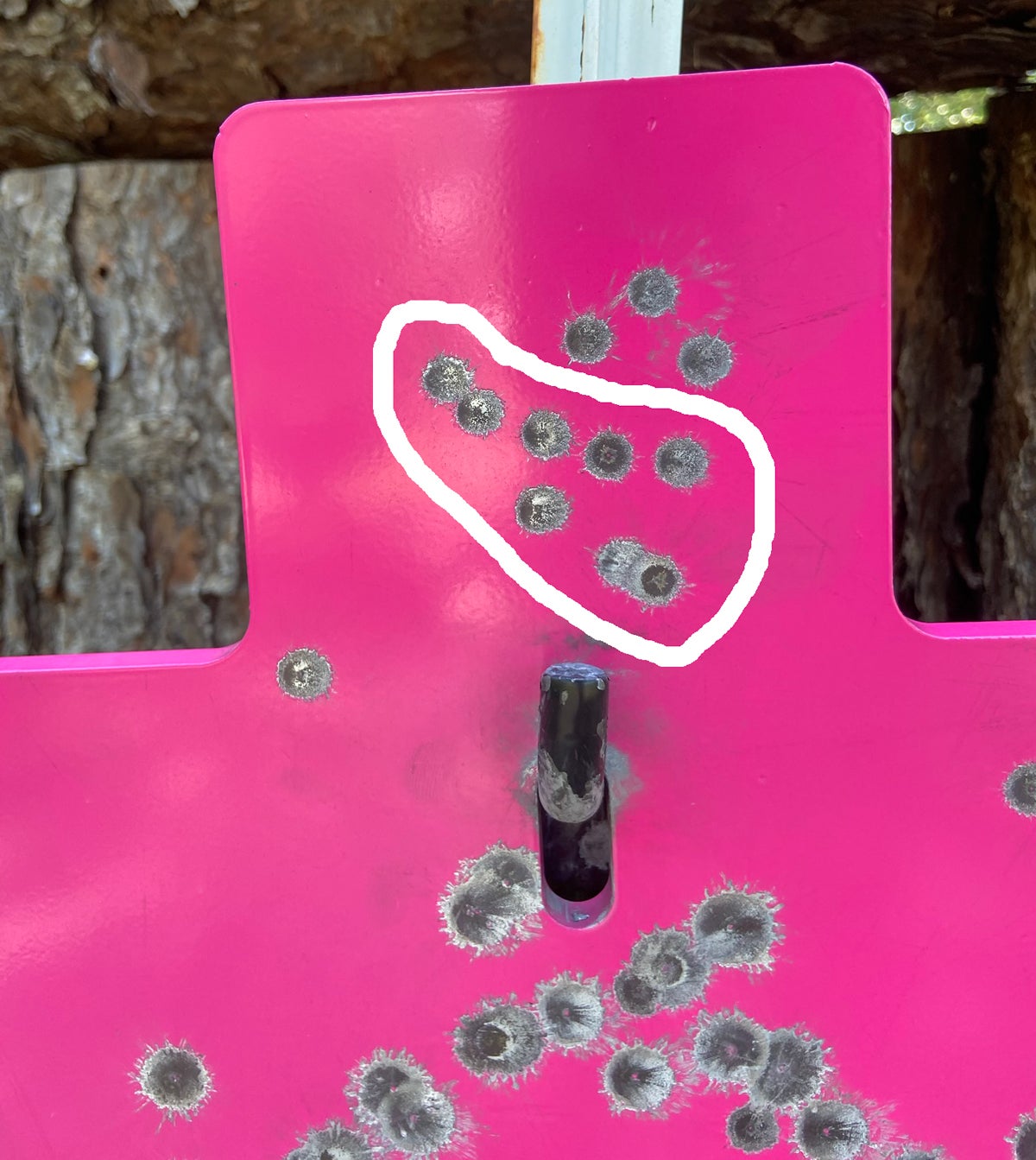 Not a bad 8-shot group with the Henry from a standing offhand position.
(Photo © Russ Chastain)
At the end of the day, we relaxed with a meal that tasted especially good to me, since I'd slain the deer that went into the venison spaghetti sauce and
the roasted hog
we had on the side. Pretty great!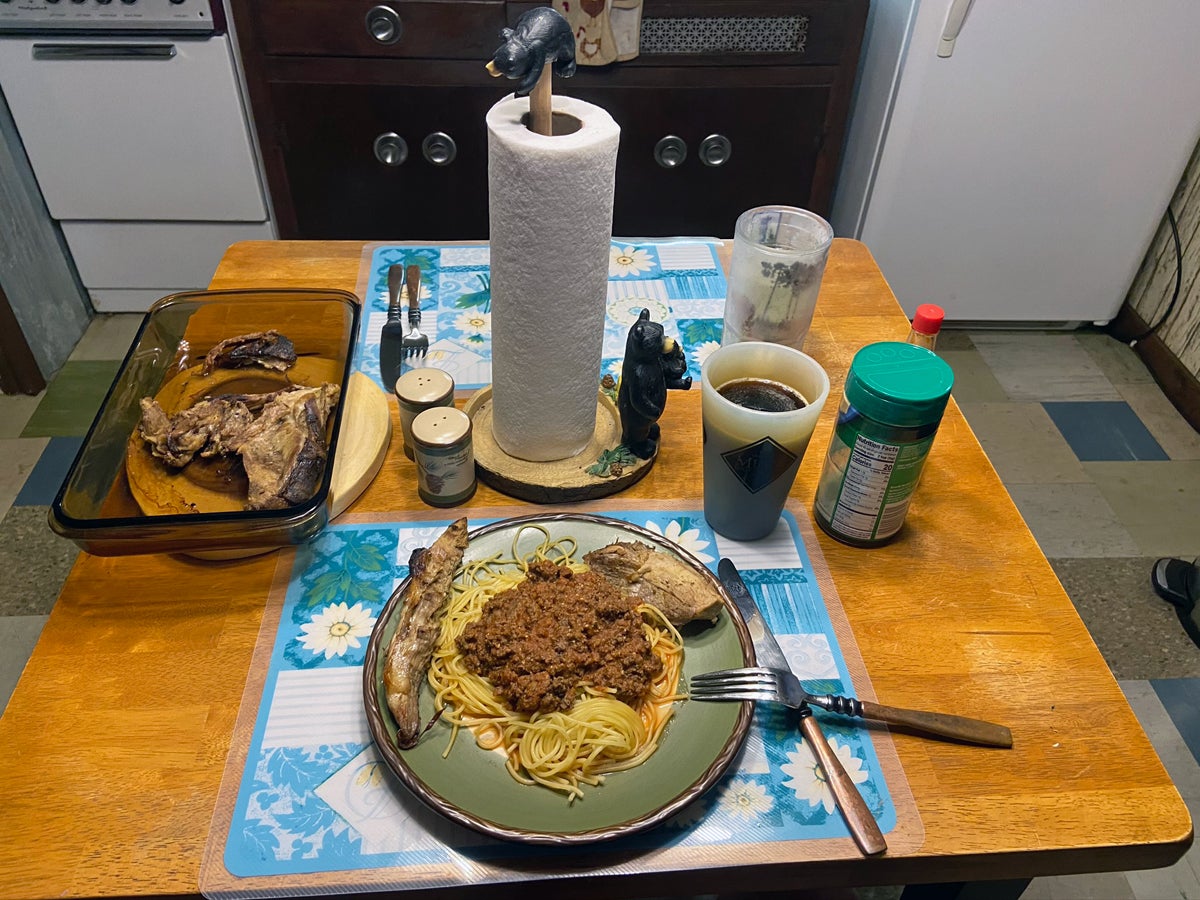 Ground venison in the spaghetti sauce, and roasted wild hog on the side.
(Photo © Russ Chastain)
Sometimes you just need a day away from the regular grind… and when you can spend it with a good friend shooting guns and consuming wild game, well it just doesn't get any better than that.
See y'all at the range.
The post
A Great Day at the Range
appeared first on
AllOutdoor.com
.
Read the full article here...