Discussion Starter
·
#1
·
This post is about my project to get a scope mounted onto a rifle that I don't really shoot very much at all in hopes that I will breathe some new life into it and enjoy myself along the way. This rifle was handed down to me from my Great Grandfather and while it has some sentimental value it is not much of a collector. Full disclosure, I am not a gunsmith, not even close, I am a regular joe who is determined to have some fun and learn some things as I tinker with my tools down in the basement. I am a trained mechanical repairman for over 25 years so I know my way around tools just enough to get myself into a little bit of trouble here. My goal here is first to enjoy myself while I learn something about gunsmithing, and second to attempt to drill and tap a working vintage barrel receiver. I am totally ok with the fact that I could completely ruin a perfectly good rifle, but I have some confidence that I just might be successful.

Here is a picture of my U.S. Model of 1917 Remington .30-06, it's a sporter with a 22" barrel and Redfield iron peep sights. It was manufactured in September 1918 and has a capacity of 6 rounds. I've also seen this type referred to as an Enfield P17. I will be drilling and tapping holes for placement of a Burris Trumount Universal 2-piece Remington 700 REV base #410253. I chose this base because it will allow me to place the rings a little further back in order to get the eye relief right for my cheek position on this stock. The Remington 700 style base will match the curvature of the barrel for the forward base, but for the rearward base I will need to grind the receiver a bit. The portion of the receiver that I need to grind is a little taller in the front than in the back, so I will have to trust my free-hand touch on the bench grinder to get a flat finish. I will be grinding .13" off the front end and working back to remove .11" off the back end to get the receiver level. I will also need to grind a bit of a curvature from side to side to fit the rear base. I made a whole bunch of measurements and calculations to get to this point so I won't bore you with the numerical details and descriptions. I wanted to take every precaution to be sure I was going to get a result that was as close to parallel and centered with the bore as I could accomplish.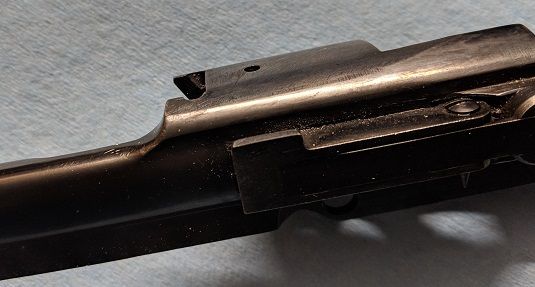 I am quite pleased with my results here as I was able to make the grind I needed without any major mistakes. I decided to leave the ears on because I didn't want to remove any more material than absolutely necessary, I can still remount the original redfield sights.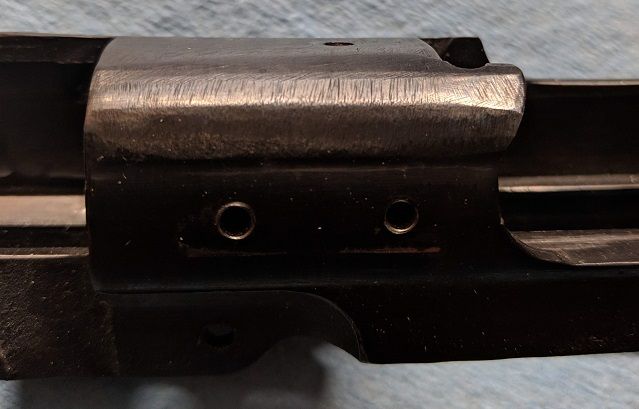 After grinding I did some light sanding to smooth it out a bit but as you can see there are plenty of tooling marks left behind, I really don't care about these since I am not trying to win any contests here, I was just happy to get it flat and true to fit. I used Birchwood Casey Super Blue to treat the exposed steel, I found this to be a very simple and easy process. So far so good, now it's time to get the drill jig setup.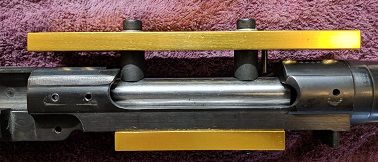 In order to locate the holes I need I am using a Sun Optics Scope Mount Drill Jig. I know this is not the most accurate of options but its the one I can afford. I would not attempt to drill and tap the barrel without at least some type jig to pilot the tools. For the rearward base I will use the existing threaded hole and drill/tap 1 more. For the forward base I will Drill/tap 2 new holes. The reward hole I am drilling will go all the way through the receiver top since it is nowhere near the chamber. The 2 forward holes will be blind holes as I do not wish to perforate the chamber, even though one of the holes is behind the chamber and over the bolt. I will drill the blind holes to a depth of .19" which will allow for at least .14" of thread depth. The thinnest part of the barrel over the bolt where I am drilling the blind holes is .235" which would leave .045" of steel between the bolt chamber and the bottom of my blind holes. After some careful measuring and calculating I have determined that the forward hole that is closest to the chamber is over the thicker portion of the barrel wall at the head of the bolt which will leave plenty of steel between the chamber and my blind hole.
You can see here that I am not quite setting up the jig exactly as the manufacturer directions suggest because I plan to use the pre-existing rear hole and keep the ears. This setup will allow me to locate the single rear hole correctly in relation to the pre-existing hole while landing the two front holes where they need to be to avoid being too close to the chamber. I double checked my measurements and alignment so now it's time for drilling.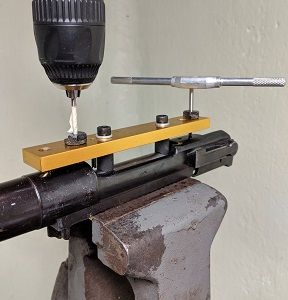 Here you can see the tap and the drill in their pilots and they do a decent job of guiding the tools perpendicular. Yes I am using a corded hand drill so here we go again trusting my steady hands. I have also put some masking tape on my #31 size high speed steel bit as a guide so I'll know when I have reached the proper depth of my blind holes, not very precise but if I am careful I will be fine. I will use Tap Magic and drill at about half speed so I don't get too ahead of myself. First I will use a slightly larger bit to anneal the surface of the barrel which will allow me to penetrate the thin hardened surface of the barrel before using the #31 size bit for the holes.
Here is a closer look at the forward blind hole I already drilled and the pilot to guide the 2nd hole. Now that I have my holes drilled let's look at the taps.
These are 6-48 taps to cut the proper threads for the mounting screws, one is standard and the other is a bottom tap for the blind holes. I use the standard tap for all the holes carefully turning back a half turn for every forward quarter turn to keep the tap clear of cut debris. I ground a little bit off the tip of the bottom tap being careful not to damage the cutting threads. This will allow me to cut threads as close to the bottom of the blind hole as possible. Slow and steady wins the race here and not without using Tap Magic again.
Here is a look at the two forward blind holes, they turned out pretty good and the threads look crisp. I have to be sure I have these blind holes cleared out of all cut debris before mounting the bases. Along with the basses I am mounting a set of Leupold 1" Standard Medium Height #49901 Rings. I am using a Wheeler Scope Mount Kit to mount, align, and lap the rings.
As you can see from this picture I was able to get the rings pretty closely aligned but not perfect. Heck they turned out a lot better than I thought given all the variables at play. So far I haven't destroyed my great grandfather's rifle yet and I am really having fun. I am also going to install a Timney Sportsman Enfield Trigger set to 2.5 lbs that will surely be an improvement over the original military trigger. My shoulder will thank me later for adding a LimbSaver AirTech Slip-On Recoil Pad.
After measuring, calculating, measuring, grinding, measuring, drilling, measuring, tapping, measuring, mounting, and lapping, I ended up with pretty good results. I've got a scope from another rifle on it to be sure that the bolt action cycles without any interference and the spent shells exit cleanly without interfering with the scope either. I mounted the scope as far back as possible to check the bolt action cycle clearance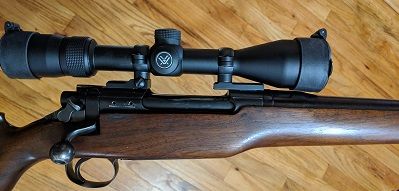 I was able to bore sight it at 50 yards without much more than a few clicks to get it close to zero. Soon I will take it to the range to see how well it zeros at 100 yards. I am really excited to shoot this rifle again and see if I can be consistent and accurate with this new modification. I will update this post with my results and I am really looking forward to all your thoughts and suggestions about my first ever attempt at something like this.