Finishing an 80% lower for myself at home
This post is a summary of my first experience with finishing an 80% Arms Lower Receiver. As I became more and more interested in dabling in some light gunsmithing I couldn't help but want to try to finish an 80% lower for myself. I did a fair amount of research until I was confident that I was choosing tools and supplies that I could manage.
I decided to buy the 80% Arms Easy Jig Gen 2 Multi-Platform - AR-15 and .308 80% Lower Jig. To go along with the Jig I also bought the 80% Arms Hand Drill Stabilizers for Easy Jig Gen 2 and Easy Jig Gen 2 Tool Kit (drill/mill bits).
In order to give myself the best chance of success I also chose the 80% Arms Type III Hard Anodized Billet AR-15 80% Lower Receiver. I understand I could use the Jig on any mil-spec lower but why not take advantage of the free shipping and get my lower from 80% Arms too.
The parts came quick and everything is of very high quality in materials and manufacture.
Next I needed a Router so after looking at the router compatibility guide on the 80% Arms site I chose the Dewalt DWP611 because it is a good quality router for the money and it wouldn't require an additional large router plate.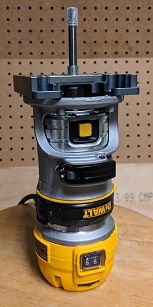 The remaining things I need I already have in my shop in the basement; Vise, Tap Magic, WD40, standard corded hand drill, and a shop-vac. To prepare I read the directions more than once until I understood each task as they described it step by step, I found this easy to follow as I took my time. I am not trying to win any contests here as I just want to avoid making any mistakes at all. I have never done this before and I am not a trained machinist or gunsmith. I do have 25+ years of professional mechanical repair skills under my belt. I know my way around tools just enough to get myself into trouble from time to time but mostly find great success working with my hands as it has always paid the bills and I still have all my fingers!
I started by getting my router sedt-up. I found it easy to remove the stock factory plate and replace it with the 80% Arms Router Attachment Plate. Paying attention to follow the directions when mounting the end mill bit and the attachment plate. This is key to have the bit properly secured to avoid any problems while milling.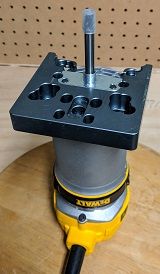 Now it's time to place my lower into the Jig. Following the directions I found it useful to add a couple strips of masking tape to the jig where it meets the rear of the receiver. Once attached I found that the Jig grasped the receiver tightly and precisely, confidently holding it in place ready for me and my power tools.
I started by drilling the pilot hole using the drill block as instructed and adding 3 drops of tap magic as I go periodically lifting the bit to clear shavings. I am using an inexpensive corded hand drill at half speed with light pressure and a steady hand. I know this step could be done easier with a drill press but I wanted to prove that with some patience I could do it by hand with good results. Keep it steady, straight, lubed, and smooth. Making sure the Jig stays aligned and level and secure in my vise. Once I have the pilot hole drilled I can then move in with the router. I start by setting the end mill bit to the first hash mark indicated in slot A on the Jig. I have found that speed setting 5 on the router works best for me. I spray a little WD40 onto the lower where I will mill and then position the router with the end mill bit fitting into the pilot hole. Once in the pilot hole I can turn on the router and carefully move it in a clockwise circular pattern to mill the opening, then turning off the router when I have finished a complete pass of the opening. Now I need to lower the end mill bit to the next hash mark indicated in slot A on the Jig. I found that lowering the end mill bit 3/64" at each step of the milling process worked best for me. This was easy to do with the router I used, I just had to rotate the adjusting ring 3 marks, each mark on the ring is 1/64". I kept repeating this step by step milling process 3/64" at a time, very patiently and methodically for both slot A and slot B remembering to lubricate with WD40 on each pass. Chip management is a must through this process, the chips pile up fast and you need to keep clearing them out to see what you are doing at each interval. Don't try to do too much too fast, slow and steady wins the day here. Keep a very firm grip on the router as it will want to jerk away from you if you don't. It took me a little while longer than I anticipated to reach this point but I am happy with my results so far.
Now I just need to finish milling the oval trigger slot at the bottom of the pocket. I install the trigger template into the Jig and set my end mill bit to the first hash mark in Slot C on the Jig. Same as before I set the bit into the pilot hole, turn on the router, hold firm and move in a small clockwise circle then turn off the router when finished with the pass. Drop the bit another 3/64" and repeat until the trigger slot is finished.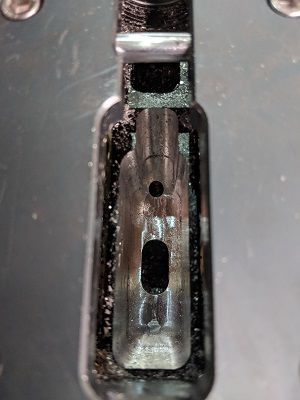 All that is left at this point is to drill the holes through the side of the receiver for the safety selector, trigger, and hammer pins. I fit the hand drill stabilizers to the sides of the Jig and drill the two 5/32" holes and the ⅜" hole. Keeping the drill steady, straight, and perpendicular using a medium speed.
Chip management is always ongoing through the entire drilling/milling process, you can see here that they just keep piling up and you need to clear them constantly.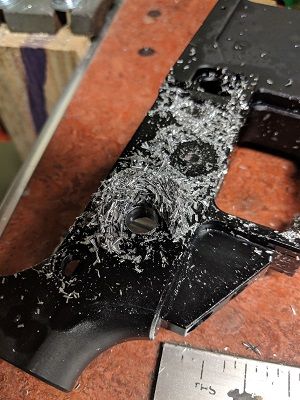 And now I have completed milling my own 80% Arms Lower using the Gen 2 Easy Jig. Here is a look at how it turned out.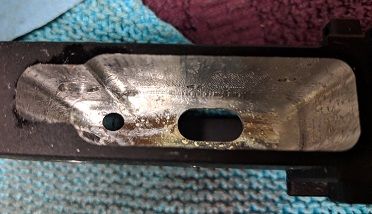 Here it is compared to an Aero Precision Lower.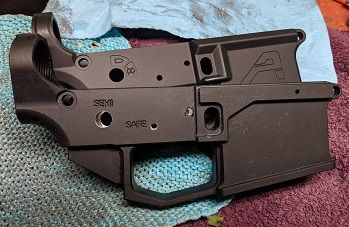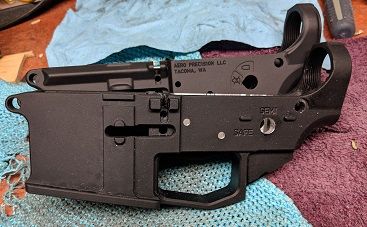 Here is a weight comparison of both lowers. The Aero Precision Lower weighs 246 Grams while my finished 80% Arms Type III Hard Anodized Billet Lower weighs in at 258 Grams.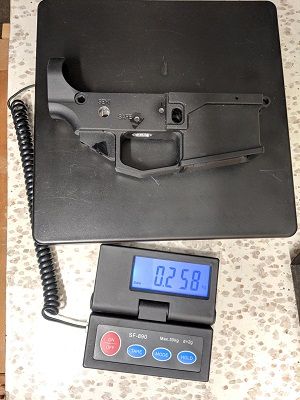 Here are some pics of how it turned out using a standard mil spec trigger and lower build kit with a PSA 5.56 upper assembly.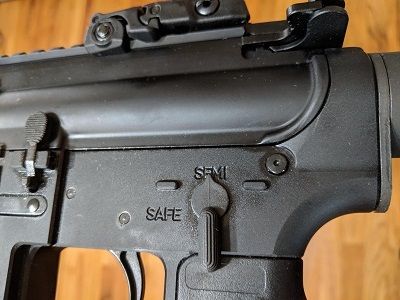 Well I am very happy with how this project turned out. I really had a lot of fun milling my first lower for myself. I found it very easy to do by following the directions. I feel I made the right choice in buying the Gen 2 Easy Jig from 80% Arms as well as their Type III Hard Anodized Billet 80% Lower Receiver. The Jig is very solid and easy to use, I was able to get a finished quality that exceeded my expectations. The directions are simple to follow and understand as I managed to avoid any mistakes on my very first attempt. I used this Jig to finish milling an AR-15 receiver, but it can also be used to mill an AR-10 receiver. My next project will be to mill my own AR-10 receiver because I can.
I have fully assembled an AR-15 chambered in 5.56mm from the 80% Arms Lower I finished myself using the 80% Arms Gen 2 Easy Jig. I found that the fit and finish of the receiver is a very good match to the PSA upper and lower parts kit. The trigger is working perfectly and the safety selector is pivoting securely. It looks great and works great. I am very pleased with what I have accomplished from buying the tools all the way to plinking at the range. If you've ever wanted to finish your own receiver I would tell you to give it a shot. I really enjoy having milled one myself and I see more milling in my future. Let me know what you think or if you have any questions about this process that I might have missed to include here.