Discussion Starter
·
#1
·
Hello every one, I've been lurking for some time. I'm usually a AR/AK guy, but I have a project I'm working on and I'm not getting much useful info on the Black rifle boards I usually haunt. I was hoping some of you fellas could throw in some of your hard earned experience.
I recently got back from my local smith a Rossi 92 in .357 mag/.38 special. I had him drill and tap the receiver for a Lyman 69a peep, mount the tallest gold bead marbles front sight Brownell's sells. He also cut down the mag tube 1/2 inch and threaded it for my YHM 9mm suppressor.(This is the only 9mm suppressor on the market right now that disassembles for cleaning, so I'm not afraid of cast bullets.
(sorry about the crappy picts, I'm working on getting some better ones...)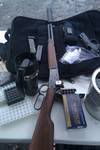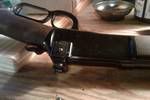 Let me tell you this thing is a kick in the butt! The giggle factor is way up there.
I've bought a rockchucker and all the gear to reload.
So far I've loaded 158gr lswc trailboss loads. I started at 3gr went to 3.5 and then 4gr. Cant really tell the difference in sound between the loads. So the 4gr has been the go to load.
I just loaded some 158gr jacketed soft point with 4.5 gr of hp38, but haven't shot them yet.
I would like to find a load that puts the heaviest round out at around 1,000 fps in the 16in barrel. I would also like to use .38 special brass.
My questions for you guys is how would you go about it??? What bullet would you recommend? What powder would you use? Any pet loads that might fit the bill??? Are there any heavy cast bullets with a crimp groove That puts them closer to .357 length that allows more room for powder? How heavy of a bullet will the puma Rossi stabilize at 1,000 fps???
Any help or advice would be really appreciated... Kinda flying by the seat of my pants on this one!!
Thanks, Fisty
(How's that for a first post
)