Discussion Starter
·
#1
·
I'm new to the board, and fairly new to deer hunting. I thought you guys might get a kick out of my first deer hunting experience. This is from last year, which was my first time. A good friend of mine's family owns property up in NW IL near the Mississippi River. It's prime whitetail country. I had talked to him off and on for a few years about going up there hunting with him, and I told him if a spot opened up, I wouldn't mind being considered. So last year he told me in the spring that I could go that fall if I wanted.
IL is no-rifle for deer, so I bought myself an 870 with a rifled barrel. Each month I'd go buy 2-3 things until I'd gotten some warm hunting boots, plenty of base layers, camo overalls, a heavy camo Carhart coat, and the million other items I thought I'd need to stay warm sitting in a tree stand for days in late fall/early winter in northern IL. Since I'd never done anything more than some squirrel hunting, I didn't have much to start with, so I spent a fortune getting geared up.
Finally November rolled around and we went up to the cabin the night before opening day. It was unseasonably warm (highs of about 60*), so all I needed was a pair of camo jeans, and a couple shirts on to stay plenty warm. So much for all that cold weather gear, right? We get up dark and early opening day, and I get pointed towards where my stand was to be across a field and down a trail into the woods. Sure enough, I find it and climb in to sit and wait. I tell myself that I'll be happy just to come home with a deer, so the first decent shot I get, I'm going to take. The only catch is that my buddy's dad (who owns the land) has asked us not to shoot any yearlings, and to try not to take a buck less than 8pts. Other than that, I'm planning on taking whatever I can get.
Within about 45 minutes, it's getting just light enough to shoot, and off in the distance I hear a couple shotguns. Maybe 3-4 minutes later I hear something behind me and to my right. I turn just in time to see 3 does cutting slowly behind me from my right to my left. I turn back to my left and watch them over my gun. They are quartering away from me, and I know enough to realize that's not a good shot to take. I keep the largest in my sights hoping she'll turn, but she keeps moving.
Just as I'm about to turn back around, I hear movement again coming down the same game trail. It's a buck following the does. He turns broadside to me and literally stops dead in my sights about 65-70 yards away! I didn't even move my gun from where I'd been pointing it towards the does. In the fraction of a second after he stopped I count points on the side facing me.....1, 2, 3, 4, BAM!!! I hit him just behind the shoulder and he flips sideways and hits the ground. And here is where I mess up. I should've immediately pumped another slug in him, but instead, out of inexperience, I raise my gun barrel and watch him. He gets up and just trots off into a ravine maybe 100 yards further down the game trail. And I make another mistake. I should've waited in my stand for a while. Instead I climb down and make tracks for where he disappeared from view. Just I get to the edge of the ravine to look down and see if I can see him, I hear a noise at the other end of the ravine, and I see a buck (not sure if it's him or not) bound over the other side and out of view. It was too fast and too far away for a shot. I also don't think it's him and don't want to shoot more deer than I have tags for. So I keep looking in the direction I know I saw my buck go. I see nothing, so I decide to walk back to where he hit the ground.
I get back to where I shot him and I see a few drops of blood. Keep in mind that I've never tracked a wounded animal before, so I have no idea what amount of blood is normal. All I know is that there are a few drops there, and a few drops about 8-10 yards away in the direction he went. So I start following it. I follow it a couple hundred yards, never seeing more than 5-6 drops in one spot. Sometimes it is a single drop. Eventually I lose the trail, so I start circling from the last bit of blood I saw. Still nothing. I've spent maybe 40 minutes at this point, and I'm starting to worry that maybe I didn't get the kill shot I thought I did. So I head back to my stand where I had left my backpack. I pull out the roll of toilet paper I kept in there (just in case!!) and go back to the spot I shot him. This time I tie off a small length of TP at every spot that I saw blood, and I retrace my steps. I finally find more blood beyond the last spot, and I keep going. Unfortunately the trail disappears another 50-60 yards away. I circle and circle, still nothing. I decide to walk through the ravine, and the next ravine over, I still find nothing.
At this point I'm almost 2 hours in. Two of my buddies that were hunting on the same property had said they were going to go in at 11am or so, and it's already after 10, so I decide to head towards them (blaze orange on, obviously!) to see if I can get some more experienced help tracking. I can see from a distance that the tree stand one of them was going to be in is empty, but his jacket is tied over the ladder. Just as I'm getting near, they both come over the hill on the other side. One of my buddies had fired one of the first shots I heard that morning, and got himself an 8pter. So I tell them what happened, and how I tried to track him.
Now keep in mind at this point that both of these guys have been hunting for almost 20 years. It's my first time. The last thing I want to do is sound like I'm telling a fish story about the giant buck that got away. So when they ask if he was big, I simply say "he was at least 8pts, and he seemed big to me, but I don't have a lot to compare him to". When they ask if I'm sure I got a good shot, I tell them that it was good enough to literally flip him over, and that I thought my shooting was good enough to put it within a couple inches of where I aimed. Next they take me over to where the buck they just shot was hit. It looked like a murder scene. They asked if the trail I was following was anything like that, and I told them no, I only saw a few drops. I could tell they were starting to doubt my story a bit, but they headed off with me to help track him.
We get to where I had marked the blood trail, and they are amazed that I could follow it as far as I did. We get to the end of the blood trail, and all three of us start searching, but find nothing. I tell them about the buck climbing up the side of the ravine when I first go there, and that I wasn't sure if he was the same one or not. They ask me to show them about where I think that was (I'd already looked there on my own at least twice, finding nothing either time.), so we go there. After 10-12 minutes one of my buddies spots a spray of blood on the side of a sapling. Sure enough, that buck must've been mine. A couple more minutes and we discover fresh tracks where it looks like he was digging in to climb out of the ravine, and we realize one of his hooves is almost twice the size of the rest. So my buddy (must be part Apache, lol) starts tracking the deer by this mis-shapen hoof. 30-40 yards up the side of the ravine and over the crest of it is a four-wheeler trail they've cut through the woods. It's soft gravel and dirt, and sure enough we can see that when the buck hit that trail he ran down it for a good 60-70 yards before heading into the woods on the other side. You could see it plain as day in the soft dirt of the trail.
By now it's over 3 hours since I shot him. I'm starting to doubt myself and just hoping I didn't mortally wound an animal we won't be able to find. My buddy is sure the deer can't be much further, and we start to see some blood again where he went into the woods on the other side of the trail. The woods sloped straight down towards the entrance of the property and the driveway in, and there is a thicket at the bottom just before the drive. My buddy whispers "I guarantee you if he didn't make it to the drive and run off the property, he's in that thicket." He tell me to circle around to the side, keep my gun up, and once I'm in position he and my other buddy will slowly walk towards the thicket at a 90* angle from where I'm at to try to flush him out. I get in position and start searching the thicket for any movement as they start walking towards it............after about 15-20 seconds I realize that there, not 10 yards in front of me at the edge of the thicket, is my buck. Sure enough, he'd made for the thicket and laid down to die there.
I yell for them that he's there, and he's dead, and they come running over. My buddy sees him and lets out a huge whoop. He is cracking up laughing. He looks at me and says "sell all your stuff, because this is the best it's going to get, you are going to be disappointed from here on out." First, I got a shot in under an hour. Second, here was what my first ever buck looked like: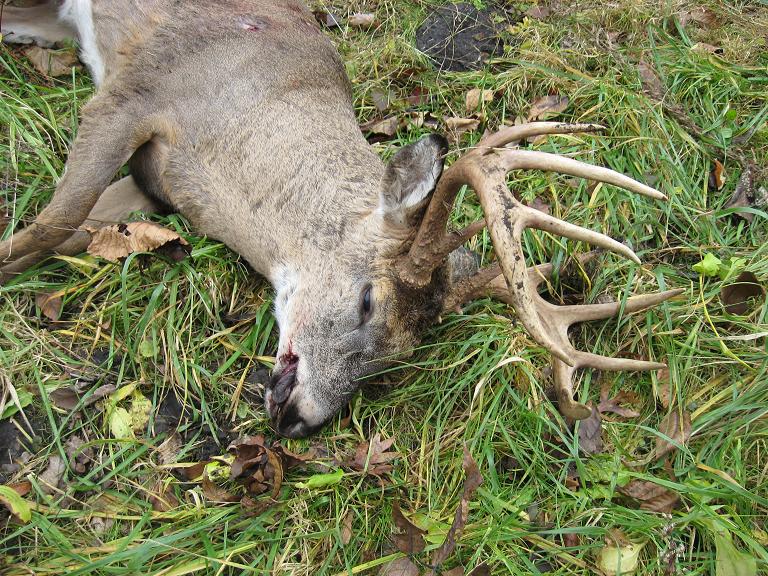 He had 10 good points, plus the very front tines split off into a crab-claw like shape. He also had two small nubs at the base of one of the antlers, you can kind of see one of them there on the right side in that pic.
Anyway, that's my story, and it still kind of gets my heart racing a year later to tell it in detail. If you made it this far, thanks for reading.