Discussion Starter
·
#1
·
A friend of mine was up in my area and decided to visit. They were looking at my rifles and was curious about my Knight Disc .50 caliber. This is an original disc and not an extreme or elite. I was showing them the Lehigh Bolt conversion. They also liked the looks of the rifle, I believed the word was "pretty". But anyway, they then wanted to see it shoot. Since I feel it would make a good field rifle, and was sighted in for 75 yards I brought it off the shelf, got the supplies out necessary to do this, and out the back door we went.
Rifle:
Original Knight Disc .50 caliber with Lehigh Bolt conversion. This rifle does not need any of the primer jackets anymore.
Scope:
Nikon 2-7x32mm Pro Staff scope.
Projectile:
Hornady SST 300 grain Flex Tip in the supplied sabots.
Powder:
85 grains of Pyrodex RS
Primers:
Winchester W209
Distance:
103 yards the small orange arrow is pointing at the target hidden back in the shadows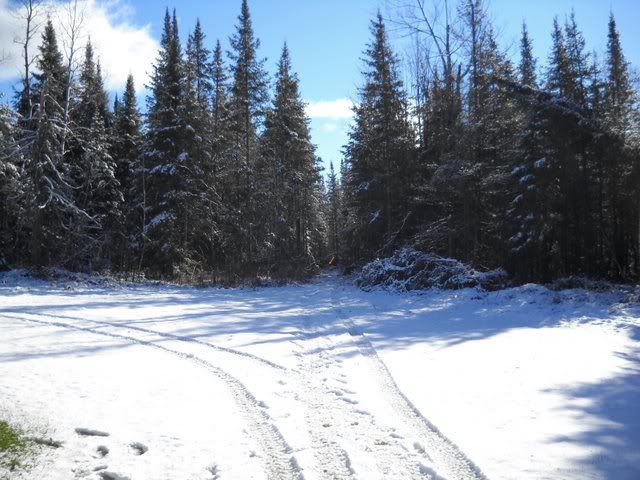 Swab solution:
Simple Green
Weather:
Bright sun! A gusty wind from time to time, but warm out ... 31ºs and it even got up to 35ºs before the shooting was done. Just a nice day to be outside.
I was shooting from a bench rest position. I started by swabbing the barrel and then I popped four primers through the action and swabbed with a dry patch. Sabotloader says it works for him, so I wanted to try that.
I knew from shooting in the past that with the SST for some reason, this thing likes 85 grains of powder. At least my notes said so. And so that was what I decided to shoot. Plus there is less recoil in case anyone else wanted to shoot.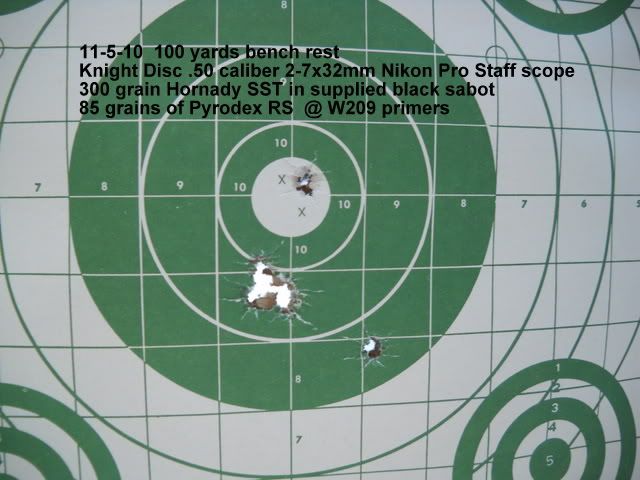 Shots 1&2 were touching under the bulls eye. This made sense as the rifle was sighted in for 75 yards. So at 100 yards it should of been a little low.
Then #3 happened.. :? Why this happened I have no idea. I really felt the shot was done right. Although #3 did load much easier then all the other shots for some reason. The others had that grabbing feel to them as they moved down the bore, like when you pull your damp hand over a smooth table top. But #3 basically just loaded. Same sabot (as best I know) and same bullet. But for some reason it took a dive and went to the right and low. I guess I could blame this on someone, but it was me doing the shooting.
4,5 &6 then followed and basically loaded the same as the others and hit where the others hit. To say I was impressed with that group would be an understatement. I was tickled to death. Then my friend pointed out as we stood there examining the target, me with a huge smile on my face... "missed the bulls eye."
I aimed a little over the bull for the next shot and #7 was born. End of argument there. I was swabbing with the same patch for almost the entire seven shots there.
After that I put some junk up that is fun to shoot and my friend and I shot all sorts of things but with some cheaper bullets.
I know I might have said this before, but I am so impressed with that Lehigh bolt conversion. I shot a number or rounds today and fouling in the breech of the rifle was basically non existent. There was a little fouling on the pin when I took the bolt apart. Nothing that did not clean right off. And there was no fouling on the scope, rings or mounts.
One place I have now noticed that fouling occurs. On the inside face of the breech plug around the outside edge. There is a slight groove and I had thought the plug was clean until I got some tooth picks and scraped that area clean. It really picks up fouling there. Other then that, what a great system.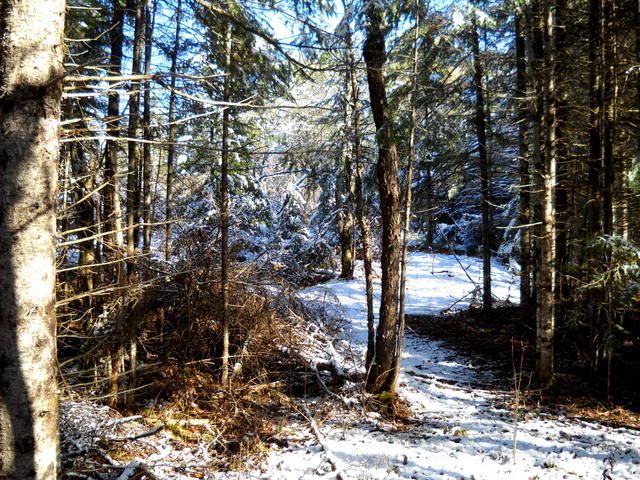 This last picture means nothing in regard to shooting. It just turned out nice the way the sun was shining through the trees on the snow.. I thought you might like it.