Discussion Starter
·
#1
·
Had a great weekend shooting skeet, quite a few people showed up, I only got to shoot a couple of rounds myself but had fun anyway. Made some money for the club and all is good. My kid came over and rode with me, per normal he shot his Ruger red label but he bought a tactical shotgun last week and we shot it a little bit afterwords.
I'm not much on tactical shotguns but this one functioned perfectly and was pretty ergonomic.
I couldn't pass up the deal Murdoch's was running on them so I have one now as well, for 299.00 you get 3 choke tubes and 3 magazines, two 10rd and one 5 rounder.
Landor is a company from Turkey, imported by another company in Texas.
Here's how it came.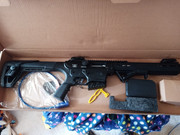 I made a few alterations because I'd already shot an identical gun and had a feel for what needed changed.
The AR-15 style sights leave a lot to be desired, they went into the box with that silly hand stop. I'll get a filler for the bottom rail and a recoil reducing choke tube. The red dot sight should work much better as well. Obviously not a clay target gun but fairly serious home defense rig.