Discussion Starter
·
#1
·
Yesterdays shooting really got me thinking. If these small powder charges can shoot 200 yards and still get a pass through, or 18 inches and still expand, how do they penetrate?
So I decided to try the White Ultra Mag which is a .504 caliber at the 50 yard line today.
Rifle:
White Ultra Mag .504 caliber. 28 inch stainless steel barrel 1-24 twist.
Scope:
Nikon Pro Staff 2-7x32mm with Warne QD rings
Powder Tested:
Triple Seven 3f, 2f, and Pyrodex P
Projectile:
Bull Shop Conical 460 grain .504 diameter pure lead
Caps:
RWS 1075
Weather:
82º sunny, very windy
Range tactics:
No Swabbing except when changing powders. Load and shoot as fast as I want.
The information the White shooters told me got me wondering. I know my Ultra Mag likes Pyrodex P and it likes Triple Seven 2f. But I normally shoot a strong charge. So what happens when we reduce things a little.
I started my shooting with Triple Seven 3f. I loaded on a clean barrel. I fired two shots and was surprised at the spread. Since my rifle normally likes 80 grains of Triple Seven 2f, I backed the charge down to 65 grains and changed (without swabbing) to Triple Seven 2f. I then shot five more with that and the 460 grain Bull Shop conical bullets.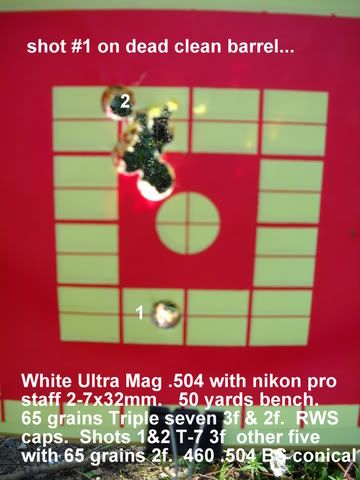 The group was very acceptable. So what about penetration?
I do not like newspaper or water bottles. All that stuff I have to clean up. So I grabbed two chunks of poplar firewood. Poplar is a soft wood, but this stuff is not aged and its a little water logged, so it is very dense.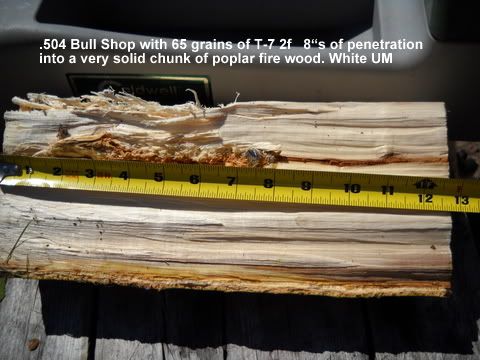 As this picture shows, the 460 grain Bull Shop conical bullet with only 65 grains of Triple Seven made exactly eight inches of penetration into the wood. Now that kind of impressed me. A later test into the same block before I split it, 65 grains of Pyrodex RS made 7-5/8th inches of penetration.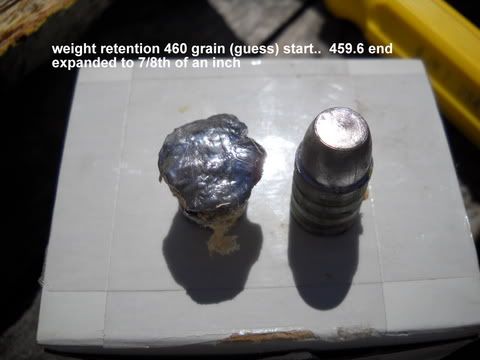 So I swabbed the rifle clean and decided to shoot the 65 grains of Pyrodex P. I loaded the slip fit conicals very easy for the first shot, but after the rifle fouled a little there was not quite as easy a slip fit. Yet, it never ceases to amaze me how these slip fit conicals can shoot so well.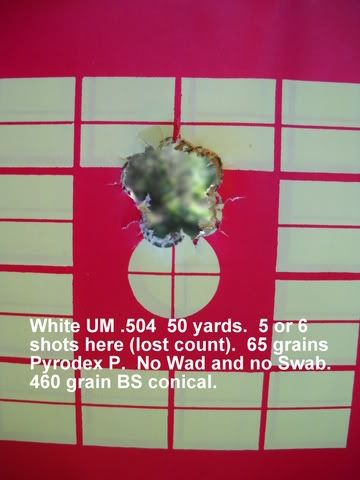 After the rifle was so kind to drill that group, I decided paper was boring and it was time to cut some wood.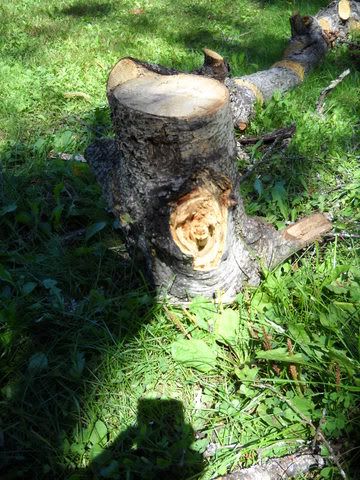 This chunk of firewood was on the ground. It had a short limb sticking off it. The penetration test chunk was balanced on it. So I decided to cut the limb sticking out... off. It took two shots with those big conicals to blow that limb off the stump. I was all smiles.
The clean up of the White was easy. Three patches of Rusty Duck Black Off and a couple dry patches. In fact it cleaned so fast, I forgot to take it out of the stock. This rifle is treated with Montana Extreme Bore Conditioner. Could that have something to do with it?
Anyway, it was a great day and the penetration test was good. I know that this would do the job easy. The White Rifle is an amazing shooting system for sure.