·
Elk Whisperer (Super Moderator)
Discussion Starter
·
#1
·
I actually missed a day yesterday because after getting home from work at 03:00 I didn't really fell like hunting yesterday. So . . . . . . .
Up at 04:30 this morning and had some eggs and toast. Then I scrambled getting the truck loaded with all the stuff I should have loaded yesterday. PANT PANT.
Hit the road at about 05:30 and got to the "Coy" gate onto mine property about 6. Just in time to see about 30 head of elk run right across the road in front of me. DADBURN IT!!! Well, at least I'm first in. Then a quick call to "440" the on shift production foreman to let him know where I was.
I hiked down to my spot, cutting fresh elk tracks going every which a way. I sat in my spot until about 09:00 waiting for the elk to move when I spotted six cows about a mile away. I gathered up my gear and headed back to the truck.
I called "440" again to let him know what I was doing (we are not allowed to travel certain parts of LOM road) and that I would be heading back to the main gate. (a round about trip of about 10 miles) He said to hurry my butt up because there was about 17 head with a "really nice non-typical bull" just headed across to where iI was going. I hit the after burners on the Powerstroke, checked
back
in at the main gate and hustled to where the elk were that I saw about 15 minutes before.
I immediately cut fresh tracks in the oak brush and started following them. Now if you've never seen oak brush (it's a mixture of oak, sarviceberry and alder) it's so thick in spots you sometimes have to crawl through it. Here's what it looks like.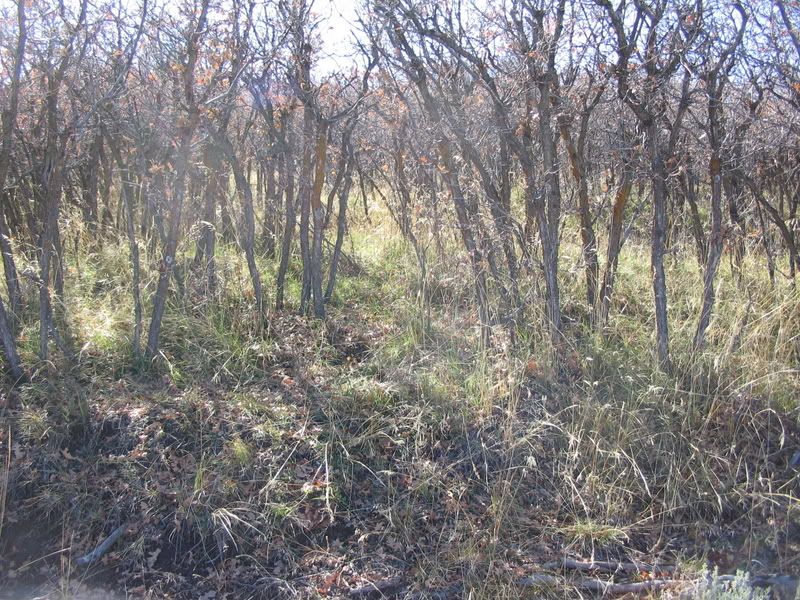 I caught up with the elk in the thickest part and we played seek and go hide for about 100 yards and I got a glimpse up brown hides and legs about the time they saw green wool pants and an orange vest. Off they went, crossing a large draw about 500 yards across. I made it to the edge of the brush in time to see them scaling the far side.
I spotted the weird bull as he stopped broadside on the far ridge. I found a convenient oak "tree" for a rest and held right under his back (cuz he was about 450 yards) and squeezed the trigger. BAWOOM, the 300RUM spoke and I saw dirt fly under the elk!!!!!!!!!!!! DADBURN IT!!!!!!!!!!!!!!!!! He was a good 150-200 yards further away than I thought. So I just sat there and watched the herd sneak through the thick stuff and out of sight. I was so frustrated I went back to the truck and promptly took a nap!!!
I did some more scouting up high and about 16:00 decided to call it quits and head home.
As I was rounding the last corner just before the house I noticed about60 head of elk come a boilin' over the hill behind the chicken coop!!!! My first thought was
CAMERA
cuz nobody is gonna believe this!! Of course it was buried deep in my daypack and the elk ran across the road in front of me while I sat there and watched. They crossed the "creek" and were skirting the hillside so a backed up and went up the drive way about mach1 trying to get a skyline shot with the camera, but I was to slow. Oh well, I'll just go feed the horses as it's to dark to take pictures now anyway. I parked the truck and went through the shop and opened the back door only to see ALL THE ELK on the skyline behind the shop!! The fence was screeching in protest as the elk hit it at a dead run. I remembered my cow talk around my neck and quickly a blew a couple times to see if they would stop and sure enough the whole bunch stopped on the rock ledge north of the house about 75 yards from the hot tub. What an awesome sight!! 40 or so elk skylined right behind my house!!!
Today I saw
more elk
than I have in the last 2 years.
More after tomorrow's escapades.
RJ