I recently decided to get into NRL22, one rifle in my safe was very close to being ready to go for the competition an AR style gun made from a RockRiver bottom and CMMG top, I chronicled the assembly 3-4 years ago.
Here's the picture from last week, since then I changed the scope to a Vortex Diamondback 4-16x44 30mm tube and picked up some Cole-tac accessories.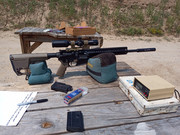 I picked several different lots/kind of ammunition that I already have in sufficient number to shoot for a year and tested them yesterday. I liked group #2, I have 4 cartons of it which might be enough for the rest of the year and 2022 season if I shoot some of the easier stages with the ammunition from group #1
The white part of the target inside the outer green circle is 1.6", most of the shots on target #2 were under an inch, probably could have shot a smaller group off a proper benchrest but I wanted to see how it would group using a bipod I planned to in the match. I wrote on the target it was a 7mph tailwind but there were gusts to probably 10mph, if you've ever shot 22benchrest you'll know what that does at 50yds let alone 100yds, had I used a chronograph I would have known if those low shots were from lower velocity or the tailwind, another case for chronographs.
Nearly all the targets shot at NRL22 are bigger than 1 moa with the exception of the kyl target and you can choose not to shoot the smaller targets on it.