Discussion Starter
•
#1
•
It's always a great day when you get a new gun, and in spite of a
really
slow background check (thanks, government), I was able to bring home a
Savage Renegauge shotgun
the day after I first fondled it at the gun shop. Many thanks to the fine folks at
Old Tymers Gun & Pawn
in Brooksville, FL for handling the transfer.
My first day with the new scattergun was a rainy one, so what better time to start familiarizing myself with it? And at the same time I can give y'all a preview of a gun I'll fully review in a couple months. So I wandered out to the garage to check it out.

The Renegauge comes in a nice hard case.
(Photo © Russ Chastain)
The included hard plastic case is pretty nice, but not so much that I'd trust it with airline baggage handlers. The internal padding is sufficient — and yes, it's precut to give you extra room for extended choke tubes, recoil pads, or a taller cheekpiece — but the latches and shell are not real thick. Don't get me wrong: it should serve fine for most use, but I'm not exactly an optimist when it comes to trusting baggage handlers.
When closed, the case size is about 46-1/2 x 12-3/4 x 4-1/2 inches.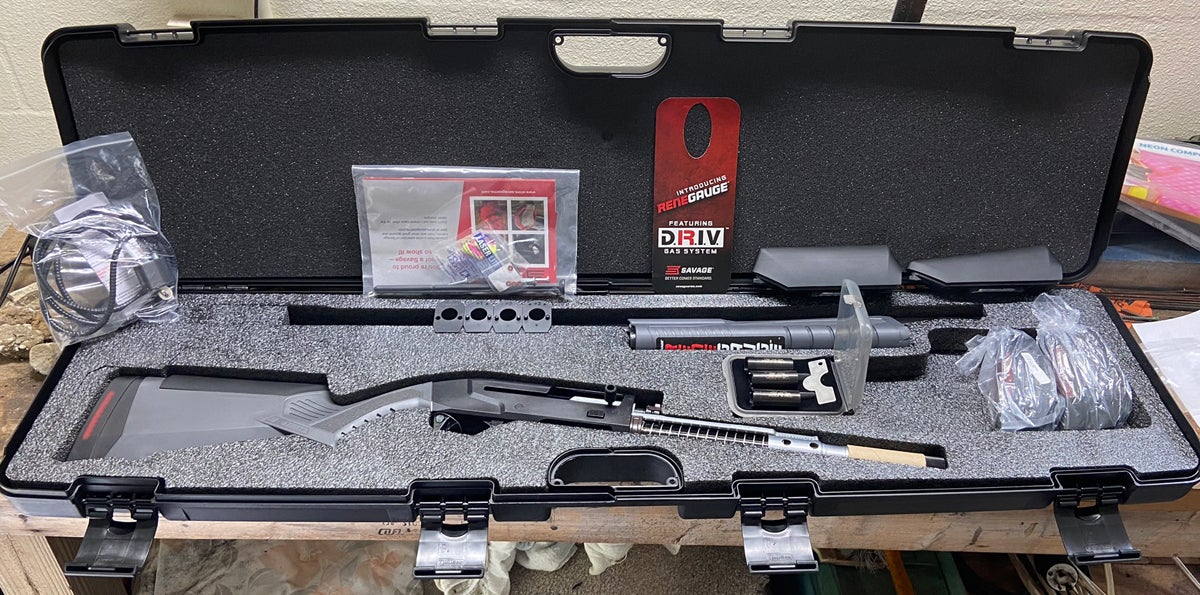 The factory case is set up to hold the broken-down shotgun with all accessories.
(Photo © Russ Chastain)
The Savage Renegauge comes with a variety of goodies, including shims to adjust stock cast on/off and three each of cheekpieces and recoil pads to allow users to adjust the butt stock to fit them just right.
Unfortunately, the included owner's manual says absolutely nothing about installing/changing these items, and there's no other instructional paperwork so users will have to look it up elsewhere or figure it out.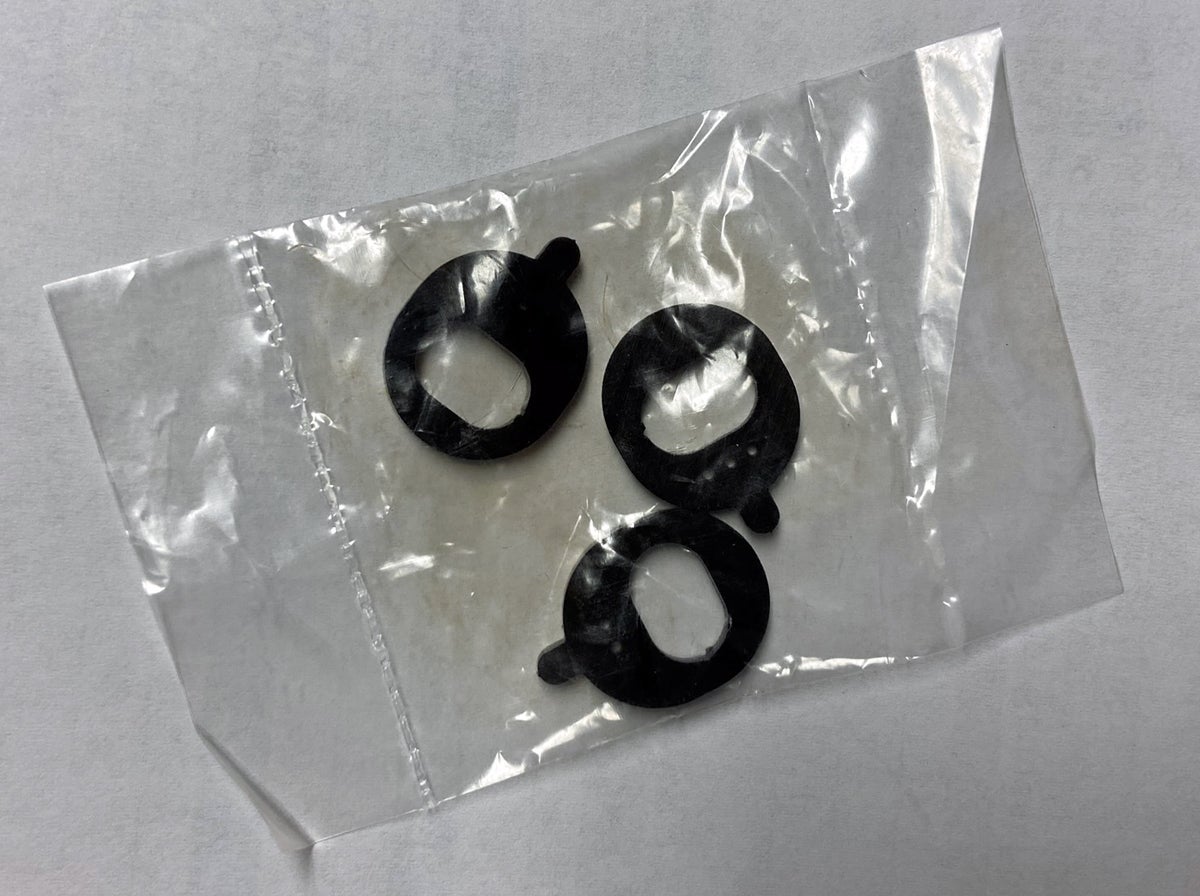 Three mysterious objects that came with my Savage Renegauge.
(Photo © Russ Chastain)
These three steel somethings are also included, but I have yet to learn what they are. They appear identical except for the number of tiny holes (one, two, or three). Each is only about an inch long and a bit less than 1/8″ thick.
Also included are three Trulock choke tubes of the Beretta/Benelli Mobilchoke type. Mine are all
Trulock
brand, which is a high quality choke tube. All are tough tubes marked as approved for super-hard tungsten shot; only the modified (0.705) and improved cylinder (0.715) tubes are marked for steel. Conventional wisdom says steel shot doesn't do well through a full choke, so perhaps that's why the full (0.695) choke tube is not marked for steel.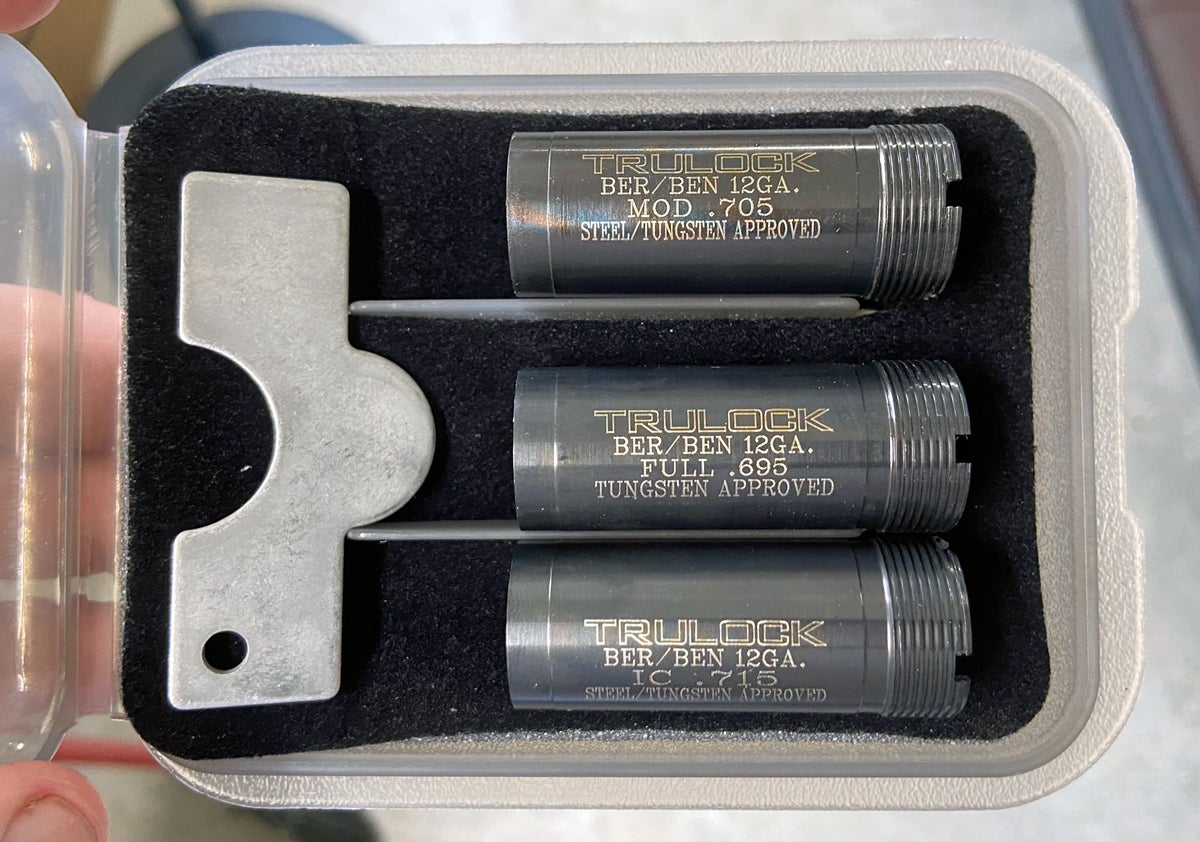 The Renegauge uses Beretta/Benelli choke tubes and includes three tough Trulock tubes.
(Photo © Russ Chastain)
The tubes store in a nice semi-transparent plastic hardshell case bearing the Savage Renegauge name. Don't panic if you can't find a choke tube wrench; mine was simply stored under the foam, presumably to prevent it from rattling around and marring the stored tubes. Good idea.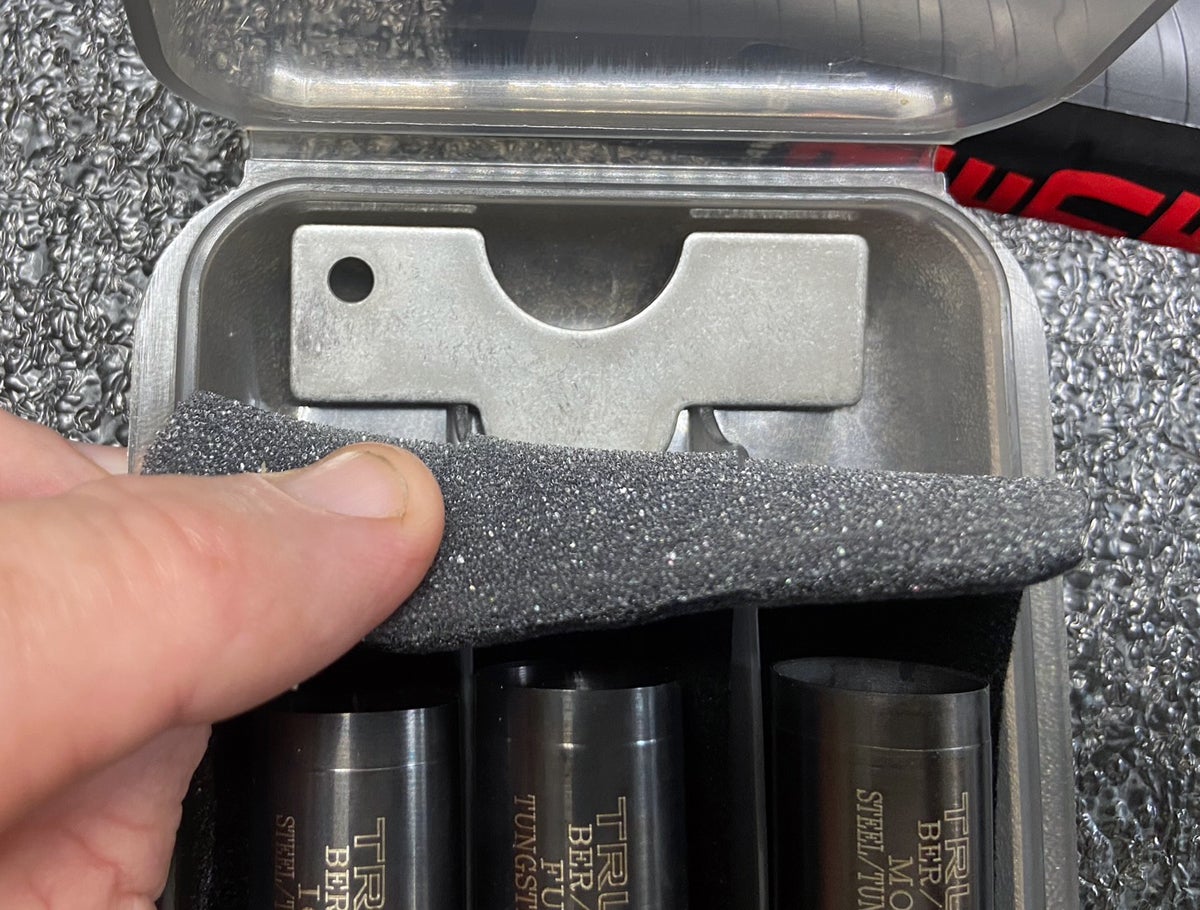 The choke tube wrench stores under the foam.
(Photo © Russ Chastain)
If the stock doesn't fit you — mine seems to fit well in everything but length — you can adjust the cast on/off (sideways angle) or drop of the stock using the included shims, which go between the rear of the receiver and the front end of the butt stock.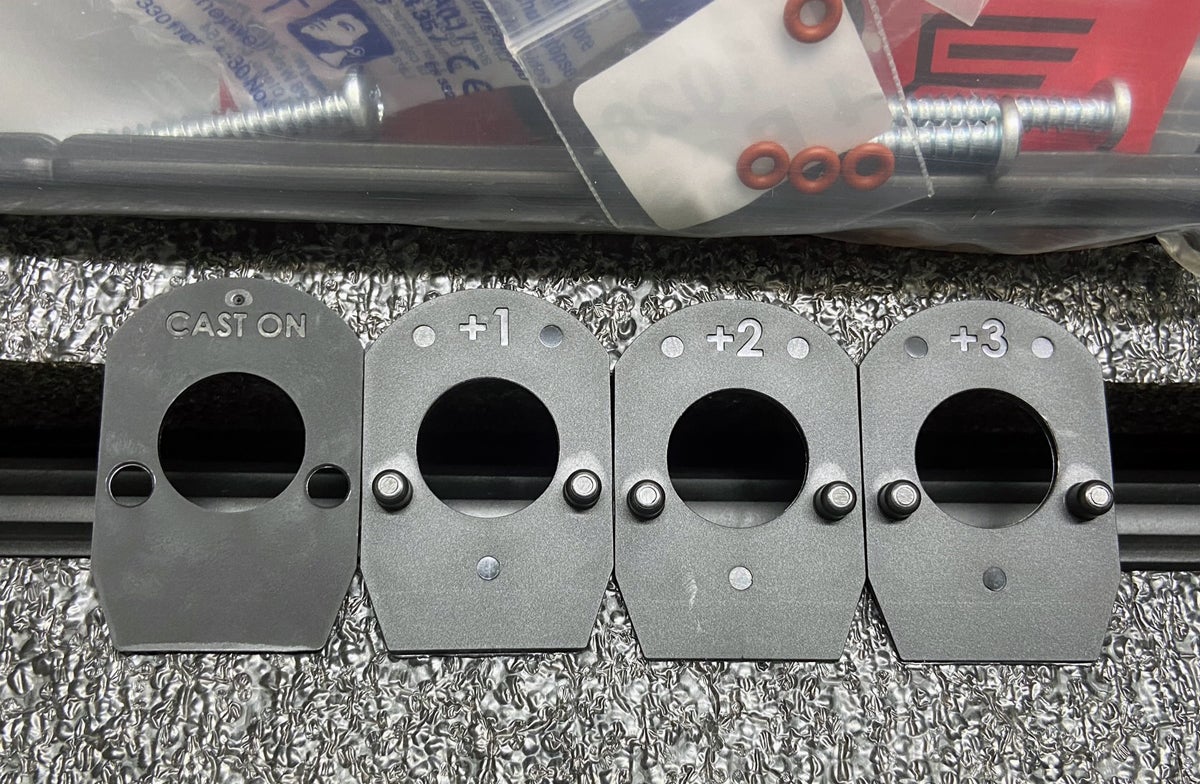 Four shims are included for adjusting the angle of the butt stock.
(Photo © Russ Chastain)
I included the following photo for two reasons. The first is to show that this gun has been loaded (note the brass marks on the cartridge elevator); all guns are test-fired by the factory, so there's actually no such thing as an "unfired" firearm.
The other reason is the ding on the underside of the receiver, where someone got careless with a punch while installing the roll pin for the carrier release lever. Not a big deal, but not what most would expect for a shotgun that retails well north of a thousand bucks — this one is the 57602 28″ field model and will probably run you at least $1200-$1300 by the time you get done paying fees and taxes.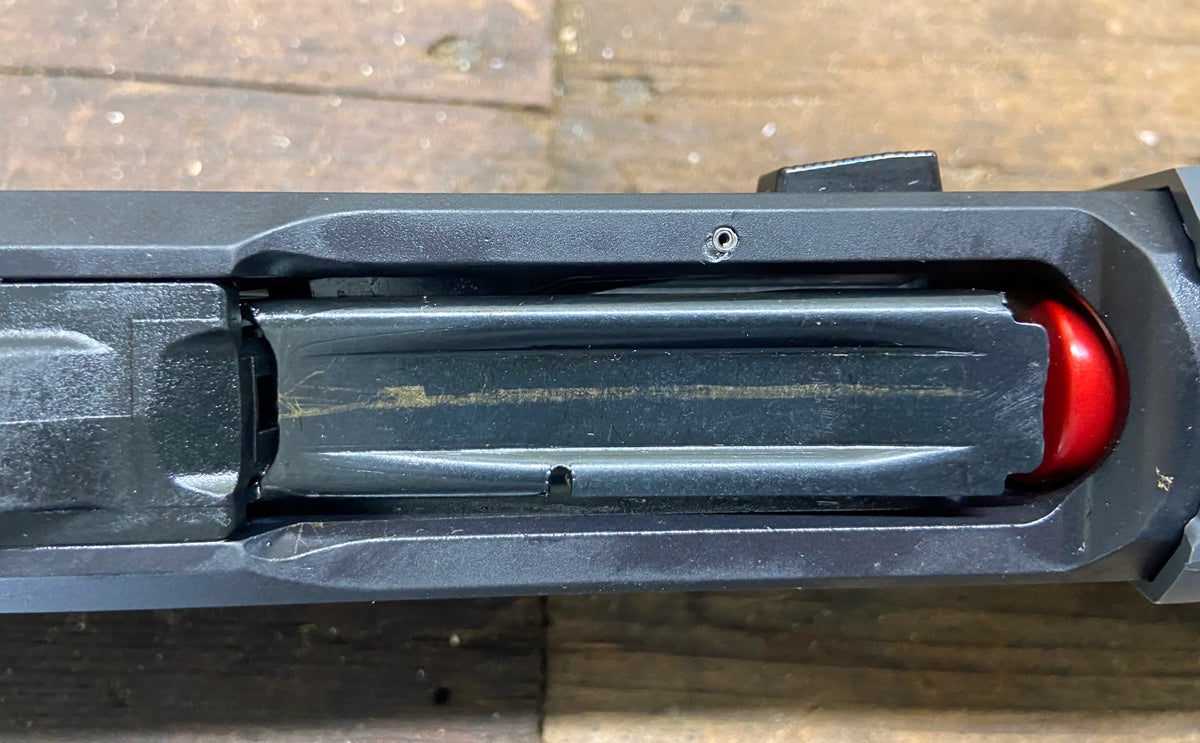 Brass marks on the shell elevator and a ding from a roll pin punch.
(Photo © Russ Chastain)
Brass marks on the barrel extension also indicate it's been fired, as well as some fouling in the gas system. Test fired, but not cleaned… indicating the need for a thorough cleaning before you head to the range.
I'm not picking on Savage here; it's definitely not the first brand-new firearm I've received in fired-and-dirty condition, from various manufacturers.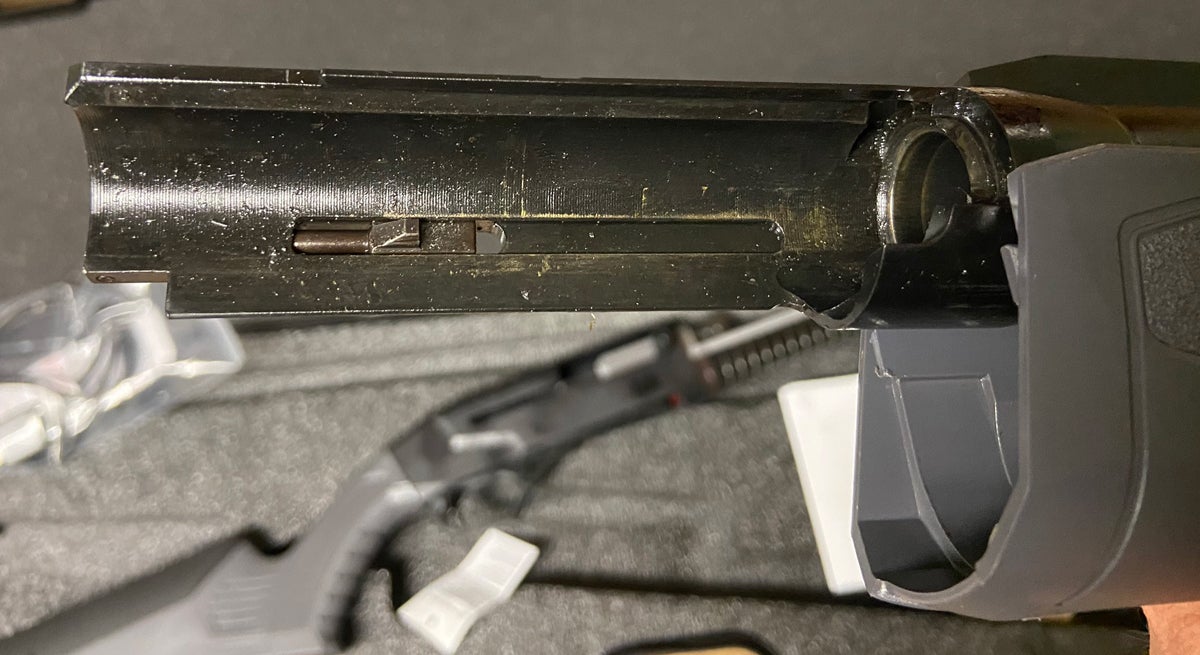 Brassy and a tad skanky.
(Photo © Russ Chastain)
After a good examination, it was time to put the gun together… and I have to say, it's a good-looking beast. Better: it
feels
good. The stippling at forend and pistol grip is well-placed and helps a lot with gripping the gun. That will help a lot on sweaty dove fields & skeet ranges, as well as in muddy conditions pursuing waterfowl.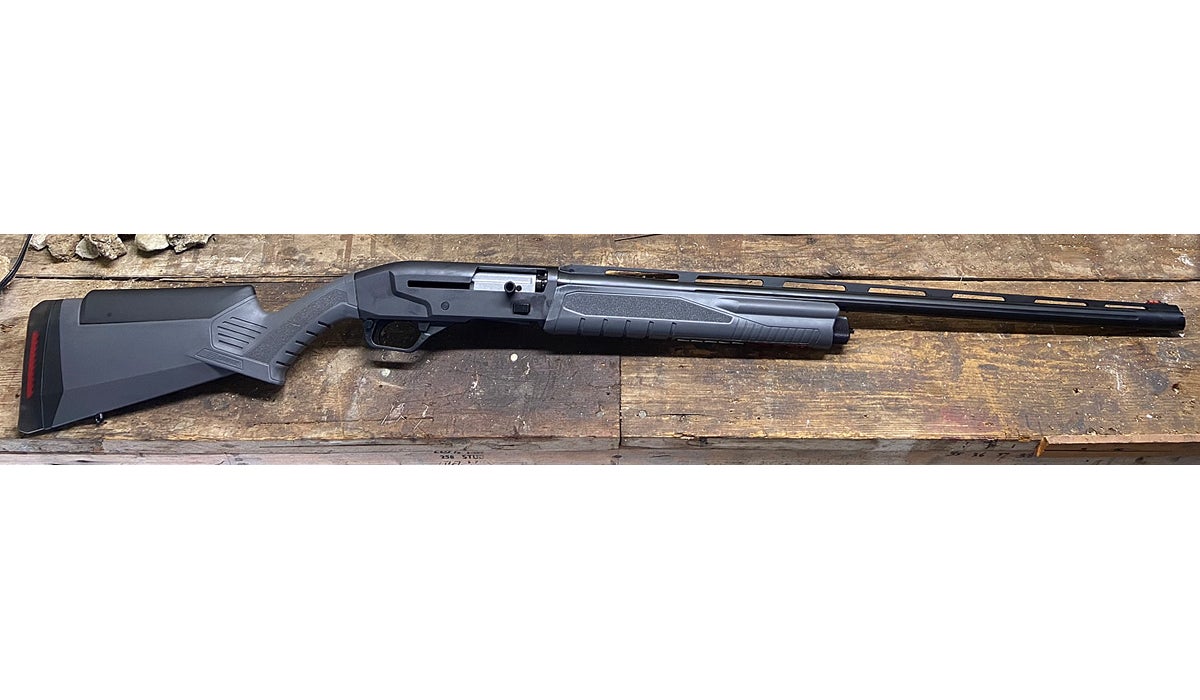 Savage Renegauge 28″ 12 gauge field model semi-auto shotgun.
(Photo © Russ Chastain)
The butt stock combines practical fit with interesting lines, and the deep grooves in the pistol grip area will give sweat and mud someplace to go when you have to fire at game in a hurry. The recoil pad & spacer are interchangeable, and three sets (pad + spacer) are included.
Three cheek risers are also included, with the lowest one (seen here) already installed on the gun.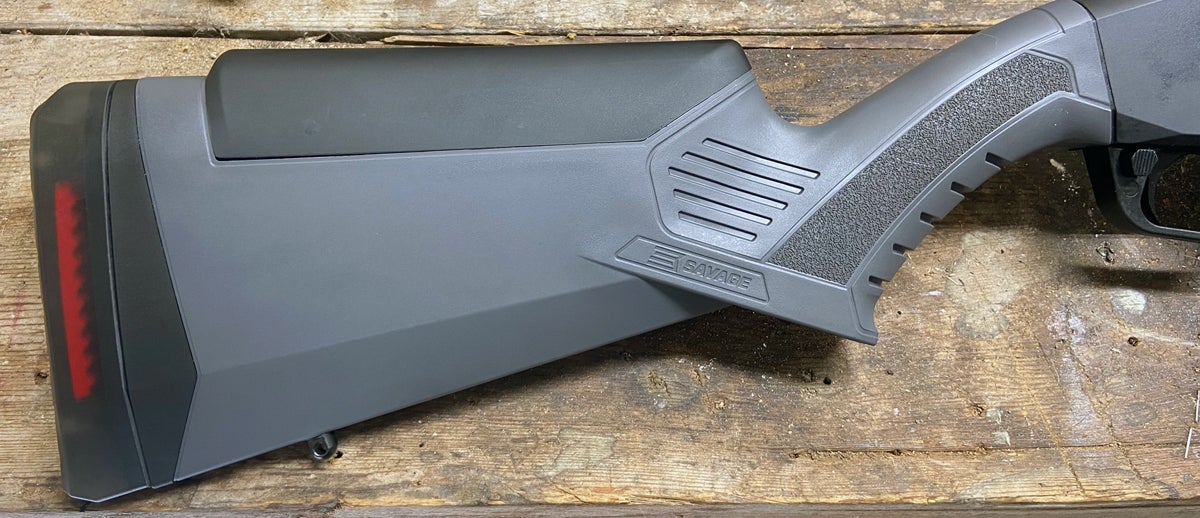 Savage Renegauge butt stock
(Photo © Russ Chastain)
The Renegauge receiver is a tad on the long side, which is to be expected on a semi-auto 12 gauge. This one will accept 2.75″ and 3″ shells, and the DRIV gas system should cycle the action reliably with any load in either length — this is something we will most certainly be testing.
The receiver is matte-black aluminum alloy. The trigger, trigger guard, and crossbolt safety are all made of plastic. Which brings me to my first complaint about Renegauge: Its safety.
Every safety-equipped long gun in the universe should have a thumb-operated safety, preferably located in the centerline of the gun in order to make it ambidextrous… and this is especially true of shotguns, which are called on by hunters to make fast shots far more often than rifles. Therefore, the safety should be located in such a way that it can be operated quickly and easily while preparing to fire the gun.
Sadly, Renegauge's crossbolt safety is located in the trigger guard. That's bad enough, but it's located
behind
the trigger, making it less natural to operate.
Yes, I realize there are many other shotguns with the safety in that location, and one can learn to operate it quickly… I just don't like it, that's all.
This particular one is a bit stiff — it got a little better after I worked it back & forth a few dozen times — and noisy. That last part will suck for turkey and deer hunters.
The bolt handle is large and knurled for easy operation; hopefully it won't hang up on brush out in the woods.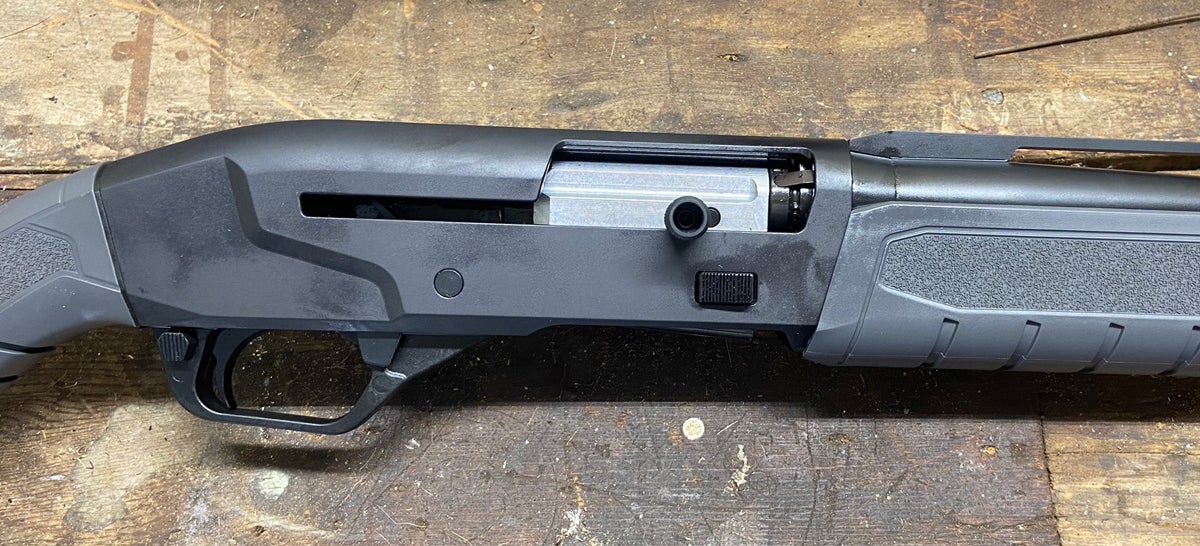 Savage Renegauge receiver is aluminum alloy.
(Photo © Russ Chastain)
This Renegauge's 28″ barrel is fluted, which should help it cool a bit faster while also making the gun a bit lighter.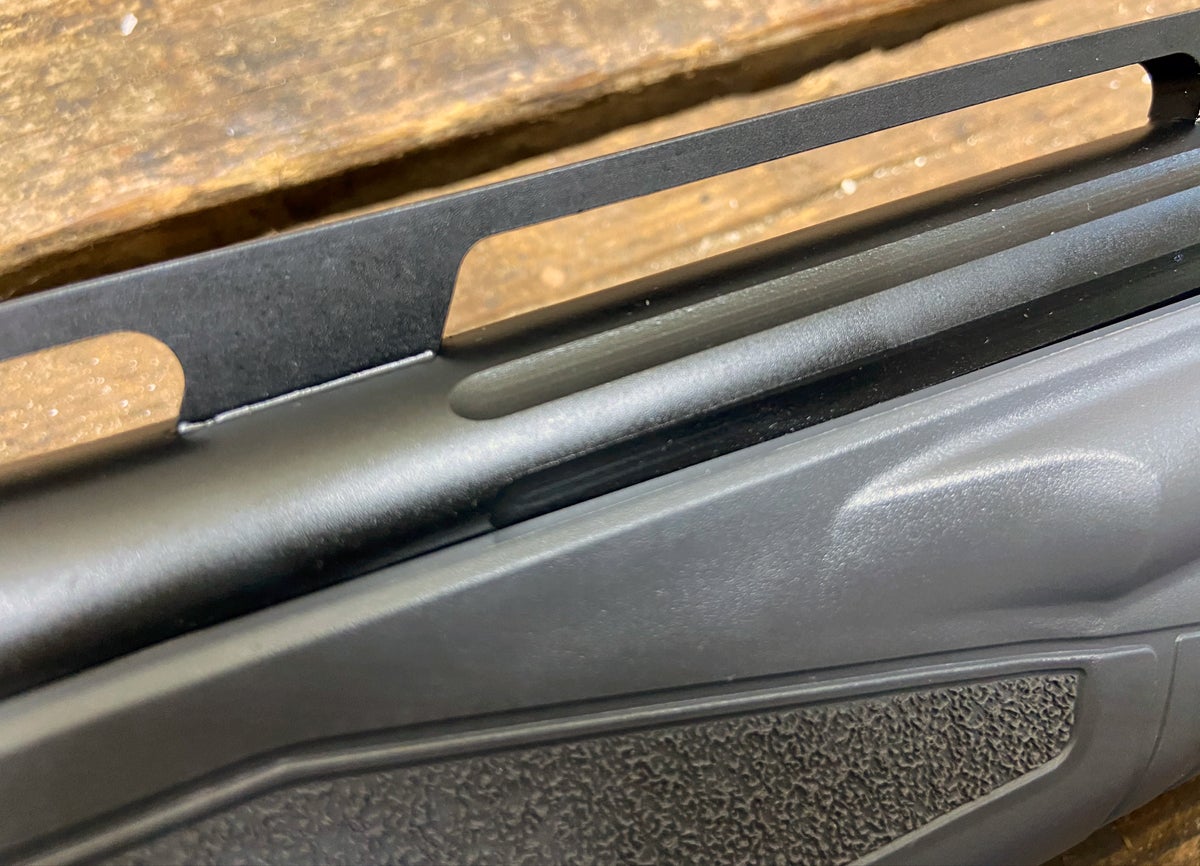 The vented barrel rib is quite tall and the barrel is fluted.
(Photo © Russ Chastain)
The gray stocks provide nice contrast with the black metal.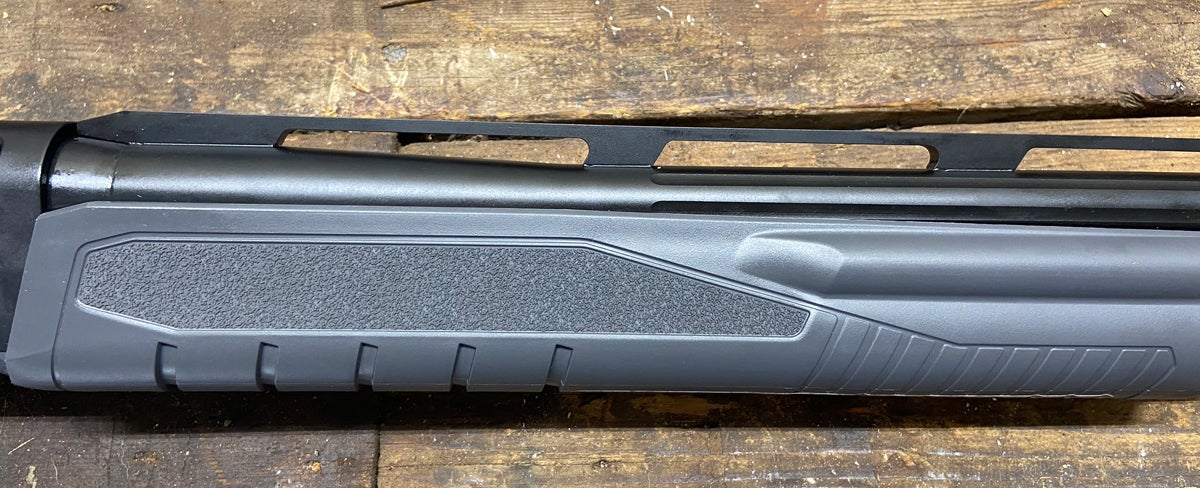 Savage Renegauge 57602 28″ Field Model.
(Photo © Russ Chastain)
The bright orange front bead is easy to see and is apparently replaceable.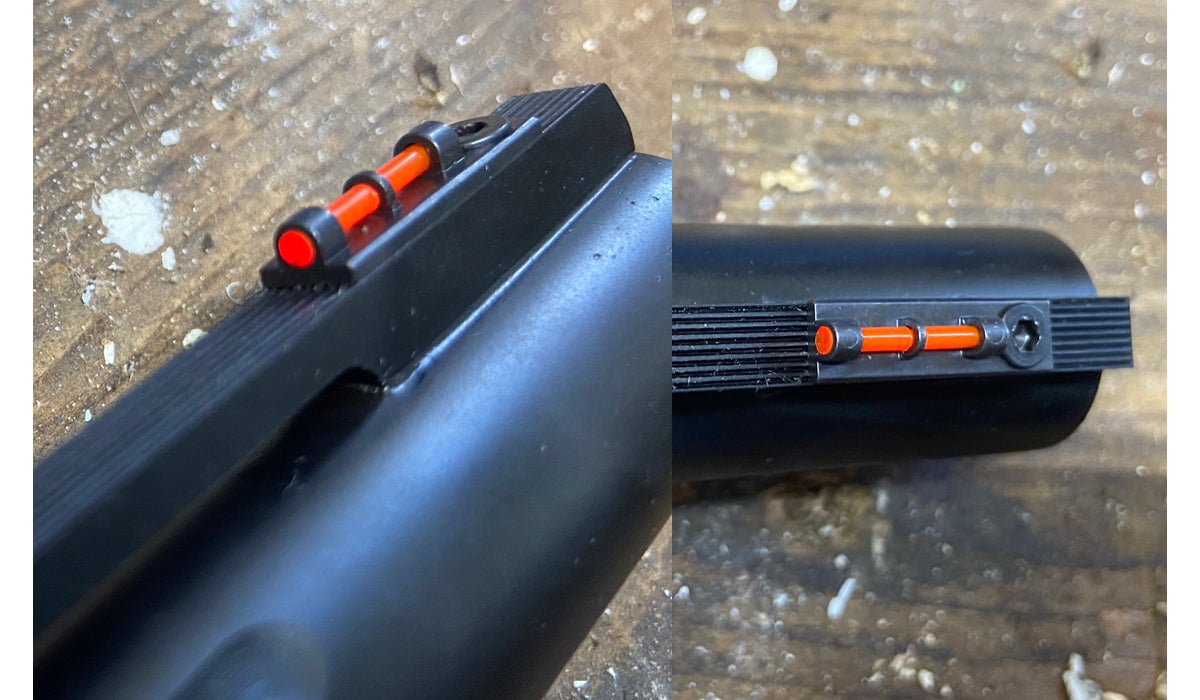 Fiber optic orange front bead on Savage Renegauge.
(Photo © Russ Chastain)
Renegauge comes with sling studs fore & aft; the rear one is a typical size located near the toe of the butt stock.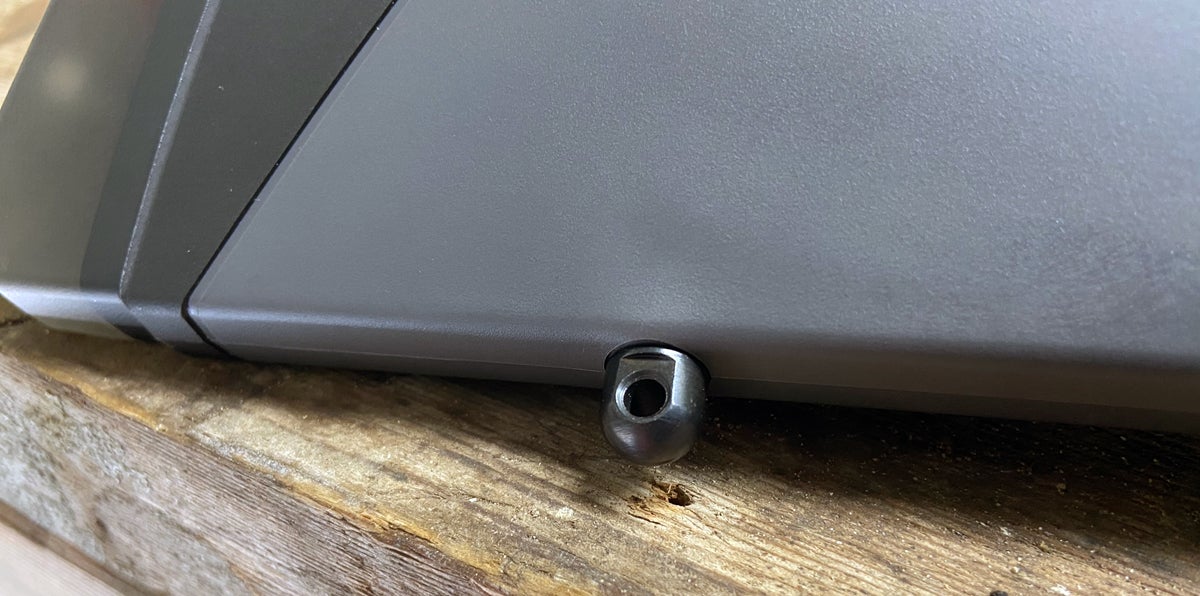 Rear sling stud on Savage Renegauge.
(Photo © Russ Chastain)
The front sling stud is skinnier than most and is mounted in the magazine cap. This one will swivel 360 degrees.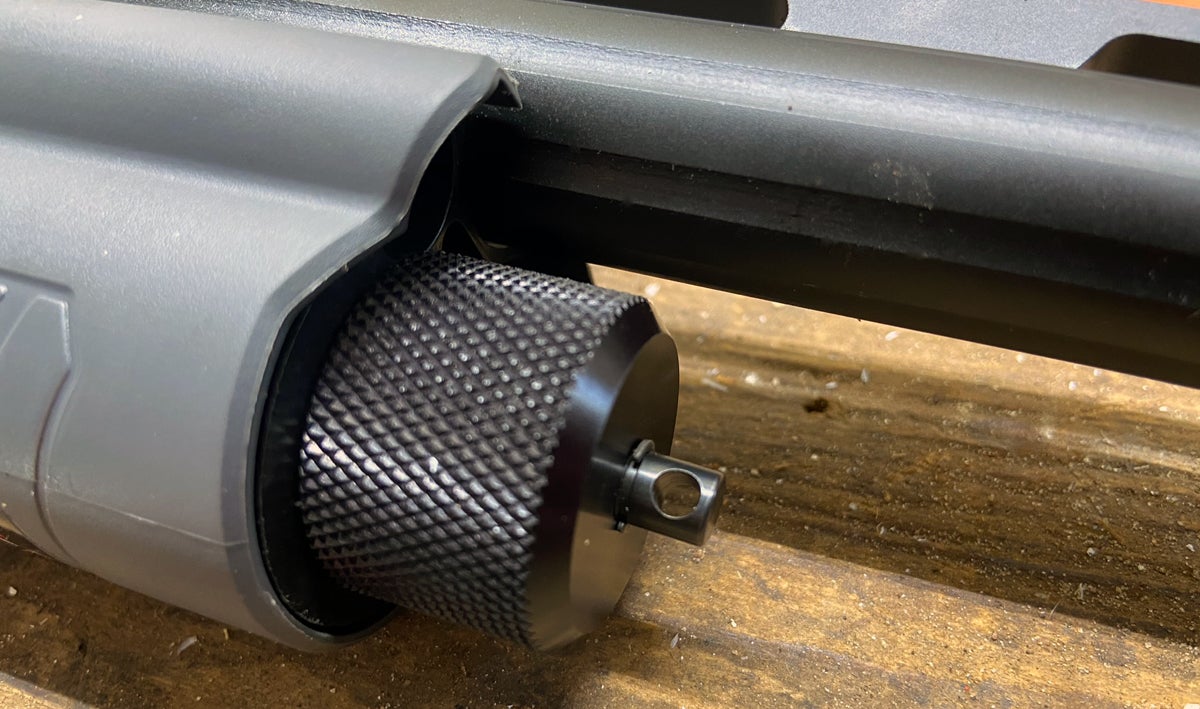 The slim front sling stud is on the magazine cap.
(Photo © Russ Chastain)
After I installed the provided magazine plug, I was surprised to learn that it restricts magazine capacity on just one shell. When did that become a thing? I've only ever needed to plug a shotgun to hold two rounds in the magazine.
The factory plug, pictured below, is marked at 2.75-inch intervals, therefore I assume users are expected to trim it if they wish the mag to hold two or three rounds. Again, there's no mention of this in the owner's manual — so don't let it surprise you on the dove field or in the duck blind.
Do take care when installing the plug or removing the magazine spring for any other reason; that thing is powerful, long, and lively and could easily get away from you.

The included magazine plug restricts the Renegauge's mag to hold only one round.
(Photo © Russ Chastain)
The Renegauge feels like a solid and well-built shotgun, and I
enjoyed shooting a few rounds through one at the SHOT Show
. I am really looking forward to exercising this one with a variety of different loads, once I get the stock tweaked to fit me just right.
Burning powder, busting clays, and chasing doves. What's better than that?

Savage Renegauge 28″ Field Model
(Photo © Russ Chastain)
The post
Rainy-Day Preview: Savage Renegauge Shotgun
appeared first on
AllOutdoor.com
.
Read the full article here...