This will be long-winded, I'm sure. But is meant ONLY to point out some honest realities about what we think we "know", and how much we really don't when it comes to reloading. After a recent miserably failed thread, I think this may be warranted.
What do we know?
Brass alloy? - Not publicly published, as mainstream standards.
Tensile strength? - Not publicly published, that I know of.
Nomimal variance allowed in case production? - Not publicly published.
Brass cases AND primers are a very very poor indicator of ACTUAL pressures. Better than praying over chicken bones, but not much better than that.
Powder nominal variances? - VERY few published.
Lot numbers tested in public data? - NO.
Who makes our powders? - Not unless you read MZ5's post, AND can stay ahead of supplier swaps.
Powders that DO list variances, and EVERY bottle of powder I've ever seen on the shelves in the past several decades have a warning. They tell you that lots CAN vary by 10%.
We also know that powders continually lose moisture content from Sealed containers, changing the burning rates. We know that no one in the industry(on any large scale) loads powder by weight, that's a reloader thing.
Lots of unknowns there...
If some bozo on the interwebs, or in a gun-rag expounds that XX.X grains of this powder will give you
certain results in your 308-super-ninja-2000, and not be over-pressure. Should you REALLY take his advice as gospel? Not if you care about yourself, those around you, or your equipment.
Lets look at some examples from my copies of the following:
Nosler #6 manual(NB), Nosler online(NO), Hornady #9(H), Current Hodgdon online reloading webpage(HO).
308 Winchester, firing 175gr bullets, with IMR-4895. Max's listed.
NB - 43gr @ 2708fps
NO - 41.5gr @ 2559fps
H - 41.1gr @ 2400 fps
HO - 45gr @ 2704fps
Are some "Lawyered"? There is ZERO basis to make that leap of faith. Re-read what we don't know, what isn't listed about what was tested, and you are left with REASONALBY normal variation in coponents tested, for an unlisted date tested.
Ah, but you say there is a difference in the jackets. Some are super-swinging-sexy-awesomeness, and that's the difference! Is it?? Well, here are some test results, in ALL examples the jump to lands is the same distance, the powder charge is the same, the rifle is the same, only the sexyness of the bullets is different. Powder charge in the 175 however is different, to illustrate a point I'll get to in a moment.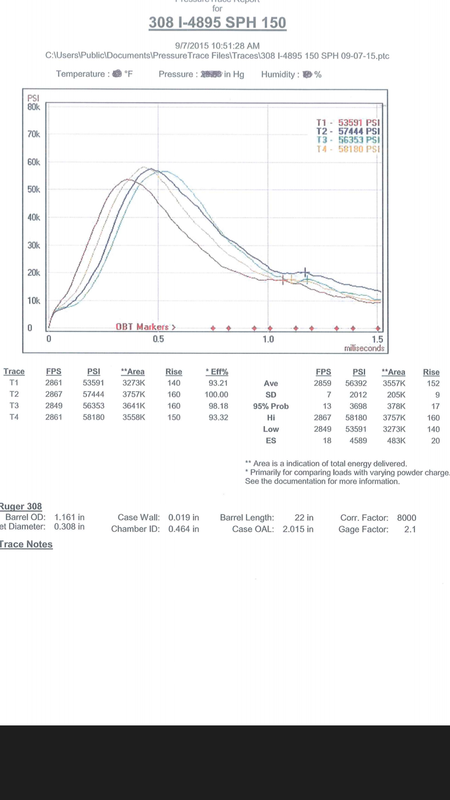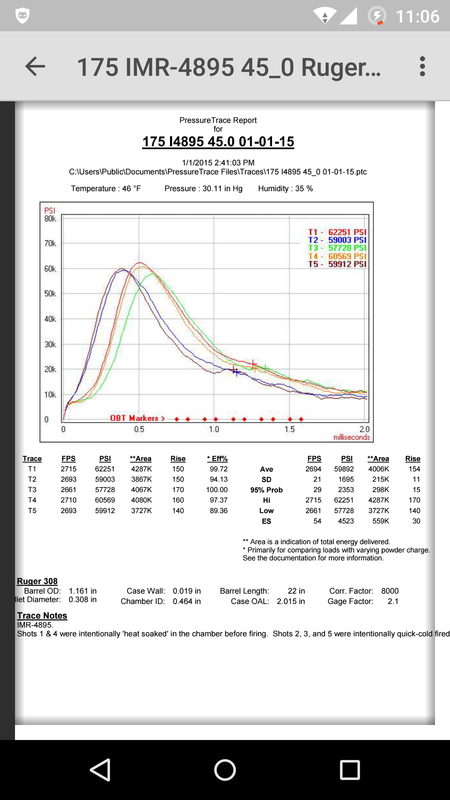 Ignore that some of the traces look noisey. The point is the Average Pressures, and the Velocities. All the same velocity AND pressure. The difference in the 175gr obviously charge, BUT it also has a different lot of that powder. Another reason to not just ASSume you can automatically push lighter bullets faster than heavier at the same pressure. It depends on the powder and multitude of variables.
You think your barrel is "Faster" than another?? Great! Show me the pressure tested proof, I would love to see it! Chrono data without Pressure testing is meaningless. Brass and primers DO NOT accurately report pressure, period, end of story.
Some powders when used in the correct application, have a progressive burning curve; meaning they speed-up or slow-down with pressures. Here is a perfect example in the Creedmoor. The ONLY difference is in the charge amount.
Notice the shape is different, almost a plateau on one of them. Due to that more efficient "Push" you significantly drop the operating pressure, but not significantly drop velocity. The chrono alone does not tell you what is actually happening in that firing event.
Another example of why a chrony alone isn't safe:
That is boardering on a blow-up, but the chronograph would say "party-on, Garth!". That load is dead in the middle of a load manual, but the bullet construction was swapped.
So what about primers? They make a difference right? Well, they certainly can. You CAN also have a particular application where they do not, see below.
Can you swap bullets with no change? Sometimes yes, somethimes no. Both example shown above. Can you Swap primers with no change? Sometimes yes, sometimes no.
So the points I hope I made in all this, is that unless you CAN accurately and repeatedly measure these things, then you don't know what is actually going on. If you don't know, then ALWAYS remember the following basic rules of reloading:
Stop whenever you reach either of the following:
Reached published max charge.
OR
Reached published max velocity.
IF you change something, then start your load process over. If the pain of getting off the couch to go ourdoors and shoot is burdensome, or you consider any part of it a "waste"; you need to find a different hobby, this isn't paint by numbers. Enjoying the outdoors, and LEARNING is a large part of this deal. I understand that not everyone can go out their backdoor and shoot. Again, if it is too burdensome to go shooting, then even if you weren't trying to learn reloading, you likely wouldn't shoot enough to learn the marksmanship part well either.
It's not a judgement, just a matter of reality for your particular situation.