Discussion Starter
·
#1
·
On March 31st, I decided to shoot the Remington Genesis. I wanted to burn off some pellets I had around the house and to try some new loads in the rifle. This Genesis normally shoots pellets extremely well. Today was no exception
I started off with a clean barrel and dropped down two 50 grain Triple Seven pellets. I was interested to see how the rifle shot a heavier then normal bullet. I usually shoot a 200 grain or 250 grain. But I got a deal on some 300 grain Hornady SST with a supplied black sabot.
Why the rifle threw two high like that I am not sure. I can understand the first, being a clean barrel. I was swabbing between shots. But as I remember all of them loaded about the same. Very tight and slid down the bore kind of hard. But I was pleased with the accuracy.
I then got some Simple Green and swabbed the barrel clean. I made sure it was dry and ready to go. I then loaded 120 grains of Goex 2f and the same 300 grain Hornady SST. I kind of guessed this would be a max load for the rifle.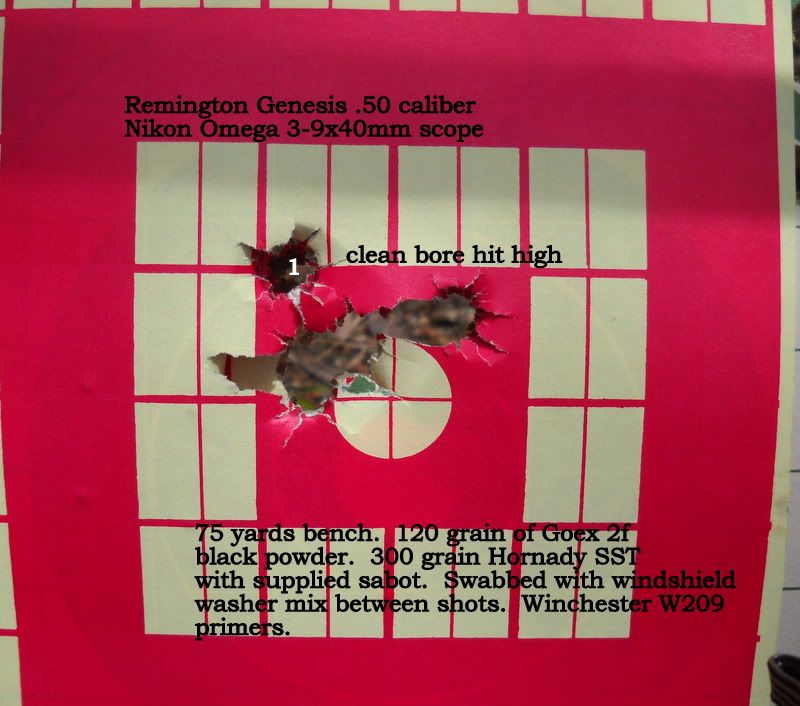 I never kept track of the shots other then the first hit. I was having too much fun. In that new box of Hornady SST's it said there were 20 projectiles and sabots. I shot six at the other target. And there are four left in the box. So this is a ten shot group. Every time I shot I could see the hole get a little bigger. And the smoke from 120 grains of Goex is really something when it covers the back yard. It was a lot of fun, and the rifle did real well with the big charge.
I was then guessing that clean up was going to be a chore. Well it was not. There was no blow back from the breech plug, nothing on the belly of the scope. And I took one saturated Windex patch and swabbed the bore.
I was shocked the bore was that clean with one patch. It made me wonder if this Montana X-treme Bore Conditioner really is working. I mean, black powder scares people because of the fouling and mess. Well I did not find that to be true at all. And outside shooting black powder the smoke and stink is really a lot of fun. Maybe, real black powder is not all that bad to clean up with.
Over all the rifle did great. It had a great scope. And the weather conditions were almost perfect. It was windy, but sunny and warm. I can not wait to try this load at 100+ distances.