Sighted in my daughter's rifle tonite (pics)......
Took my daughter to the range tonite with about 15 minutes of useable light left. She shoots a Weatherby Vanguard Compact .308 with a 3-9 Burris on top.
I let her take the first 3 shots at 100 yards and they were a little scattered and some high. I know that her gun has shot 1/2 MOA at 100 yards before with this particular load. So I hurriedly took over and fired 3 more.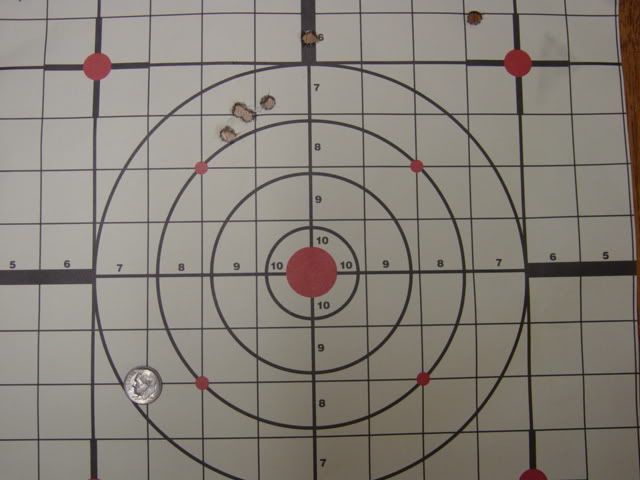 Then I moved the scope right a few clicks and down several. I fired another 3-shot string. The small orange bull I was aiming at is off the bottom of the pic. But you get the idea.
Yep. There's 3 shots in that hole. It measures .255" center-to-center. I'd have thought it was a fluke if I hadn't already seen the gun go 1/2" at the same distance. Incredible!!
I made my daughter swear that if she
EVER
wanted to part with the rifle.......I get first chance. <!-- / message --><!-- BEGIN TEMPLATE: ad_showthread_firstpost_sig --><!-- END TEMPLATE: ad_showthread_firstpost_sig --><!-- sig -->
__________________