Discussion Starter
·
#1
·
Let dispense with the formalities right away, my german heritage tells me to pronounce Weihrauch wy-ruk, heard a bunch of people on you-tube murder the pronounciation.
I ordered a 97k at Airguns of Arizona over a month ago, never came in so I looked around and found 10 of them in stock at Airgun depot, I wanted to patronize AOA because they've been great taking guns in on trade and customer service is outstanding over the years....but there's a limit to my patience, not getting any younger!
Airgun depot was over 100.00 more for the gun but they had a 10% discount special going and I called them and got an additional discount bringing the price to 20.00 difference, not going to sweat 20 bucks. Shipping was free to boot.
Ordered last Friday and came today, great packaging over the top of the factory box which was excellent. I mounted a Hawke 4x12 air rifle scope right away and went to the garage/back deck range, 20yds.
This gun is heavier than most break barrels but nothing like the RWS 54 I had, it was something like 11lbs with scope. Same thing with cocking, harder than break barrels but way easier than RWS side levers. I've gotten spoiled over the last couple of years shooting pcp guns, this rifle has some recoil, not bad but enough to effect accuracy if your not concentrating on a consistent hold every time.
From what I've seen on youtube I fully expected 800fps from a 10.5 grain pellet, unfortunately it averaged 724fps, thats not a big deal but it shortened the maximum point blank range 7yds, 47 down to 40yds .5" o/u It will be interesting to see what the velocities are like from a standard 177 8gr. pellet is.
I wanted a gun I could put in the truck and go take care of a pest control problem without worrying about having my pcp pumped up or taking a compressor with me. Most of my shooting doesn't require a really powerful airgun and this one will work.
Muzzle energy is 12ft lbs per European laws? maybe.
Regardless of that the gun certainly isn't disappointing on the target, only shot one pellet my favorite spring gun projectile is the JSB 10.34 heavy. Thinking that at 40yds this gun will easily keep all the shots under .5" which is great for a spring gun.
If your not quite ready for a pcp this would be a good choice for a spring gun. I've looked at it closely and there's not a flaw on it anywhere, those Germans know how to make guns.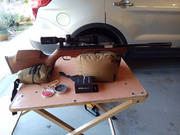 I was adjusting the scope and shooting, after sighting in I shot the corners of the boxes.