I posted a lot this summer about working up a youth load for my 11 yr old grandaughter to use. I ended up with a 95 gr Hornady SST and 33.0 gr of H4895, at 2660 FPS. You asked me to post when I had example of terminal performance.
She got to try it out on Sunday morning, on her second day hunting. (First day she only saw a fox.)
The load worked as well as could be expected, except there was no exit. I attribute that to the close range (15 yards) and shot angle.
We had spent time with a deer decoy, showing Valerie how the angle of the deer will affect where you have to aim to put the bullet in the vitals. The training must have worked.
The deer was angling slightly quarter forward, and it was a steep angle due to deer being 15 yards away and 20 feet below her. The bullet entered high in the front shoulder, either just missing or just clipping the shoulder blade. The bullet then broke three or four ribs, went right through the heart, and just passed through the diaphragm and into the tip of the liver. No stomach or intestines were punctured. The deer ran about 40 yards and piled up in some thick brush, so Valerie got to do the blood trailing, too.
A stouter bullet may have made an exit, but I think the comfort level for her to practice more and not flinch helped a lot with the shot placement.
Oh, another thing was the deer were coming from the right, so she shot off her non-dominat left shoulder.
She's one happy girl with a proud Pappa and Grand-dad.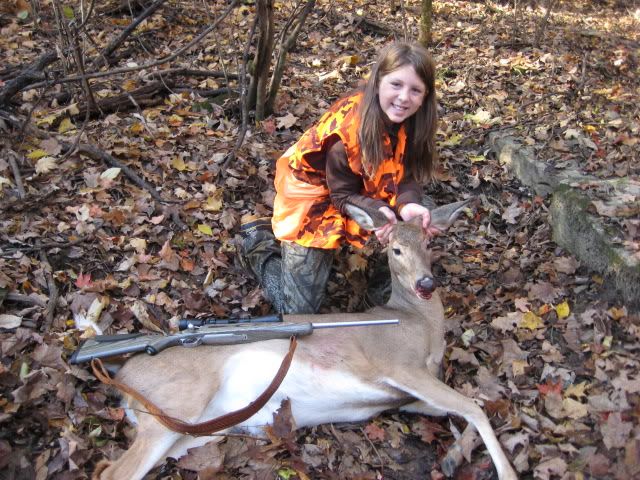 Here's a link to a video clip of the blood trailing and recovery:
http://www.youtube.com/watch?v=h5XnTeQ1Gas