| | |
| --- | --- |
| just wondering if its possbile | |
01-20-2010, 10:28 AM
Registered User

Join Date: Jan 2010

Posts: 3
just wondering if its possbile
---
hello to all 1st time poster

I was wonder if its already exeist a 300winmag necked down to a 270win? if so what is it called ?

if not how would one go about makeing such a cartridge / caliber?

would you start with a rifle in the bullet diamiter or the shell case size. and work off one one or the other. or would this be a complete coustom job by a gunsmith/mechinest from the start.

would a gun chambered for this even have place in todays gun market.

the reason im asking is looking at the 270win its a very flat shooter with good balistic's
same as the 300winmag but it would be a marrage of large case volume with a small super fast bullet

thanks in advance
matt
01-20-2010, 10:45 AM
Beartooth Regular

Join Date: Jan 2001

Location: Southern Indiana

Posts: 1,951
You would have something similar to the .270 Weatherby Magnum, which never was a really popular round.
To build you need to design the cartridge, have a set of reamers made, have a set of dies made off your reamer specs, then have the barrel chambered and installed.
EVERYTHING you can think of has been done by someone so yes, this has been done before. And they go by many different names. If you look through the manual Wildcat Cartridges I'm sure you will find something similar in there.
If you know someone with Quick Load, and can get a case volume they can compute what kind of ballistics you can expect.
For instance, you can get the specs for the .300 Win mag easy enough. Now, contact someone like Dave Manson of Manson Reamers and tell him what you want to do. You can go simple by strictly necking down to .270 and keeping the shoulder angle the same or you can steepen up the shoulder to 40 degrees or so if you want to increase case volume. Make sure you keep the neck at least .277 inch long. That is a good rule of thumb, not to go any shorter on the neck than one bullet caliber, which in this case would be .277 inch. To do this you may have to blow the shoulder out some, set it back, or leave it as it; I don't know for sure.
Anyway, Dave can draw up the specs and you can discuss it more with him. Cost for a custom reamer is about $200 and you would use the standard magnum head space gauges, about $35 each IIRC but you can get them cheaper from Midway.
Once Dave Manson has the reamer specs ready to go, you send those specs to Dave Davidson at CH-4D and he can make you a set of dies. Price for the dies run around $200 also IIRC. He can also make you case forming dies but I suspect unless you have to do something radical to the case design a simple trip through the sizing die will be all that is needed. Since you are going smaller, you may have to neck ream or neck turn to decrease the thickness of the neck wall. In general, neck walls need to be between .015 and .020 inch thick.
While waiting for the reamer and dies to be made, you order your barrel blank and find a smith who will turn it or you can buy one already chambered in .270 Winchester in the twist and length you want and then have your smith fit the barrel and rechamber it to .270/300 Win when the reamer comes in. Your reamer would clean up the .270 Win chamber very well and that would save you a lot of money being able to buy a standard off the shelf barrel instead of having to buy a blank and have it turned.
Good luck. Doing your own is fun but don't be in a hurry. I am in the end stages of an LR-308 build in .358 HDH and soon the real fun will begin, load work up! My project has taken little over a year and I'm not done yet!
__________________
Join the N.R.A.
On the 8th day, God created HKs.
Beware speaking with a sharp tongue as you are apt to cut your own throat.
Join the N.R.A.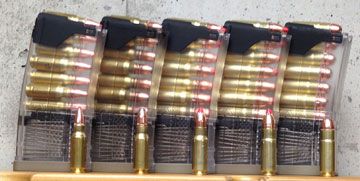 ---
Last edited by Big Bore; 01-20-2010 at

10:51 AM

.
01-21-2010, 12:29 PM
Beartooth Regular

Join Date: Apr 2007

Location: Northern New York

Posts: 437
Would be inefficient but VERY effective!
01-21-2010, 12:42 PM
Beartooth Regular

Join Date: Sep 2009

Location: Mooresville, IN

Posts: 12,049
__________________
"My serious suggestion is to buy one rifle and then buy another one. And another." JBelk
01-22-2010, 04:26 AM
Beartooth Regular

Join Date: Apr 2007

Location: Northern New York

Posts: 437
No, it is the whole point, super power with super cost.
01-22-2010, 11:47 AM
Beartooth Regular

Join Date: Dec 2004

Location: SW Washington

Posts: 2,700
Isn't this just a slighty smaller 7mm Rem mag or a slightly larger 264 WIn mag?
01-22-2010, 12:05 PM
Beartooth Regular

Join Date: Mar 2003

Location: Havre, Montana

Posts: 6,283
Basically its the .275 H&H...
__________________
Buy American, it may be your own job you are saving.
UTU, TY&E Service, BNSF
01-23-2010, 06:23 AM
Beartooth Regular

Join Date: Jun 2006

Location: Utah

Posts: 3,321
Efficient versus effective is the key. As an analogy, it is very efficient to bail a sinking boat using a shot glass. But not overly effective.

It is very effective to drive to drive to Grandma's house in a top fuel dragster. At 40 gallons to the mile, not very efficient.

In a cartridge, one can get 2800 fps using 45 grains of powder in a 308. To get the same bullet to 3000 fps takes a magnum round burning almost twice as much powder. Gaining 200 fps is certainly effective, but hardly efficient.

There are several ways to "calculate" cartridge efficiency - all of them arbitrary. You can easily calculate the bullet energy created per grain of powder burned, but picking a cutoff point for the division between "efficient" and "inefficient" is entirely subjective.

Ranking by effectiveness is even worse. What do you choose as the "unit of effect?"
__________________
To see my books and articles, just Google my name.
01-27-2010, 12:21 PM
Registered User

Join Date: Jan 2010

Posts: 3
rocky raab

what do you mean unit of effect?
01-27-2010, 12:23 PM
Registered User

Join Date: Jan 2010

Posts: 3
big bore
thank you very much for the info you provided it was very clear and easy to under stand.
01-27-2010, 06:25 PM
Banned

Join Date: Feb 2008

Posts: 507
I play with some of the bigger thunder boomers, I like the Rem Ultra Mags (RUM). I also have a 600 NE. Some one out there has probably built some variation of every cartridge imaginable.

Out here on the farm, I enjoy shooting my 300 RUM, once in a while I use it for coyotes, it should be a 400 yard Elk gun. The 600 NE gets pulled out once a year, because the brass is very, very expensive ($10 each) and the bullets are 1,010 grains of lead. There is some video on YouTube about guys shooting a very large bore thunder boomer rifles, You will be bruised by this level of recoil, the barrel will be up in the air. So if your normal large game gun fails you, fall back to something in the Nitro Express family.

Building your own is nobel idea, but your pockets have to be very deep. If you decide to go this route, I wish you luck and please keep us posted.

Jerry
01-29-2010, 05:43 PM
Beartooth Regular

Join Date: Dec 2009

Location: Alberta

Posts: 415
Matt. Check out the .270 Weatherby, and the .270 WSM. They may not be hyper-velocity rounds necessarily, but both work out to be even flatter shooting than the .270 WCF. My .270 WSM shoots a 150 grain Winchester Ballistic Silvertip faster and flatter than my uncle's .270 WCF shoots a .130 Winchester Ballistic Silvertip.
01-30-2010, 01:24 PM
Beartooth Regular

Join Date: Sep 2009

Location: Little hut in the woods

Posts: 676
7MM Wby is a necked down 300 H&H case and would be equivalent to what you are looking for. Bit pricey but it sure is a get up and go machine. Ammo can range 60 to 80 dollars a box but it will put a 175 grain bullet down range at 3100 fps. Reloading you can do better and reduce the cost.
__________________
Roman Catholic, Life Member of American Legion, VFW, Wisconsin Libertarian party, Wi-FORCE, WGO, NRA, JPFO, GOA, SAF and CCRKBA
Posting Rules

You may not post new threads

You may not post replies

You may not post attachments

You may not edit your posts

---

HTML code is Off

---
All times are GMT -8. The time now is
02:38 PM
.