10-06-2010, 08:22 AM
Registered User

Join Date: Oct 2010

Posts: 3
Long Range Gun
---
Dear Forum Members:
This is my first post. I simply hope that I can word a cogent question. I came across the
following data (below) for .224 ultra magnum ballistics. The data was for a 26" barrel. So, if I want to extract the absolute fastest muzzle velocity, about what barrel length would it be? I'm thinking of using the 40 gr. What powder & etc. What are the variables? If you were going to built the "ultimate" .224 ultra magnum, what components would you use, & etc.? For practical purposes and cost, where would the nexus be for max. accuracy and range? Obviously, I'm thinking of building my own one of kind gun. On the other hand, if money were no object, what would the results be?
Gratefully,
Hisflyingtune
http://webcache.googleusercontent.co...&ct=clnk&gl=kr
http://webcache.googleusercontent.co...&ct=clnk&gl=kr
---
Last edited by Hisflyingtune; 10-06-2010 at

08:27 AM

. Reason: typing errors
10-06-2010, 08:25 AM
Registered User

Join Date: Oct 2010

Posts: 3
If I need to qualify these questions, please send me questions which will refine the answer.
Many Thanks,

Hisflyingutne
10-06-2010, 08:40 AM
Beartooth Regular

Join Date: Jan 2001

Location: Southern Indiana

Posts: 1,949
Light bullets going fast are not the best long range bullets. In the .224 caliber, a 40 gr. bullet going 4000 fps does not have the mass to keep its long range capabilities alive past about 400 yards. If you want to reach out to long range, 600 yards plus, then you need to be looking at 75-80 gr. bullets and get the proper twist to stabilize them. A 1:12 twist that is great for a 40-50 gr. bullet will not get the job done on 75-80 gr. bullets where a 1:7 or 1:8 is better suited.
And be aware that most 40 gr. bullets are not designed for super high speed and may come apart in flight if pushed too fast.
So, what do you consider to be long range? That is the first question that needs to be answered. Some feel 300 yards is long range, others LR does not start until 1,000.
What is your game? Animal, vegetable, or mineral? Another words, target shooting or animals, and what type of animals if that is your quest.
Is this rifle for lugging across vast amounts of real estate, or shooting off a bench at the range or in the back of a pickup truck? If weight is a factor, that is something else that needs to be considered. A 100 pound thousand yard match rifle is a terrible prairie dog gun, and a great prairie dog gun is going to be a pretty poor 1000 yard match rifle.
__________________
Join the N.R.A.
On the 8th day, God created HKs.
Beware speaking with a sharp tongue as you are apt to cut your own throat.
Join the N.R.A.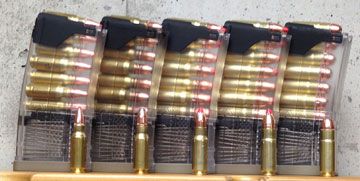 10-06-2010, 10:09 AM
Super Moderator

Join Date: Jan 2005

Location: Hilliard, Ohio

Posts: 12,101
Welcome to the forum. Rules are to join in and have fun and play well with the rest of us kids.

The only way I know to come up with answers to your question is to model the cartridge on computer. In QuickLOAD I modified the case capacity and dimensions of a .300 RUM case to .224" diameter and roughed in the difference in case capacity. With a 77 grain match bullet (you need the weight to burn the powder well), it looked like the velocity peaks at about 5000 fps, or 600 fps more than the .223 WSSM gets now with half the powder. For that bullet weight, that velocity required a barrel over eight feet long.

In general, most center fire rifle cartridges produce enough propellant gas that the barrel has to get very long before the added volume of the bore is great enough that the pressure ceases to overcome bore friction and the bullet starts to slow. The .22 Long Rifle rimfire cartridge has a tiny case capacity and a large expansion ratio (multiple of case capacity made by the bore by the time the bullet exits), and even they don't start to slow until about 18 or 19 inches of barrel. In an overbore cartridge like you suggest, the expansion ratio is tiny, so you wind up with a very long barrel. Shorter for lighter bullets, which friction affects more, and vice versa.

Another factor to consider is that the large amounts of powder your case will hold will funnel into the throat of the tiny bore. Barrel life might be as little a 500 rounds.

The military did a lot of experiments with putting little bullets, like .30 cal, into huge cases, like 20 mm and 37 mm necked down, and found they still couldn't get a lot beyond about 5000 fps muzzle velocity. What happens is the mass of the powder is much greater than the mass of the bullet and becomes the limiting factor in acceleration. You have to keep in mind this is not a nuclear reaction, so matter is neither created nor destroyed. This means the mass of the propellant gas will be exactly the same as the mass of the powder that burned to make it. That mass will offer Newton's equal and opposite reaction accelerating force, limiting velocity. Most of the energy in that huge case of powder is being consumed accelerating itself. To make really high speed guns, like the 17,000 fps meteorite impact simulators, they have to use helium compressed to 60,000 psi because its low mass lets the pressure accelerate it much faster.

Bottom line, you'll burn up not only barrels but lots of powder to get your bullet to go maybe 10% or 15% faster than a .223 WSSM can be loaded to now. Not likely worth the expense. I don't know anyone making 100" barrels, either, but with some bullet weights, that's where velocity would peak. Wouldn't want to try to shoot one from offhand standing.
__________________
Nick
__________________________
Orange Hat Family Member
CMP Certified GSM Master Instructor
NRA Certified Instructor
NRA Benefactor Member
"First contemplation of the problems of Interior Ballistics gives the impression that they should yield rather easily to relatively simple methods of analysis. Further study shows the subject to be of almost unbelievable complexity." Homer Powley
---
Last edited by unclenick; 10-10-2010 at

10:38 PM

.
10-06-2010, 04:25 PM
Registered User

Join Date: Aug 2010

Posts: 7
Ok i can't remenber if it was benchrest central or 6mmbr.com. I was reading some old post on reloading and found a post from a guy how put a 223 together for shooting at 1000yds just because every one said it couldn't be done. Will he made a vido of it and he proved it could be done. Now if i remenber right it had a 31" barrel and he was shooting a 80gr bullet out of it. I know it's a little much to belive and if he wouldn't of had a vido of it i wouldn't of be lived it eather. I'm all most sure it was on 6mmbr.con if any one wan't to look for it.
10-07-2010, 08:55 AM
Beartooth Regular

Join Date: May 2001

Posts: 787
Nick

you're a pro at 'splaining this stuff, and I appreciate learning about it.

regards,
10-07-2010, 02:23 PM
Beartooth Regular

Join Date: Mar 2010

Posts: 672
For PRACTICAL purposes and cost the nexus of max accuracy and range for me would be... something in 6.5mm or 7mm and a fair amount of room for powder...

So... 6.5-284 or .284 Win, or to push it a bit further a 7mm WSM, and 24" barrel - if were talking about still keeping it practical for hunting - or as much as 28" to 30" if it's sole purpose is to be a paper puncher.

If you don't like recoil and still want to get way out there, but still be practical, perhaps a .243 AI, or perhaps a .260 AI, but with the right twist to shoot the heavy pills.

If money is no object and you like to light your Cubans with $5 bills, then how about a .338 Lapua Magnum, or heck if you really want to get out there, a .50 BMG that shoots match grade bullets.
10-08-2010, 02:49 PM
Beartooth Regular

Join Date: Feb 2004

Location: Virginia

Posts: 3,366
As much as I love over bore, powder hungry beasts; I think the .220 Swift is about the best a .224" bullet can be tossed around.
__________________
Blue Lives Matter!
#PROUDPOLICESUPPORTER
10-08-2010, 07:39 PM
Beartooth Regular

Join Date: Jul 2003

Location: Republic of Texas

Posts: 779
Staying with the .22 bore, look to the .224 TTH. Designed on the 6mm Remington case for use on deer with its heavier 75-80gr bullets.
10-09-2010, 05:25 AM
Beartooth Regular

Join Date: Sep 2009

Location: Mooresville, IN

Posts: 12,010
The only practical difference between the 220 Swift and 224 TTH is the rate-of-twist used for the barrel. Both are 6mm cartridges necked down (220 Swift is based on the 6mm Lee Navy) and have similar case capacity. Neither will do what the OP asked about, but I'm not sure there is any sense in that, to begin with.
11-01-2010, 07:48 AM
Banned

Join Date: Jan 2003

Location: West of Chicago, Ill. and Ozark Mountains

Posts: 3,957
Well first of all if this rifle is to be used for the sole sake of target shooting, your better off with a 260 Remington, 6.5/284 caliber. It won't cause you to go to the doctor after shooting a 100 rounds from the bench.
The idea of using a .300 Win mag case is NOT a good one, way to much overbore and accuracy at long range with a .224 bullet is not the best route to follow. Now what kind of yardage are you wanting to shoot with this LONG RANGE GUN??? If your a marksman and can dope the wind etc. you can get it done with a 22-250 or 220 Swift and still not be sore in the morning. These calibers will take you close to 4000fps! Brass is easy to come by and no special adjustments needed for cases etc. If you really want to try the "long range" and over bore idea, jump to the 6.5/300 win mag and this will give you lots of velocity and great air dynamics for down range accuracy. You barrel life will be short lived but that's life! You could also go the route of the
Now I have a 6.5/06 that will shoot nice little (2.75 inches) holes for 3 shots using a 140 grn bullet at 300 yards. This is a lightweight hunting rifle by the way. The 6.5 bullet has very good ballistics etc down range, the 6.5 caliber is hard to beat for accuracy and long range shooting.
You can also check out the .223 WSSM as it slings those light .224 40 grain bullets down range at 4500fps plus......It is a HOT MaMa. Then there is the newer .204 caliber ( I have 2 Savage model 12's) and it is a very accurate and fast caliber but we only take it out to 300 yards. It's so accurate it is boring as my wife says.
11-01-2010, 10:39 AM
Beartooth Regular

Join Date: Apr 2008

Location: Central Kentucky

Posts: 3,441
The only wildcat cartridge of .224" that has a fast velocity of around 4,600 FPS is the .22 Eargesplitten Loudenboomer with bullet weight of 50 grains. This is the .378 Weatherby Magnum necked down to .224".
Posting Rules

You may not post new threads

You may not post replies

You may not post attachments

You may not edit your posts

---

HTML code is Off

---
All times are GMT -8. The time now is
07:06 AM
.